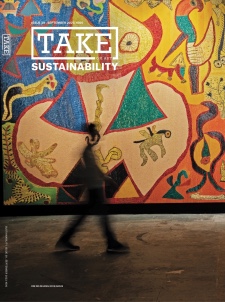 Back Issue
Sustainability
September 2023
Issue 29
The environment and the economy are really both two sides of the same coin. If we cannot sustain the environment, we cannot sustain ourselves.
– Wangari Maathail
In an era marked by swift industrialisation, urbanisation, and the exploitation of resources, the wisdom of Wangari Maathai, a notable Kenyan advocate for social, environmental, and political causes, resounds as a pertinent reflection on the complex interplay between the environment and the economy. The idea of sustainability surpasses mere ecological considerations; it encompasses a comprehensive balance between environmental soundness, economic advancement, and societal welfare. Maathai's affirmation underscores the essential concept that the well-being of the environment and economic prosperity are interconnected facets, each reliant on the other for continual survival. The significance of transitioning from a linear economic model of "take-make-waste" to a circular economy represents a deliberate embrace of principles that seek to curtail and recycle resource consumption, while also mitigating the ecological repercussions.
A fortuitous meeting with Uthra Rajgopal, a vanguard of South Asian contemporary arts dedicated to textiles, sparked a discussion on textiles and the possibility of an issue that would explore its various layers, especially around the representation of the body. After discussions spread over almost a year, the theme took a turn, laying the groundwork for the advent of the 29th edition of TAKE Sustainability. As the scope expanded, the need to broaden the discourse and our horizon became evident and this prompted the invitation to Bandana Tewari, a Sustainability Activist and one of the most respected voices in Fashion, to curate the introductory segment of the issue.
Cultural sustainability, specifically, emerges as a pivotal element in upholding the essence of societies and securing the enduring legacy of human heritage for posterity. Its significance extends beyond the preservation of artefacts confined within museums or historical sites; it involves a dynamic process that empowers communities to protect their cultural heritage while adapting to the evolving dynamics of the modern world. This process necessitates the acknowledgement of the innate value of diverse cultures and the protection of the rights of indigenous populations to uphold their distinctive ways of life. This endeavour orbits around the preservation of traditions, languages, customs, arts, and intangible rituals that define the identity of a community.
Co-edited by Bandana Tewari and Uthra Rajgopal, this issue spotlights responsible consumption and collaborative endeavours that guide societies toward harmonious coexistence, benefiting both the environment and humanity. Tewari's co-editorial note emphasizes nurturing a deep comprehension of reconnection and resilience to counteract degenerative development's effects and secure a viable future for generations.
—Bhavna Kakar, Editor's Note, TAKE Sustainability
View Index
Buy Now