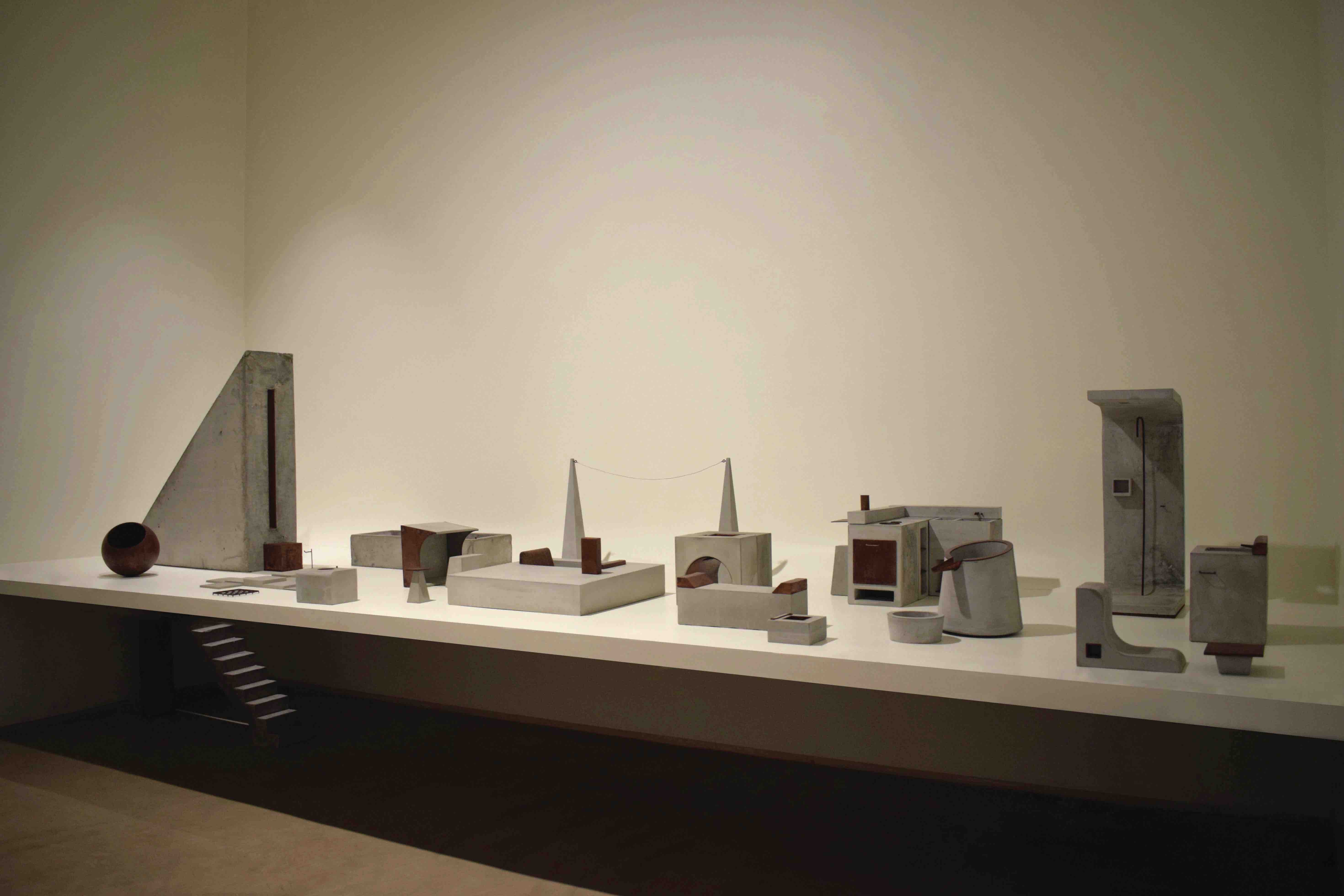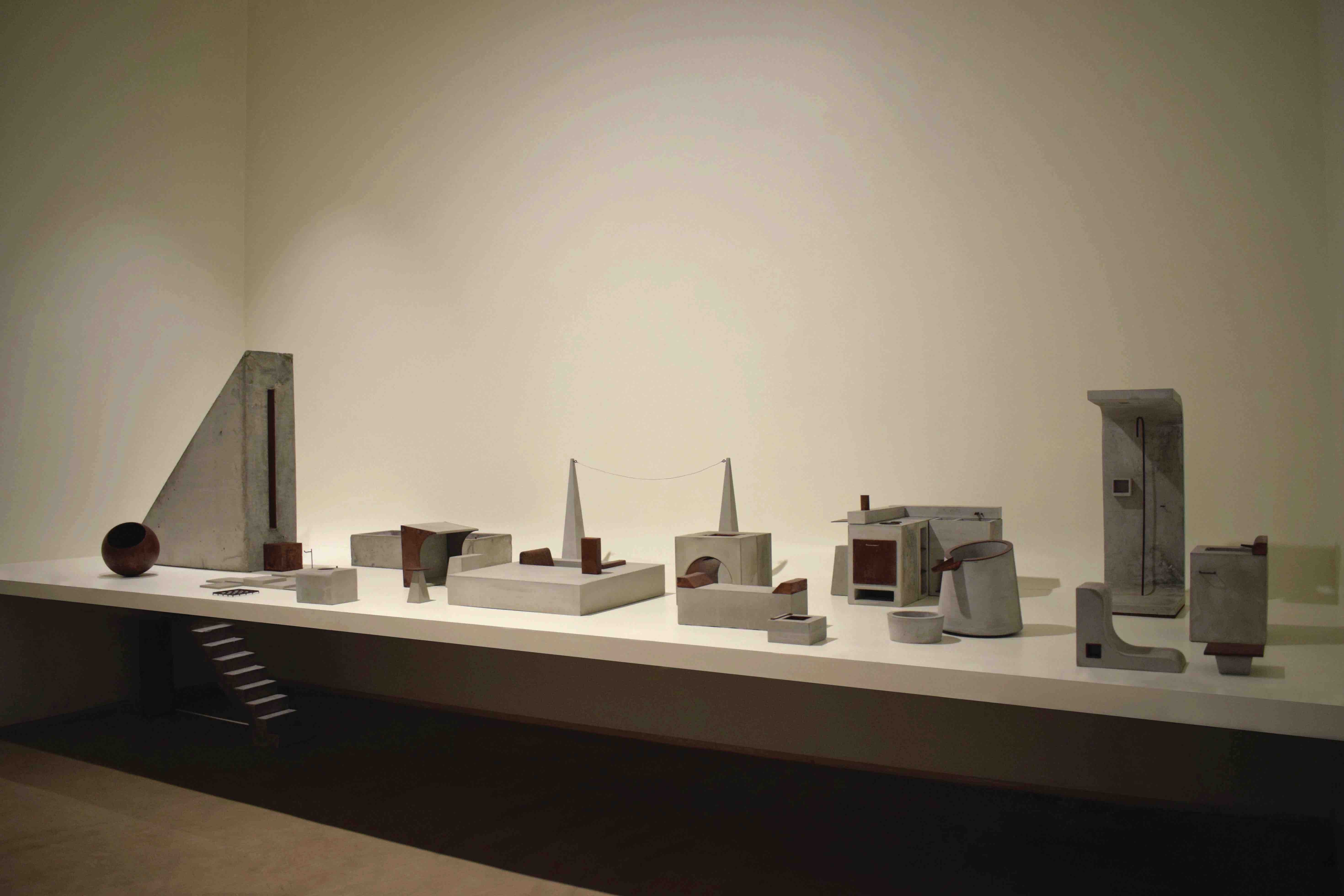 'Untold' by Shreya Pate, ran from September 23 to November 12, 2021 at the Galerie Mirchandani + Steinruecke, Mumbai. Commenced as an extension to Shreya's academic project in 2018 during her masters in architecture at the Royal College of Art, London. 'A house for a single person' is borne out of her engagement with her own body and its relationship to household activities. Her journey to making 'a house', can be traced to a video documentation Home (2019) as her involved in everyday activities of cooking, bathing, reading, sleeping. Her process deepened in another film, Solutions II (later in 2019) that dwelled on human body as a device or measure to development of spaces. In that, marking (in a perimeter of four metre square) on floor, building variously sized block-like modular furniture—used in her acts to adapt and enhance the daily life. In this exhibition, Shreya employed her architectural skills and meticulous choices of ubiquitous but locally found material. Shreya's cast cement concrete sculptures are combined with patina sealed texture on metal: bringing modest castings to keep up stunning tension across the three rooms of the gallery.
Fragments (Series of 19), an array of eighteen pieces, each could be read as a mould or model placed on a low-table, centre room. It could not take long for one to realise of them miniatured, measured from four inches to almost two-feet high. Solid casted, unpolished, smooth surface of greyish cement contrasted with rough, evenly rusty orange-browns of patinated metal, stand-alone or coupled on the whitewashed flat-top. On stepping closer, looking at this matted cosmos of objects, unusually scaled to one-fourth of actual size appear like household things like desk-stool, water jar and container, and kitchen platform. Inserted to these curve-hard angle are fixtures: knob, spout, handle, surfaces as if they were meant for use. Some fragments cannot be described. They could be interpreted as see-through-hollow extension of house as triangular compass-like block, clothesline with a wire connecting two pyramidal columns, flatbed of disappearing seating, a multi-use grid, a tilted spherical bowl.
Having us transfixed walking along the horizontal plane—on stepping back to view as a whole, we can't miss a concrete stairway leading up from under the flat-top. Its effect was perspectival but in the absence of walls and plumbing it appears like witnessing a remote landscape. Each object seems removed off its actual place of domesticity or so of the structures—challenging the certainty of each, against our perception of it.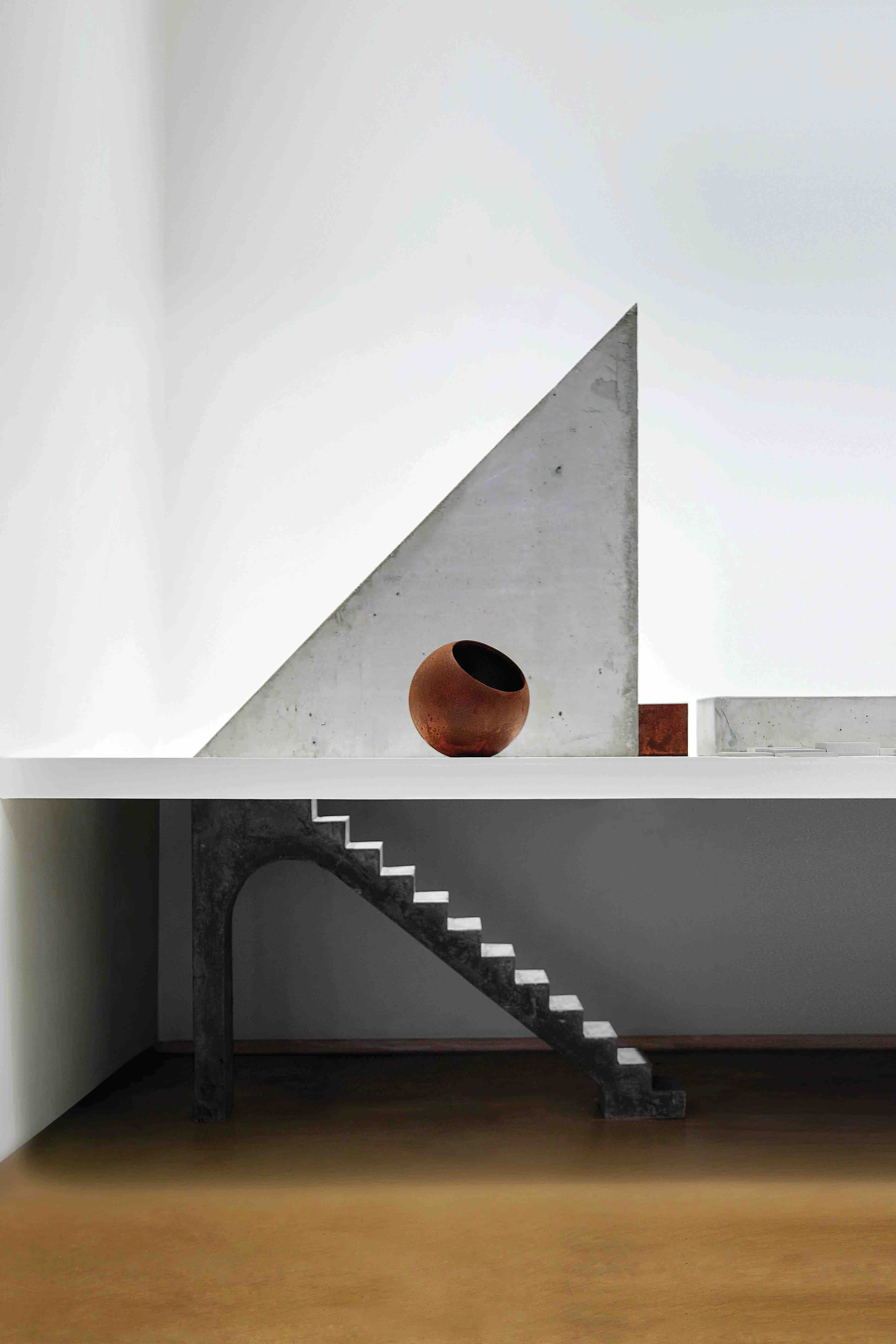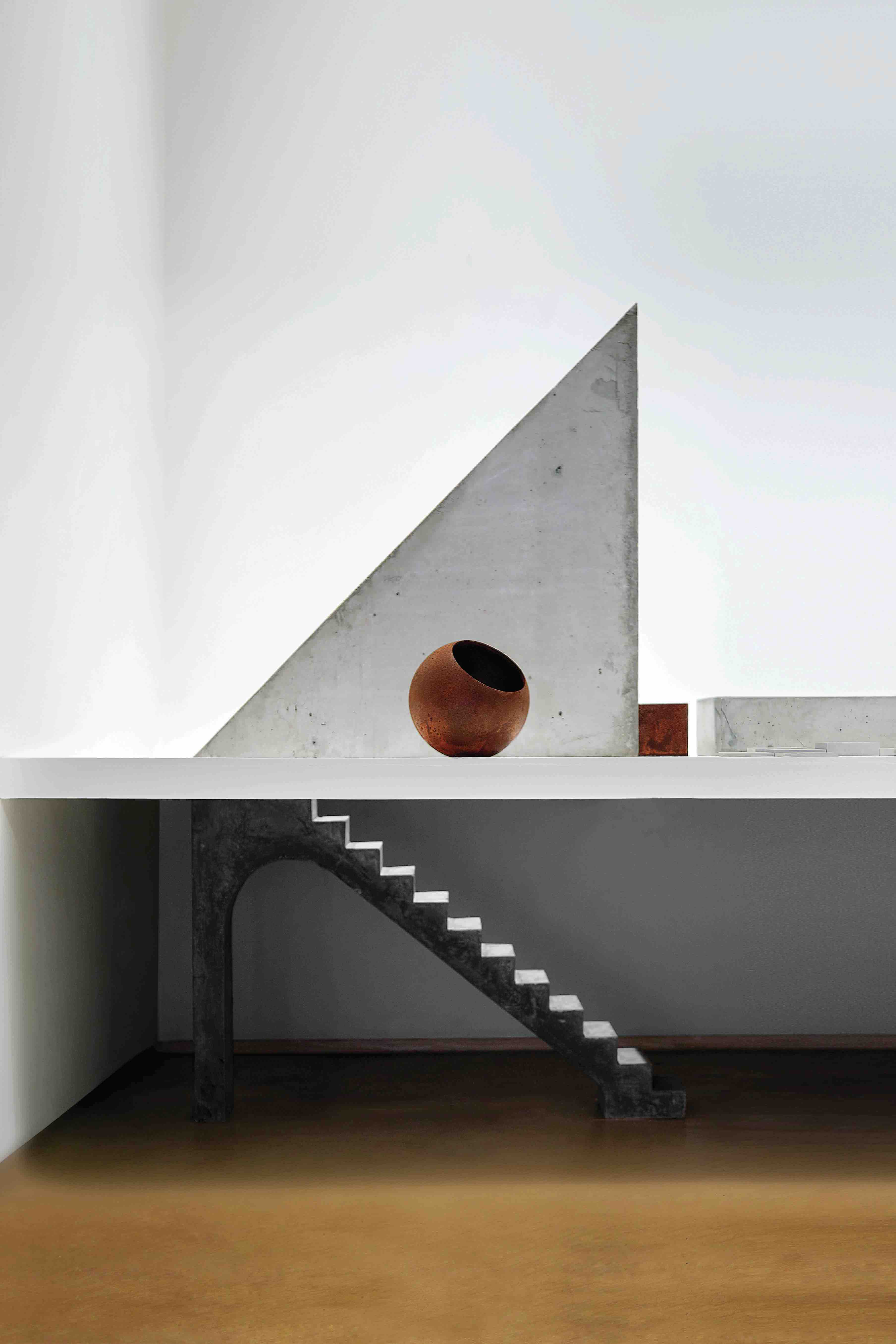 In this exhibition were Shreya's (similar materials), larger-than-life structures, Objects, one among the three was like foundation of a building, seven-block constructions of six-feet square, with two rustic parts inserted on top. A trunk-sized niche with a metal back rest on remaining side of the block. Object 2, a tower-like six-feet high, two pyramidal columns gapped sixteen-feet apart was connected by a cable. They were generous dimensions, overwhelming geometry so profound and palpable contradicting the isolated nine smaller drawings on the wall, pencil on recycled paper. On each paper, a single line change position: almost like mapping a crawling caterpillar from over an island. The artist called these Miro studies inspired by artist Joan Miro. From the immense mass of spectacular sculpture to free moving trails on two dimensions—precisely the objects do not define a fixed function or inhabitability—all encourage us to ponder on and about their subversive or tentative nature.
Also in the show, was a bewildering yet splendid perpendicular sculpture (among the others from the Fragments) slim, elongated piece of weathered metal hung hooked to rod at top, in an apparently tensed or shrunk between concrete cement's U-shaped structure. Fragment–19, appear swing-like as if stuck in the flesh of a pillar. Another was, Object 3, built on circular base, fashioned with a spout plus rim, over two-feet-high water jar aligned with a container—they are somehow unsettling and disassociating, asks to read of them again. Plates, around ten inches to six feet mostly vertical, with contrasting surfaces of bright oxidised metal and gleaming silver graphic representation of structures. The illuminated two-dimensional geometric shapes revealed of utilities from artist's everyday activities. Roughly textured, earthy shades look like 'ground' prepared for detailed structures floating on the surface. As a whole, this show, pointed to artist's reuse of the architectural processes, attempts to transcend the notion of functionality into a living scape.
Shreya's fascination lies at challenging perspectival, perceptive, and pre-conditioned notions in the processes of form making that keeps evolving with a touch of surprise or sublime. Among the rigorous built structures of her works are careful endeavour that results in moments of silence, of calm. 'A house for a single person' is about the humble acts of everyday that, as Shreya points, 'often tend to be taken for granted'.
'Shreya Pate: Untold', Galerie Mirchandani + Steinruecke, Mumbai, 23 September–12 November 2021.