Arpita Singh's canvases in her solo exhibition Meeting at Vadehra Art Gallery in Delhi were awash in shades of blue. In several of her paintings on display, it appeared as if tides carrying flotsam and jetsam had swept over them, generating surfaces swimming with detail. Nowhere was this more evident than in the poignantly titled The swans did not come back this year. Irregular patches of white, oddly reminiscent of corrugated roofs of shanty houses, peppered the waterscape as did a few stretches of brown and lettering in differing colours and sizes. If in the past Singh inserted flora or custard apples to fill in empty spaces in the pictorial plane, then here her flower fetish was strangely absent. Instead, forming the connective tissue of the painting were now alphabets and snatches of text. These words plucked out of the painting's title and repeated several times over, succeeded in creating a complex palimpsest of disjointed sentences and interrupted meanings.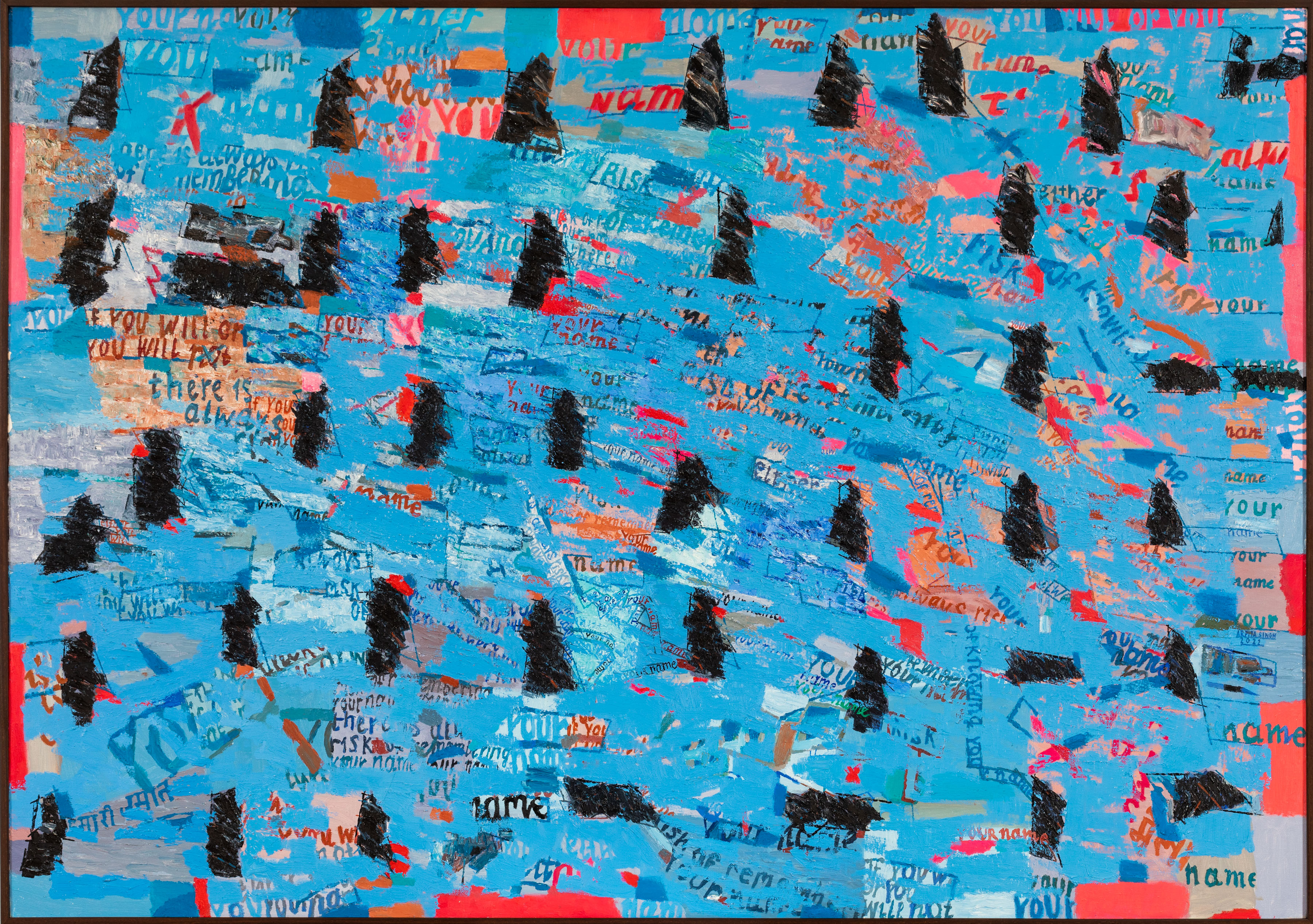 You will or you will not, Oil on canvas, 42" x 60",  2022, Image Courtesy: Vadehra Art Gallery and the artist.
For Singh, text often serves as a means to create texture or to "break the monotony", as she puts it. A voracious reader, she scans newspapers and books, often scouring for a word or sentence with which she can embellish her work or push it in a new direction. Especially in The swans did not come back this year it almost appeared as if the artist had layered image upon text reminiscent of her early years when she would draw on newspapers or glossy catalogues obtained from foreign stalls at the India International Trade Fair since she could ill afford to buy sketchbooks.
Another unusual feature of the aforementioned painting was the absence of the human form. Singh is known for her stencilled motifs of black-jacketed men and her depictions of middle-aged women with their sagging flesh. Could one detect a move away from an anthropocentric view of the world here? In When we meet, however, huddled figures seated on wooden benches were interspersed throughout the oil on canvas. Sometimes they seemed to converse with each other, sharing confidences, while in other instances they appeared alone or wrapped up in their own private worlds even if they did occupy a shared space. In the backdrop, fragments of multi-storied white buildings with dark doors were interspersed with words that could be strung along by the viewer to read "when war is over." The white tenements also put in a lopsided appearance in If you only let me, a painting characterized by its fractured surface consisting of green patches of land interrupted by waterways, black-robed women and the repetition of the word "change." One was tempted to complete the title of the painting using snippets of text found within it to read "If you only let me…. change the world." Perhaps that was the artist's wish too!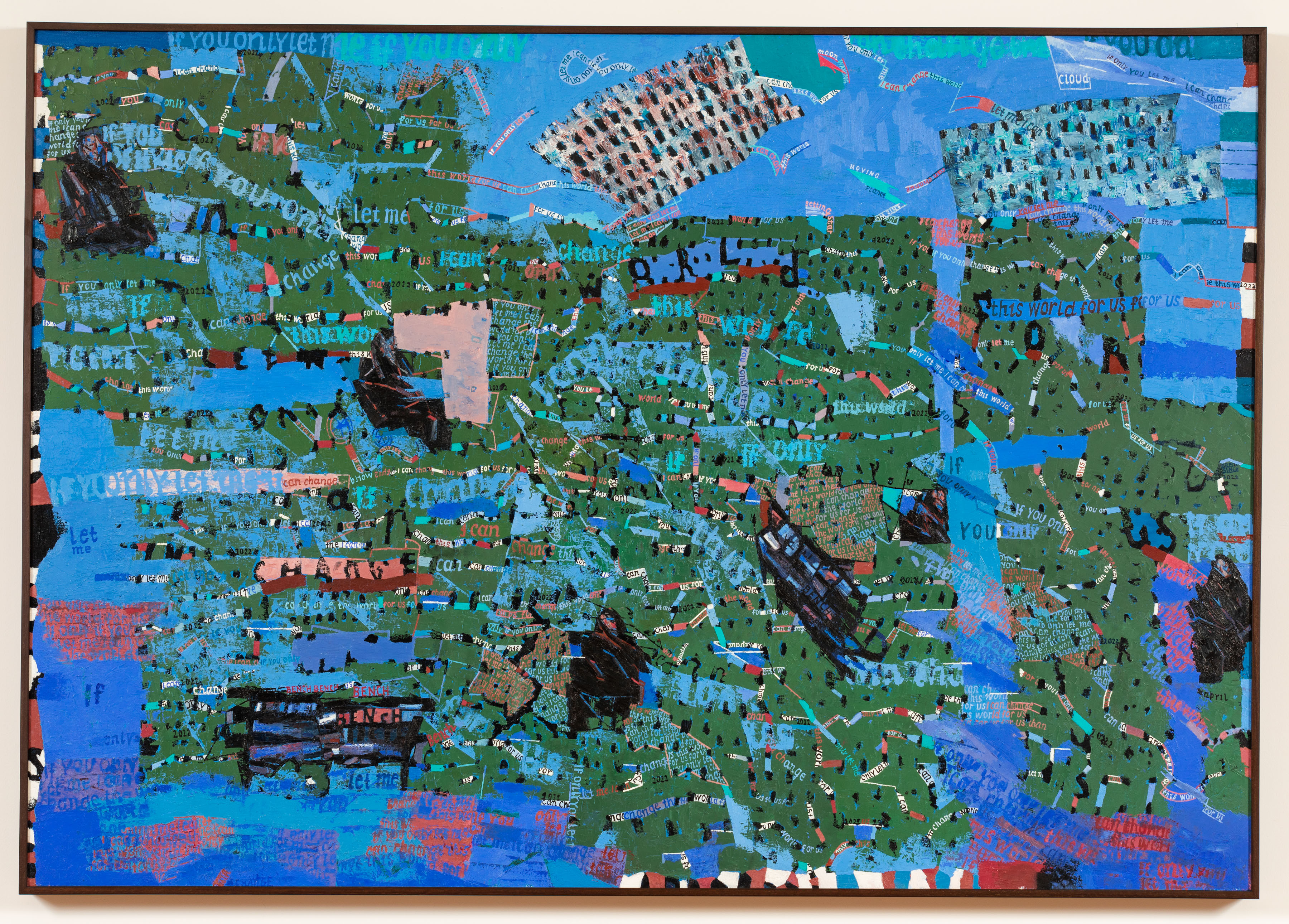 If you only let me, Oil on canvas, 42" x 60", 2022, Image Courtesy: Vadehra Art Gallery and the artist.
In Star, moon and two different skies swathes of green and blue were broken by the same white building-like structure, which was enshrined in the centre of the painting. Boats, reminiscent of the paper boats children build, were accompanied by a text with inverted alphabets that read "boat floats" while Singh's trademark flowers were neatly arranged in the patch of green towering over park benches. Adorning the margins of Singh's paintings were irregular rectangular patches of flat colour. These formed a contrast to the teeming detail in the rest of the canvas and were evocative of borders often found in miniature paintings, adorning the central narrative. Singh's densely detailed pictorial planes are most likely an outcome of the artist's stint at the government-owned Weavers Service Centre in the 1960s, which afforded her the opportunity to study the rich textile tradition in the country, including kantha embroidery from her native Bengal. Her appreciation for pattern is also borne out in the repetition of motifs, which she often employs in her artworks. 
When me meet, Oil on canvas, 48" x 48", 2022, Image Courtesy: Vadehra Art Gallery and the artist.
Apart from the canvases, a suite of Singh's black and white ink drawings was also on display. In many of these paper works the human figure occupied centre stage. Her trademark black-jacketed men with white trousers put in an appearance with the numbers 1,2,3,4,5 written next to the five of them. Singh has a penchant for signposting the obvious such as writing "roses" and the numbers 1,2,3,4 next to a clutch of four roses, attesting to a certain playfulness. Restricting her palette to black and white also heightened the air of melancholy surrounding some of her protagonists. Particularly poignant was the lone figure of a seated woman with clasped hands depicted in profile. Dressed in a black sari, her grief seemed almost palpable. In another drawing women clad in black were seated in groups or singly, silence hanging in the air. A couple seated on a bench, whose life appeared tinged with tragedy, could be spotted in another drawing. These works formed a sombre counterpoint to her more recent canvases. The show once again underscored the octogenarian artist's versatility in conjuring up new scenarios and writing new scripts in keeping with a changing world.
Meeting, Solo Show of Arpita Singh, Vadehra Art Gallery, New Delhi, February 7-  31 March 2023.