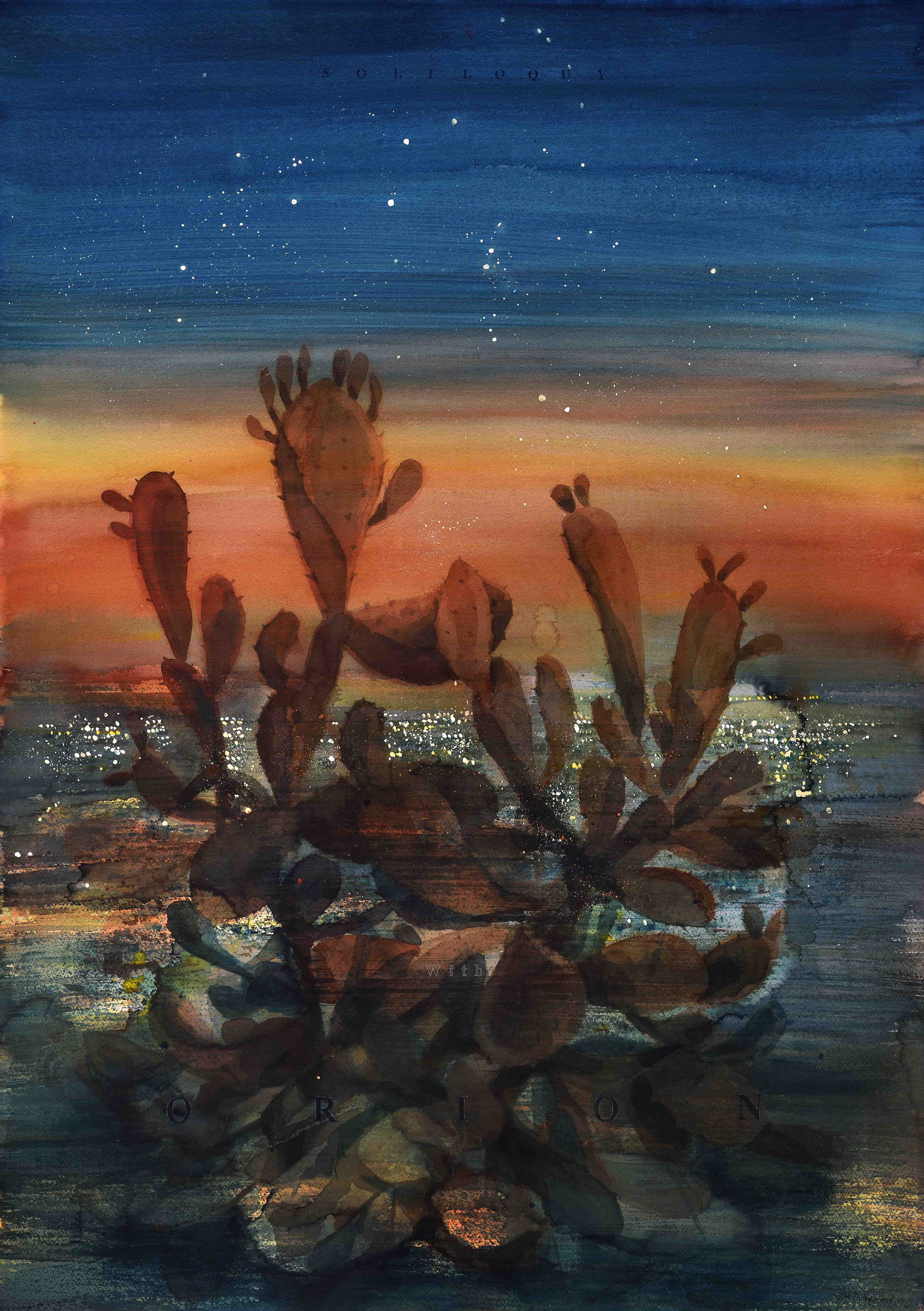 With their sombre palette, haunting quality, texture-laden dense hues still glimmering with hints of hope, Indrapramit Roy's recent works of his solo show 'Soliloquy' at Threshold Art Gallery are an eyeful for all of us, emerging from the shadows of the Corona Pandemic. TAKE speaks to artist and academician Indrapramit to find out how this other-worldly exhibit fits right into the present life and times of our existence and experience.
Tanya Dutt: The Cactus is an odd protagonist, what made you revisit the humble cactus that eventually inspired you?
Indrapramit Roy: A few years ago, we went to see a Cacti garden. This unassuming plant with its patterns, designs and strange geometry intrigued me despite its element of danger. Like cut diamonds, their facets were inviting and made their way into my drawing books.
I got attracted to patterns while working on Fireworks, which have been featured in my works since around 2010, those fleeting patterns to me represented celebration, yet impermanence. The attractive and dazzling, yet insubstantial patterns reminded me of transience. You might say that was my first foray into the world of patterns.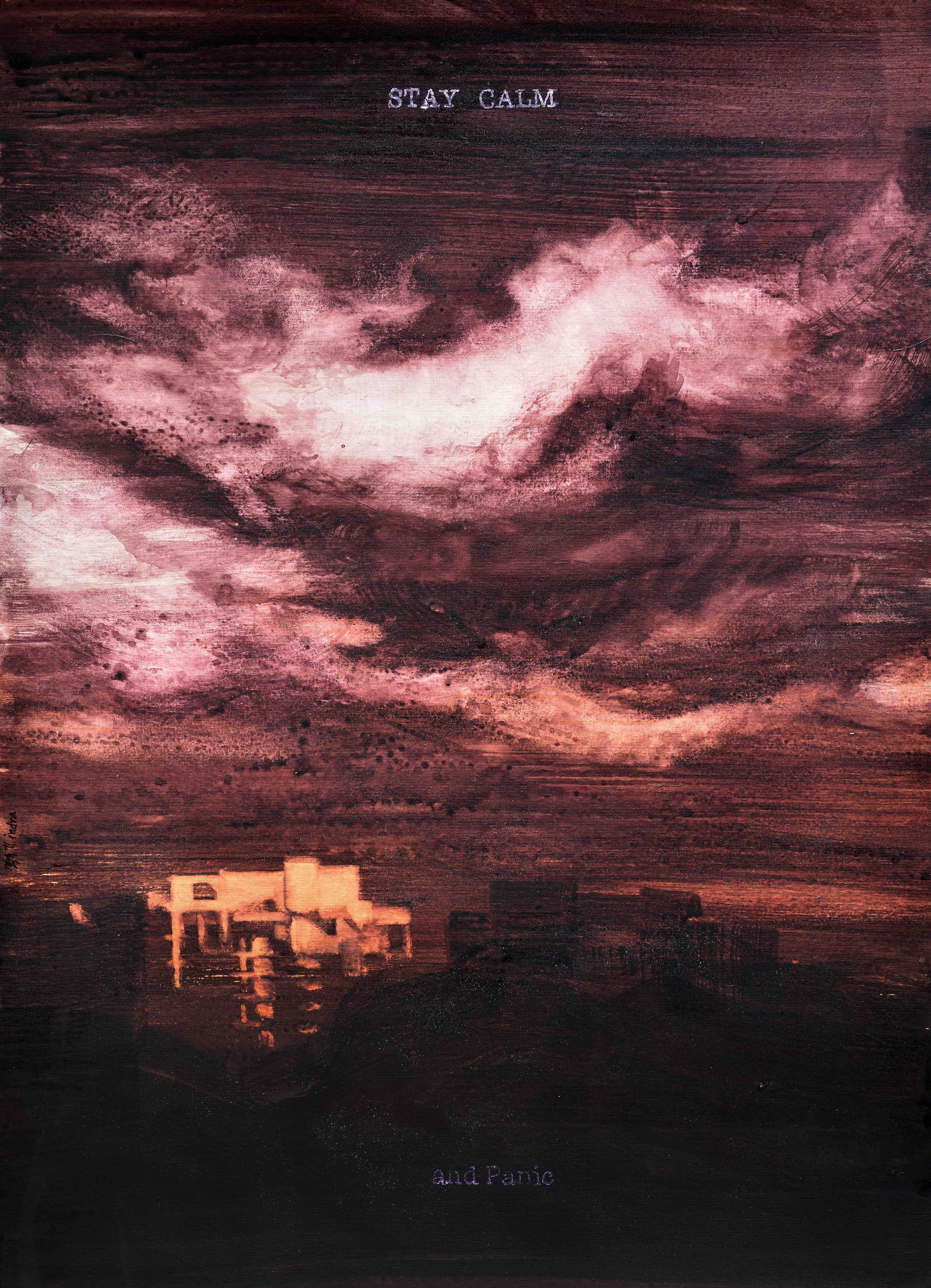 There was another trigger. I live at the edge of my city, Baroda, where new buildings that were being constructed before the Pandemic, came to a sudden halt. Their eerie and empty scaffolding, with their porcupine-like exteriors in the silence of the deserted city, had a strange resemblance to cacti in the desert. While I was at it, impressions and flashes of the vast twinkling night sky over a border town seen through the giant cacti of Mexico, witnessed years ago, swam into my mind. I revisited my old journals and drawings. These elements conflated and resulted in the tempest of works that are a tug-of-war between the polarities that have come to exist within the works.
All the apparent contradictory pulls of attraction-repulsion, words-visuals, safety-panic, attraction-aversion, surface-depth, and paintable-speakable were part of the rumination that alluded to the state of my mind, set off by the quarantine-induced solitude in a cataclysmic time. The idea of a homeland becomes an imaginary space, and utopias acquire a provisional quality in this soliloquy, several parallel streams of thoughts and ideas revealed themselves within these watercolours and drawings. Isn't it curious that the Corona virus itself has so much of a cactus-like visual quality to it?
We are collectively responsible for the fates that befall us, perhaps the odd protagonist is a harbinger of that truth.
Indrapramit Roy studied printmaking (BFA) at the Visva-Bharati University of Santiniketan (1982-87) and painting (MFA, 1987-89) at the Faculty of Fine Arts of M.S. University of Baroda, India. Subsequently he was awarded Inlaks Scholarship to study MA Painting (1990-92) at the Royal College of Art, London, which included a term at Cite des Arts, Paris. He also spent a term in Berlin on an Erasmus Exchange Scholarship. Indrapramit has shown widely in Delhi, Mumbai, Kolkata, Bangalore, Ahmedabad, Baroda and Chennai in group and solo shows. He has had 16 solo shows, over 90 Group shows and several art camps and workshops to his credit. From amongst the 16 solo shows held so far the last few were 'Mezzaterra', his last solo show opened at Threshold Gallery in New Delhi in March 2016. The Anant Art Gallery, New Delhi in 2006 and 2009, Aicon Gallery – USA in May 2007, Pundole Art Gallery, Mumbai in February 2008 and Galerie-88, Kolkata in November-December 2012 and 2015. He has taken part in Group shows in New York, London, Melbourne and Yangon and has represented India in Asian Art Exhibition in Macao and the Cairo Biennale, Cairo. In 2013 completed a 12 x 26 feet mural for Terminal-2 of the new Mumbai International Airport (now rechristened as- Jai Ho Museum). Indrapramit has been teaching painting at his alma mater Faculty of Fine Arts, MSU of Baroda since 1995.
'Soliloquy', solo show by Indrapramit Roy, Threshold Art Gallery, Delhi, through 3 September 2022.