I'm not sure if it was the multi-storied interiors of the space or the fluorescent red and yellow lights of its sign, but there was something very special about going to Tower Records for a teenager growing up in the Tri-state area around New York. It was where I bought my first pearl jam tapes and later where I bought CDs when Diddy was still a Daddy. Although the chain originally began in California, its New York location in downtown Broadway was 
a neon landmark of music. Needless to say changes over time in the consumer landscape affected a variety of business, perhaps most particularly due to online shopping, file sharing and even piracy. Suddenly the hallowed halls of the Tower Record megastore became antiquated. In 2006, Tower Records closed its doors after filing for bankruptcy.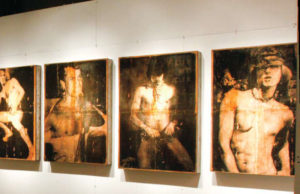 The doors might have remained shut if it hadn't been for an idea germinating in the mind curator Manon Slome, co-founder of No Longer Empty, an organization involved in creating art exhibitions and shows in vacant New York city storefronts and regenerating interest in other forgotten or abandoned locations. By creating these opportunities for spaces and artists to link, these pop-up galleries and temporary art spaces offer a model
 for viewing and experiencing art that emerges from 
a combination of need, availability and imagination. Slome's idea was to take over the empty Tower Records building and create 'Never Can Say Goodbye', a show that would remember its legacy with an interjection of fun and humour. She was also keen
 to draw attention the way
 in which new technologies and economic changes have altered our relationship to art and music. Artists involved in the project created works that combined visual production with sound and interactive installations.
"This space was indeed full of memories. I wish I had a recording of all the people who started to reminisce about how their youth had been spent there – how they had learned about music [or] dating from their time there. Artist Paul Villinski  made an installation out of the records he had purchased as a student at the store, and Ted Riederer made an installation of a phantom record store, Never Records. The programming references the passing of an icon- from discs to downloads- looking at how changes in distribution of music has led to the demise of Tower Records. We had 300 people and counting at the opening- lines around the block! That spoke a lot about the collective memory of the space," says Slome.
Projects based around empty storefronts and other recently deserted locations are becoming more and more common in New York. Different organizations have formed as a response to the recent financial crisis, which has left many sections of the city uninhabited. These locations access unusual sites that normally would not be an exhibition space for contemporary art. In this light, they offer an interesting way in which art can be viewed and understood, while also opening shows to a wider audience. By creating new venues for public art, these spaces also offer new opportunities for landlords to use and lease their empty properties. The organization SmartSpaces, for example, links artists and curators with appropriate and interesting sites to put on temporary exhibition. In 'Regeneration', a show on Greenwich Street in Manhattan, curator Stacy Goergen picked up on the location's proximity to the World Trade Center as a way to consider the generative possibilities of the vacant and the bare. By filling the windows of the store with her works, artist Hilary Harnischfeger remarks that, "one thing [she hopes] is that they allow the viewer to slow down."
To consider this phenomenon as 'new' is perhaps to get carried away with the sense of excitement created by these new pop-up opportunities. Claes Oldenburg and Vito Acconci have had their own storefronts in the past. In fact, Acconci and Steven Holl's re-imagining of New York's Storefront for Art and Architecture from 1993 has remained an important architectural landmark and inspiration. Amy Morton, of 'a pop up project,' says, "I tend to believe that little is actually 'new' in this world of ours, so I would definitely quantify it as primarily an economic and social phenomenon."
According to Morton, it is even less sure how much longevity these kinds of projects will have in the future. "I think a lot of that will be answered 
when economic times get easier – at that point it will be clear if it is a lasting model or a temporary
 and practical solution to challenging economic times." Morton's recent show, 'I Dream Awake', was shown in Washington DC's Numark Gallery, which, although now shut down, was previously an important art space in the area. The idea for the show literally came to Morton
 in a dream, where she
 was inspired to deliberate upon the functions of the unconscious mind. She sees the transience of the pop-up space as a positive idea when it comes to selling works. In terms of commercial interest, Morton says that it "definitely appeals, and the collector seems to respond with excitement and enthusiasm to the new experience."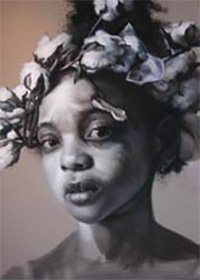 These new experiences push the boundaries of normative protocols when
it comes to exhibiting and viewing art. New York-based organization X Initiative has found a way to remove curators from the equation altogether, creating a situation for individuals to decide what makes up an art exhibition. In 'BYOA' (Bring Your Own Art), anyone and everyone was invited to works to the gallery space. With no criteria as to what would constitute art, people are able to share and even adopt the work of others. While it is clear that these alternative ways of showing and viewing art have there own set of problems and limitations, they also seem to allow for a variety of voices to come through into the dialogue.
In the spirit of this exchange, Jasmine Wahi 
and Meenakshi Thirukode have embarked on a venture to curate a pop-up space in New York City. I came upon this project on Facebook, where both curators posted messages calling artists to send in statements and examples
 of their works. From these submissions, a selection will be chosen to partake in the show. Operating from a seemingly more democratic platform that would allow for a larger group of artists to participate, Wahi and Thirukode are interested in pushing the limits of traditional collaborations.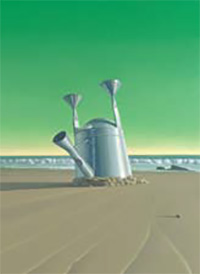 Thirukode says, "That's part of the process. Collaborations have always existed – artist and curatorial collectives are a big part of the creative dialogue and an interesting group within the art world. Jasmine and I have a lot of common ground and it's a very intellectually stimulating process to collaborate with her. And it's not just us. Through this project we want to include artists and the community, both in the virtual realm (Facebook) and the 'real' world (New York City)! It's about creating and sharing, going beyond those who look at art from a critical standpoint alone and reaching out to people, to see how we can engage with them, if they even care to engage."
Detractors question the quality of the work in pop-up and storefront projects, often citing the limitations of such projects. One wonders if it is possible to present consistently high quality art under constraints of time and cost. However, Slome and others do not see it this way. Instead they locate the potential of pop-up projects in the parameters set by specific locations and focused ideas. "The creative freedom is very exciting," Slome asserts, "[as is] finding out how much quality work can be done without the enormous budgets that can be spent on installations."