Collaborative ventures between galleries and institutions have become an inherent function of the art world. While some gallerists have maintained an ongoing dialogue in this field since the gallery's establishment, many institutions and galleries are entering this shared space. These projects have made the functioning of the art world more transparent and strengthened relations while providing cross-cultural exchange of art and ideas.
In early years, an artist's work could only be exhibited in and by the gallery that represented them. However, in recent times, collaborations between galleries and institutions have created new audiences for various artists by taking art beyond "a" space. There has been an increase in interest towards large-scale installations, performance art and experimental art, which is often exhibited through collaborative projects – depending on
the space of the institution. Panel discussions, educational workshops and lectures have become part of exhibition spaces and are very well attended – often bridging the gap between scholars, artists, collectors and viewers.
Sharing their views on collaborative ventures 
by galleries are – Abhay Maskara (Gallery Maskara), Anupa Mehta (The Loft), Geetha Mehra (Sakshi Gallery), Ranjana Steinruecke (Galerie Mirchandani & Steinruecke), Sree Goswami (Project 88), Shireen Gandhy (Chemould Prescott) from Mumbai; Sunitha Kumar Emmart (GALLERYSKE) from Bengaluru; and Aparajita Jain (Seven Art Limited), Bhavna Kakar (Latitude 28), Peter Nagy (Nature Morte), Roshni Vadehra (Vadehra art Gallery), Tunty Chauhan (Gallery Threshold) from New Delhi.
Geetu Hinduja (The Fine Art Company) and Mukesh Panika (Religare Arts Initiative) express their views on collaborations with reference to their projects, which are based primarily on collaborative ventures. Anupam Poddar of Devi Art Foundation, talks about the institution's aim for promotion through collaborations with students, galleries and other ventures.
Neha Kirpal from the team of the India Art Summit explains how collaborations are the key motives for networking and increasing awareness and exchange of ideas for India's Modern and Contemporary Art Fair.
Collaborations
Gallery Chemould one of the earliest private galleries first collaborated with the Biennale of Johannesburg with Geeta Kapur as the curator. Since then they have collaborated internationally with artists, residency programmes, curators and museums. Similarly, Peter Nagy, who opened Nature Morte in 1997 has held several collaborative shows and through his gallery in Berlin has created another platform for viewing contemporary art. According to Bhavna Kakar, most galleries began their collaborative ventures, when they wanted to promote Indian artists internationally.
Project 88 which focuses on young and experimental art has had several collaborations in terms of space in recent years. Sakshi Gallery, Vadehra Art Gallery, Latitude 28, Seven Art Limited, Gallery Maskara and Galerie Mirchandani & Steinruecke are some of the galleries that have maintained a steady collaboration with international galleries, museums, curators and artists, while also promoting Indian art at an international level. One sees the exchange and induction of culture in various parts of the world.
'Re-claim, Re-cite, Re-cycle' curated by Bhavna Kakar in 2009 saw another level
of collaboration where the exhibition was held in lieu with three galleries – Seven Art Limited and Latitude 28 at Travancore Art Gallery in New Delhi, and Bose Pacia in Kolkata.
The Fine art Company and the Religare Arts Initiative function mainly on
a collaborative basis and have exhibited with various galleries, artists and institutions across India. Religare Arts has also ventured into various forms of art such as theatre, dance and poetry.
Anupa Mehta's The Loft is a collaborative space for artists and curators. While The Loft is a commercial space, the Devi Art Foundation, is a not-for-profit institution for promoting the viewership of Contemporary Art in India. The collaborations initiated by the latter cannot be compared to that of a gallery in its scope or intentions, but the curatorial practices encouraged are always collaborative
in nature. The curation of 'Where in the World', was collaborated with the faculty and students of JNU.1
The India Art Summit was conceived as a common neutral platform, with the idea of bringing the art community together to exchange ideas, network and build awareness, so collaboration certainly is a key. Representing themselves as "facilitators of the arts", the constructed model of the Summit is engaging and meaningful at a creative, academic and commercial level. Though an art fair, collaboration is evident through the participation of international galleries, institutions, curators, speakers, auction house (Sotheby's) and students in the events and projects of India Art Summit.
Instrumental role of institutions, galleries and the India Art Summit in collaborative ventures
Anupam Poddar: Although the faculty and students of JNU did the conceptual curation for 'Where in the World,' the logistical execution of the show was under the leadership of our team. The collaboration with JNU is an educational venture, to encourage the students
of art theory, to spatially engage with the art objects, besides their textual training in academics.
Abhay Maskara: As host gallery, we promote the artist locally to introduce their works to a new audience and find new collectors. In return for their efforts, if a work is sold, we typically, pay a 10% honorarium to the primary gallery. Collaborations and partnerships are essential in reaching out to a broader set of artists, collectors and viewers and in maximising resources.
Ranjana Steinruecke: Costs are generally picked up by the host gallery- transport and insurance, inviting the artist, publishing the catalogue. Here, the primary gallery takes a small gallery commission as they handle the artist's work internationally. An alternate arrangement between two galleries is splitting costs and commissions.
Tunty Chauhan: Nothing in partnership should be taken for granted. There must be a mutually acceptable work ethos and transparency in terms of transaction.
Mukesh Panika: The role
 of the host gallery in collaborations is to synchronise all aspects of the exhibition to reflect the goals and objectives of both galleries/ institutions. The co-gallery/ institution plays just as important a role in ensuring the event is successful and adds value to the project in terms of lending its reputation, expertise and outreach capabilities, all of which contribute to the strength of a project.
Neha Kirpal: India Art Summit's role is to create an accessible and transparent platform for art, spread awareness and gain interest from around the world towards India. The profile of visitors ranges from the experienced art collectors to the general public with little exposure to art. Our role is also therefore to create a world class art fair environment here in India and build a programme around the art fair that is intellectually, socially and creatively stimulating, bring all stakeholders together and produce a range of events for people to be a part of during the art fair.
Basis of Collaboration
With the numerous galleries and institutions involved in collaborative ventures, there are certain norms and factors that each one looks out for before treading further. According to peter Nagy, "it is certainly important for an artist's profile and career to have his or her exhibition seen in more than one city in India, or anywhere in the world. We sometimes initiate an exhibition and then propose sending it to another gallery, based
 on knowledge that that particular gallery is already interested in that particular artist's works." alternatively, Abhay Maskara, Anupa Mehta and Aparajita Jain approach primary galleries based on artists they are interested in, to create a "tri-party dialogue" between the galleries and the artist.
Other gallerists – Geetu Hinduja, Sree Goswami, Roshni Vadehra and Mukesh Panika emphasise on collaborations based
 on good business ethics, integrity, and value contributed to the aim of projects and expanding audience through shared database of mailing lists. The level of trust that exists between two collaborating galleries that share the same vision and ideas for the work that they are looking to present at the time is a major factor.
For Bhavna Kakar, "The space of a gallery in a new city and their resources in their area are the reason for collaboration. Collaborations vis-à-vis galleries are realised at various levels – with the other galleries, art fairs, art organizations, academic organizations. The coming of this trend might be asserted as novel strategies adopted by galleries – by far the most commercial set-up in the realm of art practice to promote, extend and fortify their presence both within and beyond their geographical parameters. As a relatively new space, promoting contemporary and cut-edge art works, Latitude 28 has collaborated with galleries vying in the similar league of genres, which has benefited each one. Moreover, such ad-hoc conjugation activates a kind of orientation amongst the collaborating galleries towards each other's artists, work culture and space."
For galleries where sale is just as important, the basis on which consignments and percentage of profits shared is of utmost importance. The India Art Summit creates a competitive basis of selection for galleries and curated projects to improve the quality of collaborative ventures and art management practiced in India.
Artists' status in Collaborative ventures
The artist maintains their representative status with
 a primary gallery. Based
 on collaborative ventures between galleries, artists are approached with a project proposal, after which the financial and technical details are settled between the collaborating institutes themselves.
Artist Jitish Kallat collaborated with Chemould Prescott and Bodhi Art, Mumbai in December 2007 for 'Swetopia', which marked ten years of his 1997 debut titled 'P.T.O.' with Gallery Chemould. Kallat says, "Since the scope of the show was rather wide, Bodhi Mumbai partnered the project and worked closely with Chemould."
According to Shireen Gandhy, "the artist usually belongs to the stable of the gallery in which the collaboration occurs. In such a case the relationship is usually secure and the gallery does it so that the artist gets the required exposure beyond the gamut of the gallery."
Sunitha Kumar Emmart of GALLERYSKE, Bengaluru, takes her stand by saying that the main impetus behind these projects is to allow the artist to explore different physical spaces for their work, while allowing them to engage with a larger audience for their works.
However, the shortcoming of collaborations are that an artist sometimes gets caught between the two collaborating galleries – since it becomes an issue of promoting the "other's" artist. Therefore, it is not only about sharing costs, but also publicity, which at times galleries are not willing to give to the visiting gallery.
Installations, Performances, Experiments
Experimental and large-scale forms of art have gained popularity in recent times. However, most of these works are non-profitable but need a vent to explore further possibilities and the future of "new" art. Mentioned below are shared views on benefits and processes of making this kind of art function beyond studio spaces.
Mukesh Panika: It is a symbiotic relationship. Performance based art allows galleries the opportunity to showcase new and different art forms within their space thereby expanding their vision and engaging with a larger segment of the population. On the other hand, the gallery space offers performance artists
a venue that lends itself to an intimate setting, which can be adapted to suit their specific requirements. The role of the gallery should go beyond pure commerce and should showcase relevant and good art even if it is initially not cost effective.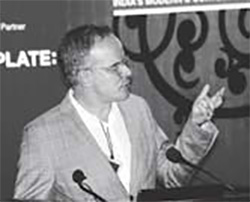 Aparajita Jain: Both these forms of artistic expression have been less promoted
 so far, certainly because it 
is not easy to sell and thus hard to financially support. However, they are extremely important art forms and collaborations between galleries are surely a different way to support and promote them actively.
Bhavna Kakar: I think it adds more synergy and
it's great. The audience reached is wider especially when non-profit spaces like Khoj are collaborating for events with galleries. As a performative/cutting-edge space Khoj caters to a varied audience beyond art whereas a commercial gallery would have its own steady followers.
Abhay Maskara: In the collaborative work we did
 with Monali Meher and
project 88, for example,
 the performance was at our
 space while photographs
and objects were another
 show ongoing simultaneously at 88. The performance enhanced and enriched the aesthetic experience that 
the audience was receiving 
of Meher. Collaborations 
for these kinds of experimental works are important
 since they further new kinds 
of artistic expression while
 also furthering the artist's
 practice more cohesively 
and completely. The gallery
 would also benefit in terms 
of visibility and audiences get exposed to new types of work.
Sree Goswami: They enhance the gallery profile. Good art is often not commercial and needs to be supported in India as we don't have enough institutions doing so. Often the commercial gallery takes on this role.
Anupam Poddar: All the exhibitions at Devi art Foundation have showcased installations and performance-based new media works. Our engagement with experimental art is about making space for the viewership of such practices.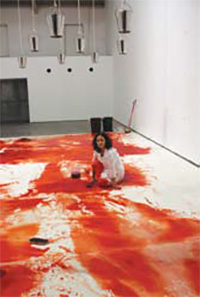 Geetu Hinduja: Experimental art is given a platform in gallery spaces to help artists expand their horizons. These works of art, which may appear experimental, could just well be works that are the starting point for a new series of future works. These may even become saleable.
Neha Kirpal: In the 2nd edition of the Summit, there was a dedicated space for (100) video artists from around the world in a Video Lounge programme over 3 days, as well as performance lectures by Raqs Media Collective and large-scale installations in the Sculpture Park. We feel that in the contemporary context, there is a lot of significant art work being developed in new mediums, and that the Art Summit should reflect these developments in Indian contemporary art.
Are collaborations a remedy for recession?
Many are against the view of collaborations as a solution to exhibitions in times of recession; with the argument that there have been many such ventures by galleries, museums and institutions before the art boom itself. However, collaborative projects help galleries divide costs in order to give art the exposure they deserve. Besides the cost factor, these ventures enhance education, exchange of ideas and create new audience and thereby a market for artists.
Educational Enterprises
Panel discussions, talks, workshops, seminars, film screenings and discussions within gallery spaces, institutions, art fairs and festivals have gained immense popularity. Institutes such as Jnanapravaha and the Mohile Parekh Centre in Mumbai, FICA and the Devi Art Foundation in New Delhi, and the Asia Society accentuate the importance and awareness created by such ventures.
The principal aspect of these ventures is to magnetise an audience to
create a platform for an exchange of ideas between professionals in the field and the interested public. Chemould Prescott recently collaborated with Jnanapravaha for 'Detour'. The show coincided with the Hind Swaraj conference at Jnanapravaha, bringing together scholars from various fields to develop a dialogue corresponding to the exhibition. Panel discussions, talks and film screenings can be influential to accolade an ongoing exhibition by introducing broader perspectives and various aspects of the art on display to its audience.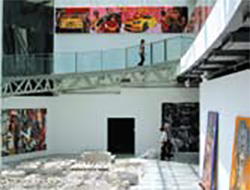 Vadehra Art Gallery recently launched the Foundation for Indian Contemporary Art (FICA) to enhance opportunities for artists and establish a dialogue between the arts and public through education and active participation in public art projects and funding. FICA and Khoj have also recently collaborated to hold art talks at the FICA Reading Room, which is a free resource for art publications and documentation.
Education and awareness about art is an important objective of India Art Summit. The entire model of the Art Summit, as the name suggests, is to provide many contexts – debates and discussions, book releases, social networking events, curated interactive projects etc., alongside the art fair environment.
Conclusive Endeavours
The word 'collaborate' as Sree Goswami puts it – has a "positive connotation". Almost all professionals in the art field are of the opinion that with dedicated efforts, mutual decisions and compatibility, collaborative ventures are a "win-win situation" for everyone – from the institutions to artists to viewers. New dialogues and shared resources infuse transparency and enhance relationships to develop and further lure viewership to broaden the art world's populace.
Endnotes
1- School of Arts & Aesthetics
– Jawaharlal Nehru University, New Delhi