TAKE on Art is excited to announce its media partnership this year with Art Dubai's 16th edition that takes place at Madinat Jumeirah, Dubai, UAE from 3rd to 5th March 2023 (previews on Wednesday 1st and Thursday 2nd March). Discover an exciting lineup of galleries, events and experiences at this year's fair with the programming highlights.
Art Dubai reinstates its importance as the meeting point for the Global South's creative communities as it features over 130 presentations from more than 40 countries and six continents, through its four sections: Contemporary, Modern, Bawwaba (featuring new work) and Art Dubai Digital. The 2023 programme includes a series of 10 newly commissioned performance works by artists from across South Asia which is produced in partnership with Art Dubai's galleries and several leading South Asian cultural organisations. These new site-specific works of daily performances and food-based experiences will explore themes of community, celebration, hope, and connection. Featured artists will include Prajakta Potnis, Rathin Barman, Gunjan Kumar, Anoli Perera and Tayeba Begum Lipi, amongst others. The programme is developed in close collaboration with several of Art Dubai's exhibiting galleries and leading institutions that are playing a key role in supporting artists and artistic production in South Asia. Partners on this ambitious project include Durjoy Bangladesh Foundation in collaboration with Britto Arts Trust, Ishara Art Foundation, Kiran Nadar Museum of Art, Kochi-Muziris Biennale and Samdani Art Foundation.
With more than 50 sessions in an ambitious daily conference, talks and education programme the highlights of which include the flagship Global Art Forum, the first Dubai edition of Christie's Art+Tech summit, a series of Modern and Collector talks developed in partnership with Dubai Collection, and a new event in partnership with the Art Business Conference, focusing on sustainability. The transdisciplinary conference Global Art Forum, commissioned by Shumon Basar, will explore the theme 'Predicting the Present'. Speakers will include Lukas Amacher, Sumayya Vally and Chiara Costa. The Collector Talks will focus on the collectors and patrons who are driving the development of art scenes across the Global South. Panellists will include noted collectors Qinwen Wang, Fiorenzo Manganiello and Teo Yang. Accompanying Art Dubai's Modern section will be a series of Modern Talks that will invite guest speakers to explore topics of 20th Century artists and art forms from the Middle East and North Africa. The Art+Tech  aims to bring together regional and global leaders, innovators, artists, and visionaries to foster meaningful dialogues on the intersection of art and technology.
Art Dubai's Artistic Director Pablo del Val commented, "One of our strongest ever gallery line-ups, complemented by an expanded commissioning and thought-leadership programme, highlights the breadth of discourse that is happening here, and offers a glimpse into the past, present and future of this important region." The 10th edition of Campus Art Dubai (CAD), is a first of its kind in the region developed to provide existing and aspiring members of the region's cultural and creative community with educational and professional opportunities.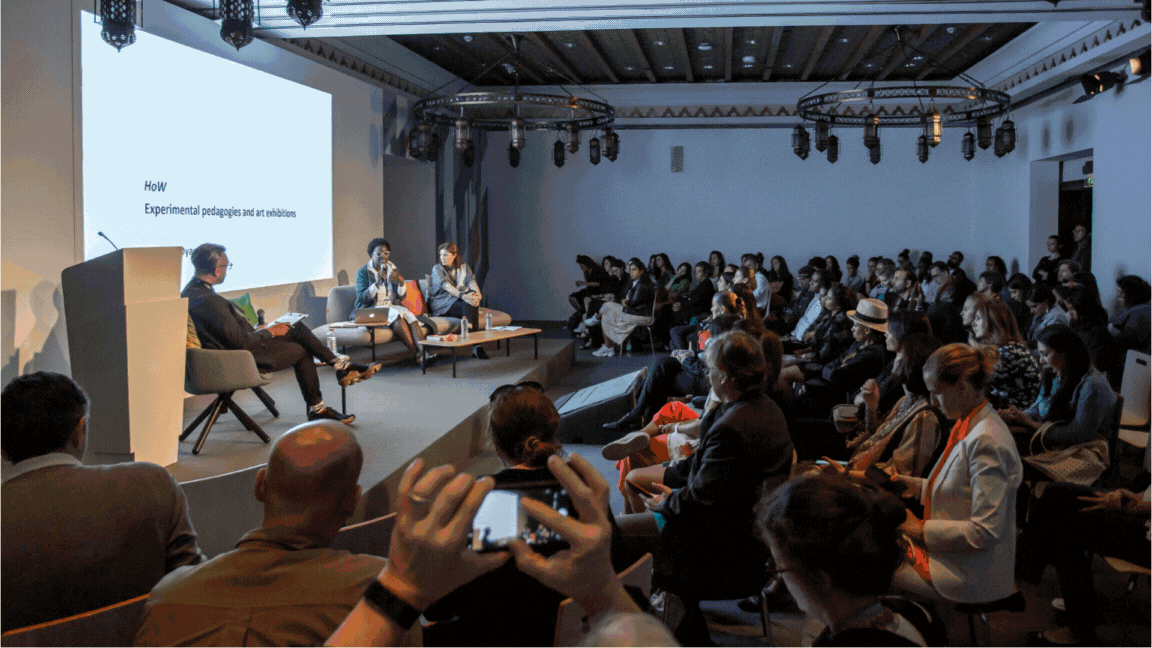 Launched as a new physical fair section in March 2022, Art Dubai Digital provides an annual 360-degree snapshot of the digital art landscape, exploring how artists are utilising new, immersive technologies to collapse the boundaries of the traditional art world. Curated by Singapore-based educator and arts writer Clara Che Wei Peh, Art Dubai Digital welcomes first-time presentations including Lian Foundation, 6529 with their decentralized Open Metaverse project; and UAE First Immersion, a presentation of new artworks by some of the leading names in crypto art, Coldie, Colborn Bell, Monaris, Bryan Brinkman, Kirk Finkel and Raphael Torres.
The A.R.M Holding Children's Programme has been developed by Swedish artist Jacob Dahlgren. Entitled The Flag Project and suitable for children of all ages, this programme of immersive workshops will commence at Art Dubai before expanding to over 90 schools and 8,000 children over two months in what is the UAE's largest cultural education programme. Using everyday craft materials and scrap fabrics, participating children will be invited to think creatively about their environments, collaging together designs that will later be sewn and transformed into flags in an extension of the artist's ongoing project Signs of Abstraction.
Swiss wealth management group Julius Baer has renewed its long-standing partnership with Art Dubai for a further five years, until 2027, and will première a major new commission by internationally acclaimed new media artist, director and pioneer in the aesthetics of data and machine intelligence, Refik Anadol. Glacier Dreams is inspired by the beauty and fragility of the world's glaciers and will be unveiled as a series of multisensory artworks over multiple chapters.
Across the Emirates, cultural organisations are expanding, rebranding, fostering partnerships and cultivating new spaces and ideas. At Dubai's cultural institutions, Jameel Art Space has opened the latest iteration of their Artist's Rooms series, featuring Daniele Genadry, Ayesha Sultana and Risham Syed and a group show, 'An Ocean in Every Drop'. Major shows at Alserkal Avenue will include Dappled Light by Rana Begum at Concrete, and Notions on Time at Ishara Art Foundation reflect on truly universal subjects. Also in Dubai, Sikka Art and Design Festival, a highlight of Dubai Art Season, returns to Al Fahidi for its 11th edition and at galleries across the city, there will be a range of solo exhibition highlights, including Hayv Kahraman at The Third Line, Chafa Ghaddar at Tabari Artspace, Amba Sayal-Bennett at Carbon.12, Sadik Kwaish Alfraji at Ayyam Gallery and Daniel Buren at Gallery Continua.
Art Dubai's Executive Director Benedetta Ghione commented, "Art Dubai has always tried to reframe what an art fair can be, and this year's expanded programme fully reflects our role as a meeting point for the region's creative industries, both commercial and not-for-profit…"
*Featured Artwork & Image Captions
(beginning with 'Art Dubai Talks Programme 2022')
Snapshots from Art Dubai's Talks Programme 2022
Snapshots from Art Dubai 2022
No-to-Scale, Plot, 2018, Other Materials, 2181 x 1404, Courtesy the Artist
Achraf Touloub, Vies parallèles, 2021, oil on canvas, 180 x 110 x 3.5 cm, Courtesy of PARLIAMENT, Paris and the artist
Mohamed Almahdi, Dreams, 2022, 100x150cm, Courtesy Albareh Art Gallery
Nazir Ismail, 1974, Painting, 70x100cm, Courtesy Agial Art Gallery
Noor Ali Chagani, Untitled (Together), Terracotta bricks and acrylic paints, 24 x 19 x 1.5 cm, 2022, Courtesy the artist and Gallery Latitude28
Sudipta Das, Ascending-Descending, 62 x 9 x 48 inches, mixed media, 2023 – Courtesy of the artist and Gallery Latitude28
Featured image above masthead:
Sultan Al Remeithi, Untitled (Johnnie Crow's Pop-Up Restaurant Show), 2015, 21 cm x 29.7 cm