A residency can get incredibly lonely. You spend a couple of months in a new environment, too short to call it home, but also too long to take comfort in the novelty of fleeting encounters. It's a strange collision of being here and not really being here.  I look at maps where I am a blue dot, moving across places with new names – Oberwinterthur, Nesslau, Rapperswil, Krummenau, Oerlikon. Simultaneously, I also ignore the endearingly frequent call from a now familiar number, where a voice on the other end will ask if I want my RO to be serviced. In this second week, I have been troubled and fascinated by how multiple worlds and contexts collide, and through that confusion, I am arriving at structures to navigate the mass of information and material I'm accumulating at this point in my research.
A residency can get incredibly lonely. Lurking in the lobby at the first performance I watched in my first week here, I promised myself that I would attempt to start a conversation with someone I did not know every time I went to a show. Last Tuesday, I was at Gessnerallee, a performance venue in Zurich, to watch Juliette Uzor's Implosive Parts. In the performance, Uzor, a dancer and choreographer with a degree in contemporary dance from La Manufacture in Lausanne, stitched together a complex negotiation between seven performers, each with a distinct movement language. The performance worked with the idea of listening to echoes of images, memories, stories, impressions within the performers own bodies, and what happens when these echoes are processed as embodiment. At Gessnerallee, I was also meeting Julia Wehren, a scholar and writer who is one of two coaches helping me network with the Swiss arts scene, at the performance. Julia's friend Katrin Oettli, a filmmaker, came by to speak with us, so I was able to cheat and count that as my conversation for the evening. We chatted about an oral history project I'd worked on, annotating rehearsal tapes and other footage from my dance teacher's personal archives. Julia remarked that the English annotations in my text allowed her to follow the performances and situations in those tapes. I found myself telling the two of them about sanchari, a choreographic and narrative device, where a single line of poetry, repeated over and over again, makes room for a complete narrative, with multiple layers of emotion. This week, I'm trying to work with sanchari as a structural principle for my writing.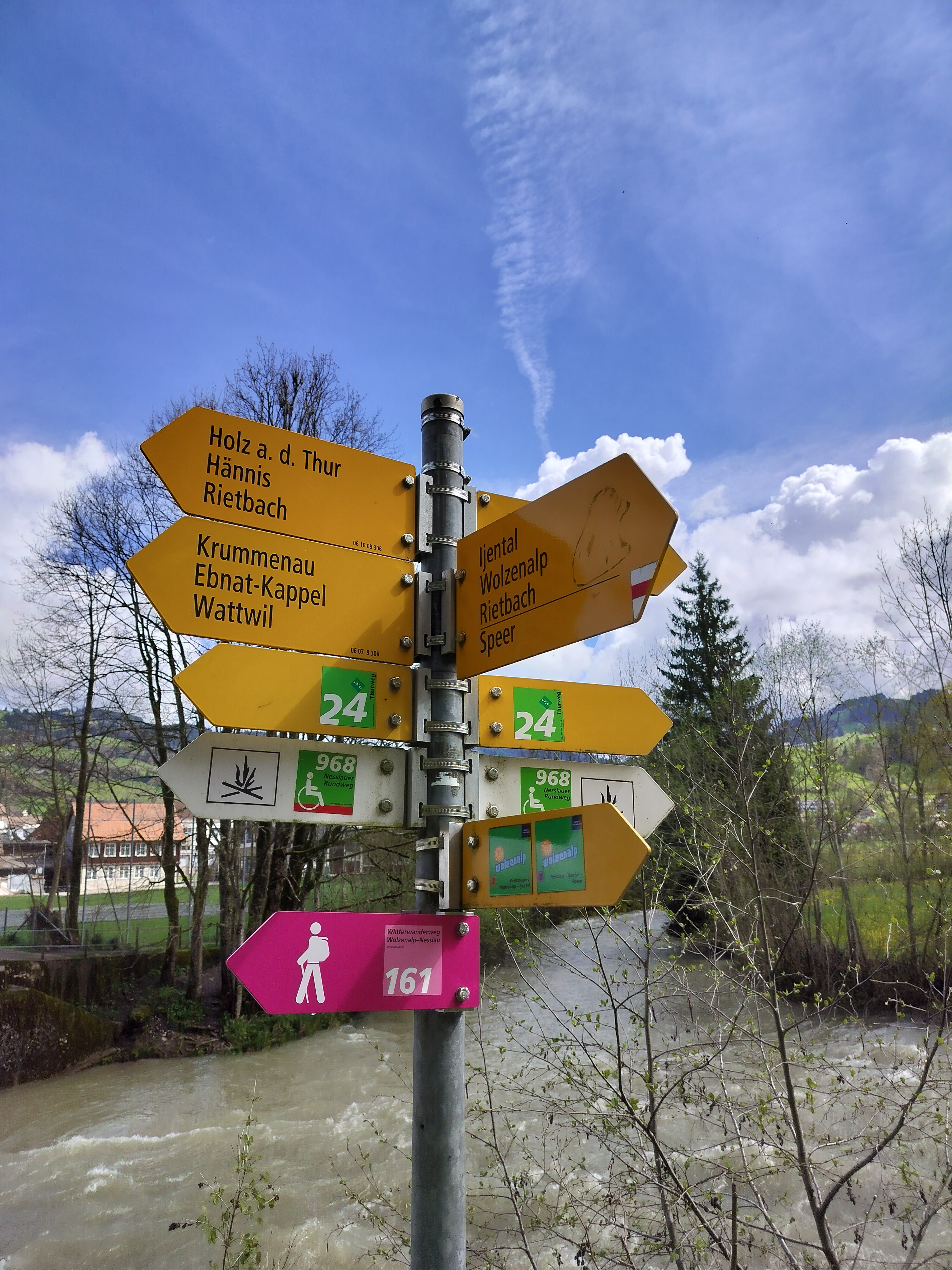 Signposts from a hiking trail along the Thur river
A residency can get incredibly lonely. So I stage encounters with unfamiliar topographies. For some time now, moving in a studio hasn't quite worked for me (moved me, I should say). Ade Suharto (an Australian-born dancer and choreographer of Indonesian heritage), who is a collaborator and shared witness on other ideas and projects in the making, suggested I treat all spaces of movement as studio time, paying attention to how my body moves as I walk, hike, swim or bicycle across unfamiliar topographies. Every Saturday, I go hiking, casually nodding and saying grüezi(hello) as I pass people on the trail. On my first hike, this still felt unfamiliar, and I took my cues from people who greeted me as I walked past them. By my second Saturday out, I'd internalized the greeting, often initiating contact as I made my way along the trail. Thinking through all the hellos I've casually strewn across these trails, I am drawn to autoethnography as a mode of research for this project, and am reading a bouquet of texts that offer perspectives on autoethnography as a critical and self-reflexive practice.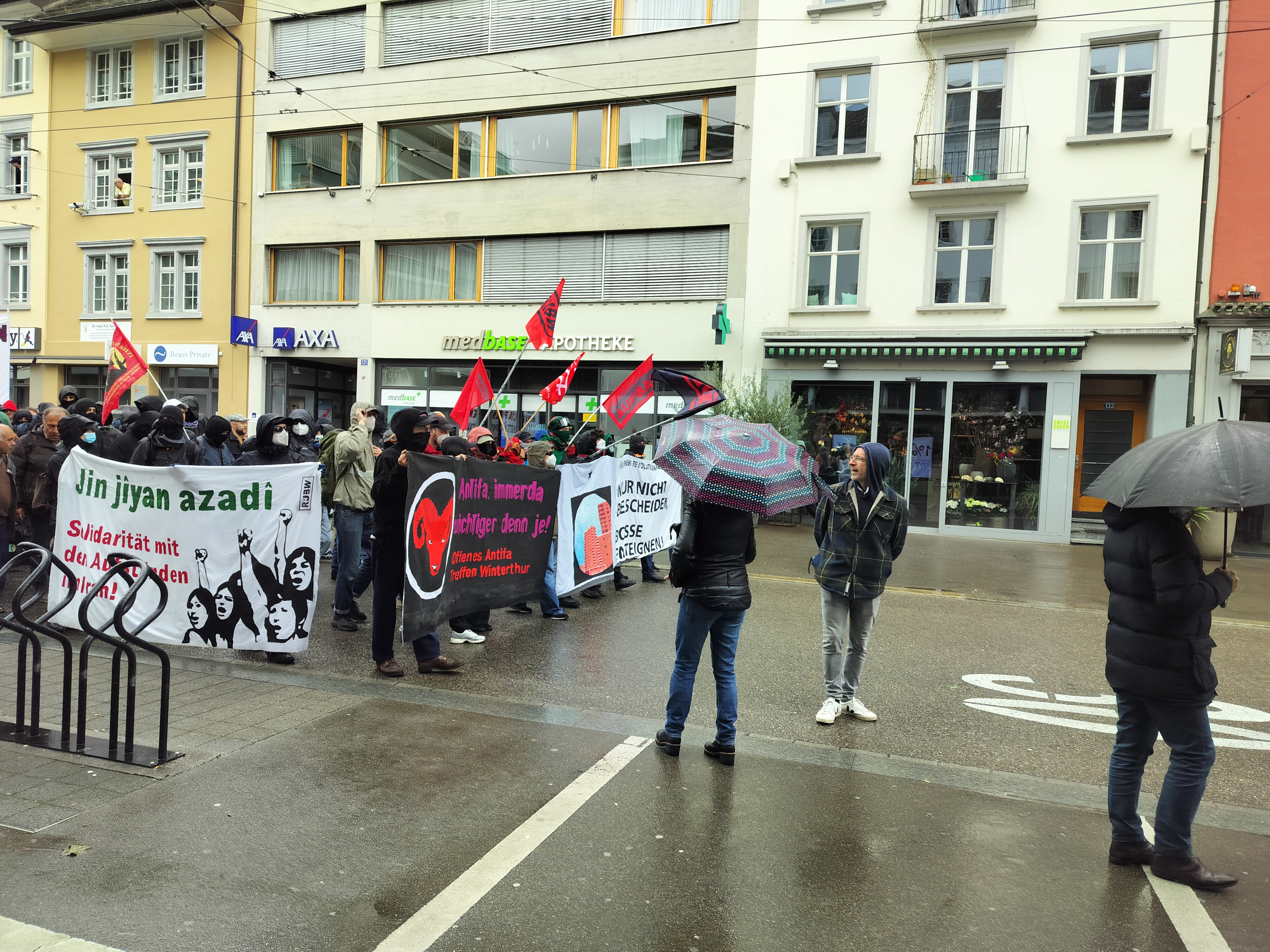 A May Day parade in Winterthur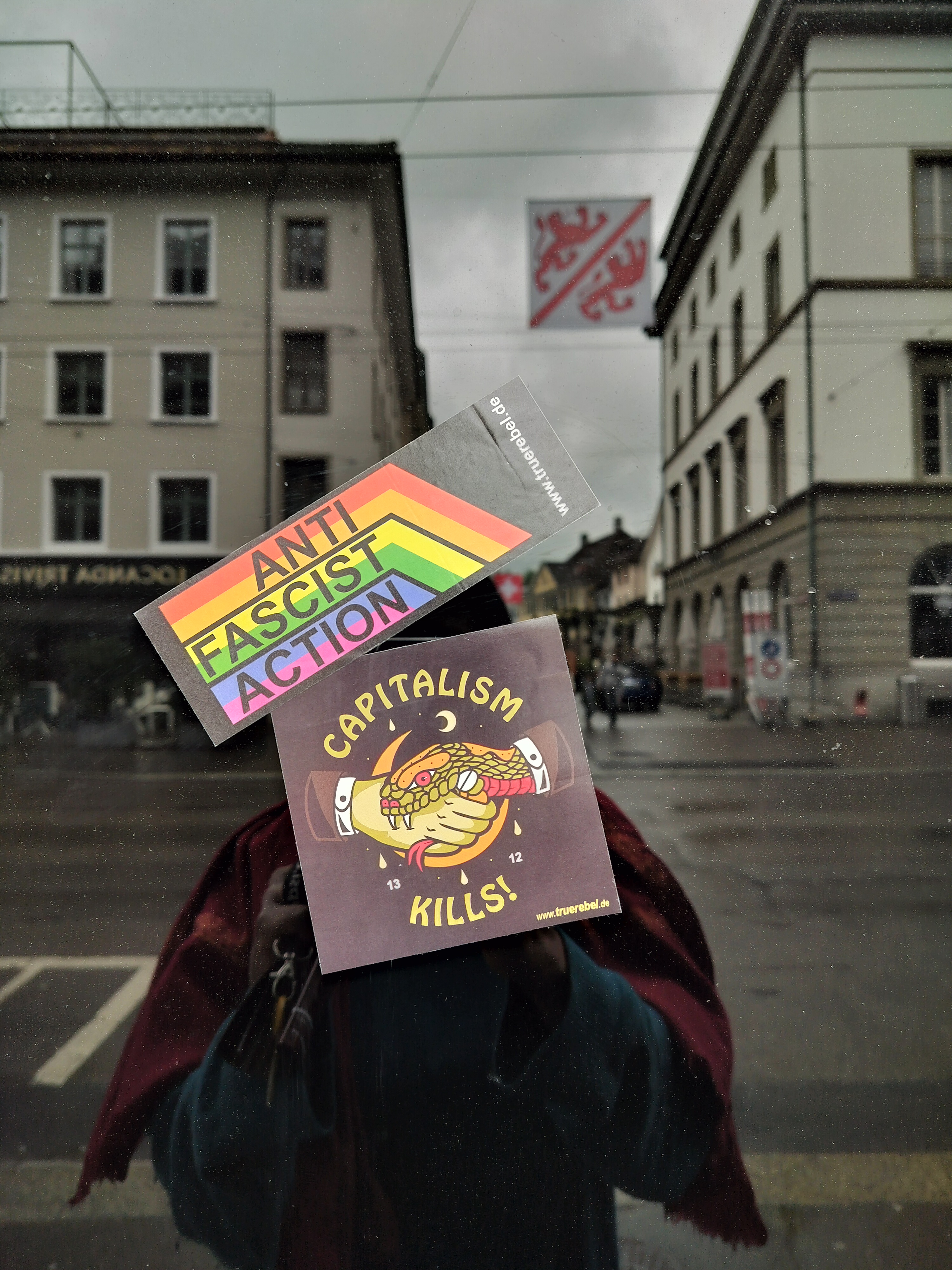 Stickers along the parade route
A residency can get incredibly lonely. Today, multiple citizens' groups in Winterthur came together to organize a demonstration for May Day. I heard them from my balcony and followed the call-and-response slogans to find the parade on an adjoining street. The slogans, from what I could understand and follow, advocated against capitalism, fascism, climate injustice, gender inequality and more. I vaguely retraced the path of a group of protestors who discreetly sticker bombed doors and metal pillars along the path of the parade. I found myself tearing up as I heard the drums beating out the familiar cadence of protest rhythms, while people danced to those rhythms. I was moved by their collective energy – that unlikely yet familiar jumble of causes corralled into a single march, with separate groups taking turns to use megaphones and speakers. It reminded me of the aisle labels I'd spotted at an Indian supermarket in Zurich, where "Thai", "Africa" and "Latino" ingredients sat shoulder-to-shoulder in an unlikely Global South alliance forged by market forces. A residency can get incredibly lonely, but perhaps loneliness is the starting point for uncanny encounters.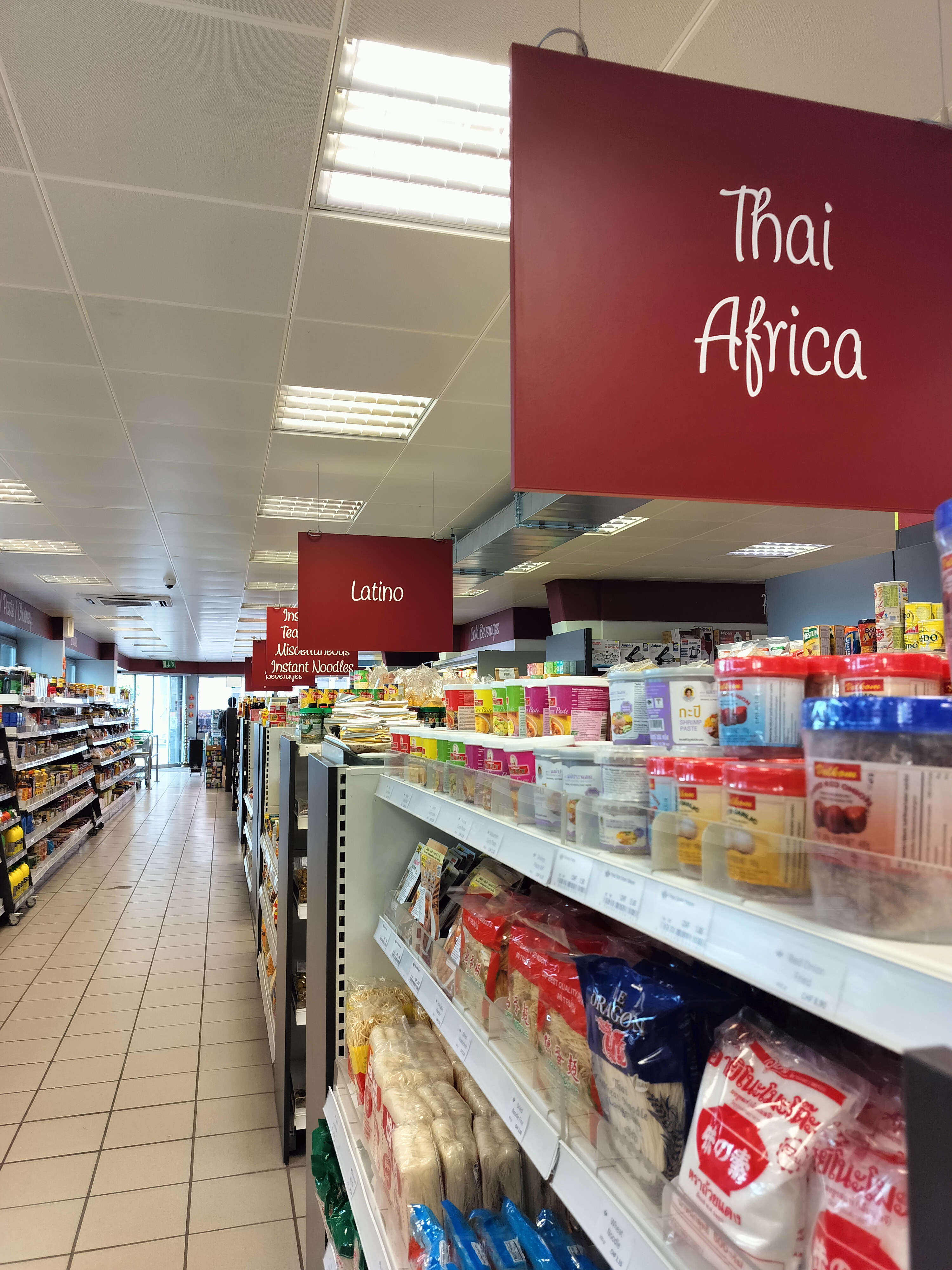 An aisle at an Indian supermarket in Zurich
All photos by Ranjana Dave