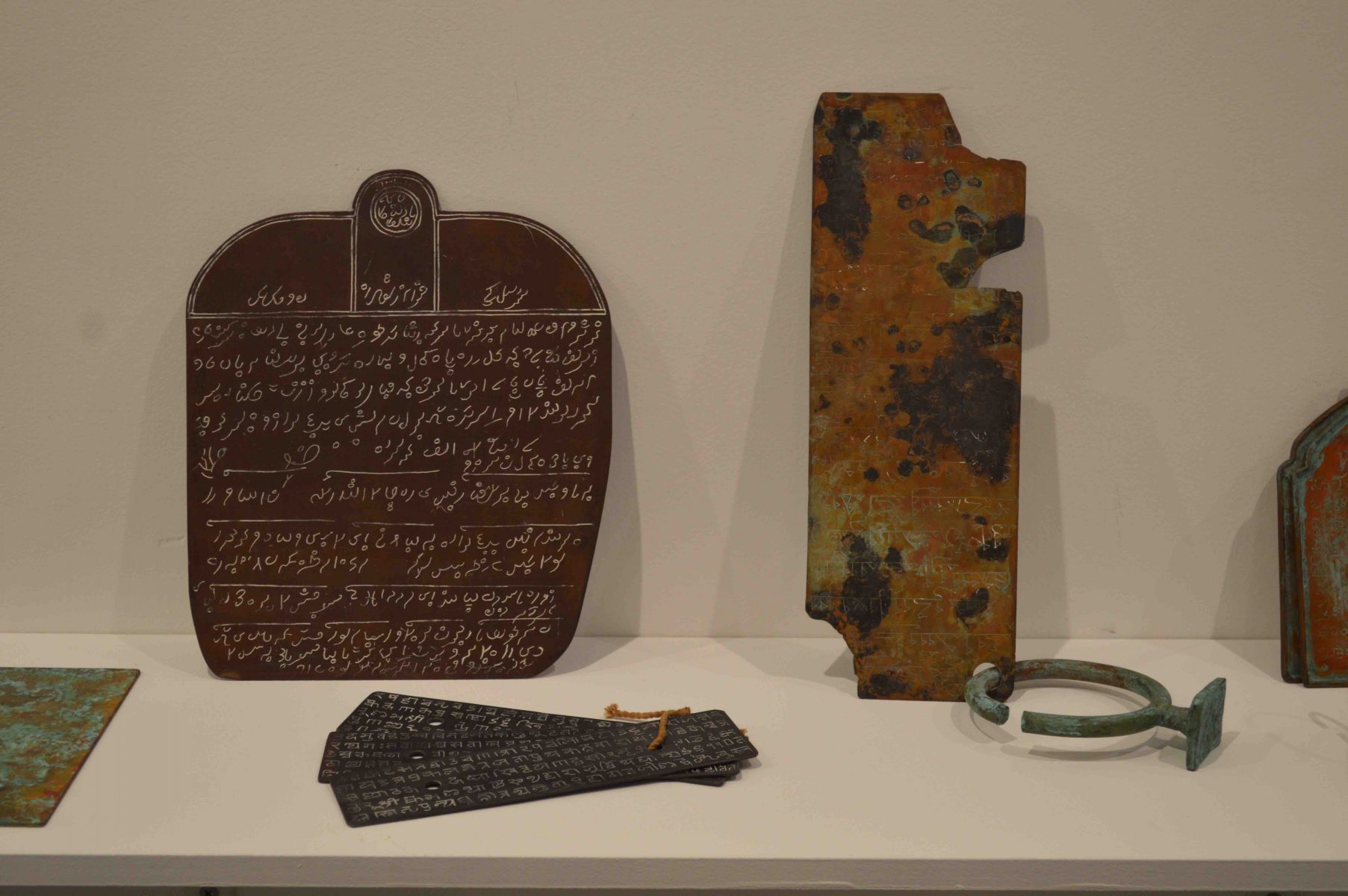 Stepping into the large Sumukha gallery space in Bangalore, one is taken aback by the distinctly unassuming display of 'Epigraphica Indica', Pushpamala N's ongoing solo exhibition. A running shelf across half the wall space holds pieces of hand-crafted copper replicating the form and shape of manuscript pages. Some leaning against the wall, others placed with 'pages' spread out, the effect is that of a condition-report in progress – when objects in museums are removed from their dioramas, carefully touched, studied, and documented before being locked up again. Out in the open and subject to the action of the climate, these items are suddenly free, their pores breathing, their rich, textured surfaces reacting to the air – and perhaps releasing their secrets. A set of tables at another end of the space hold a series of school-slates of yore – closer inspection reveal them to be copper plates as well.
At a primary level, the artist is forcing one to look closely; intimately. For those familiar with Pushpamala's performative self, her flamboyant narratives and larger than life presence, this body of work comes as a different experience. Yet, there is an indirect acknowledgement of performance, in the gestures of her hand painstakingly marking the copper surface of the copper plates. There are essences of drama, and retelling of history – these are devices she uses in her art making. Her work has always carried layered contexts; she delves into discourses of personal and collective identity, intersections of gender and nationalism, constantly researching colonial residues and contemporary socio-political realities. Using methodologies of storytelling that include performance, photo-documentation, film and theatre, she produces artistic interfaces that demand thoughtful engagement. With this exhibition she revisits her sculptural training, working again with physical materiality, and processes of casting and carving.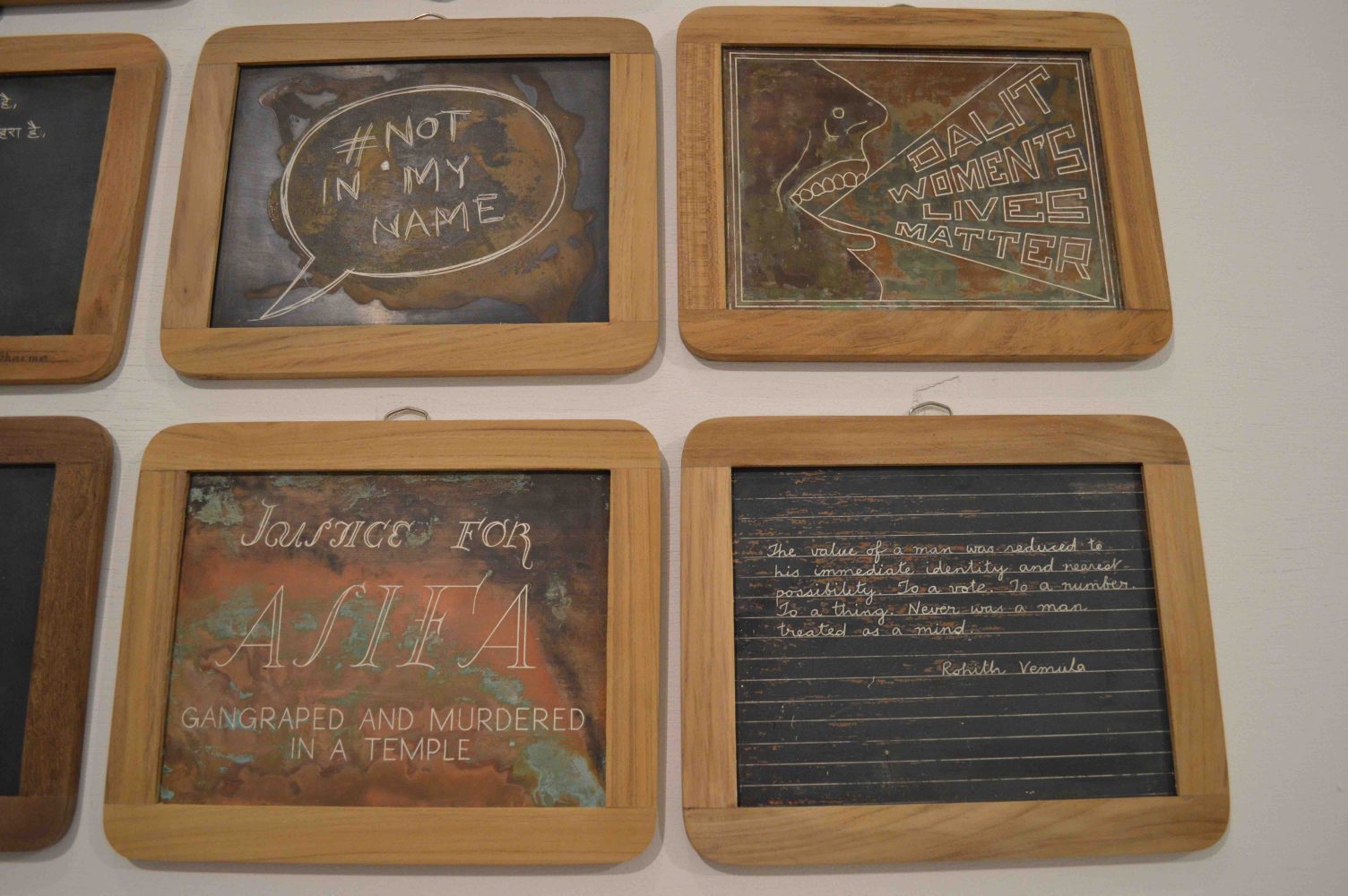 Created between 2015 and 2018, the set of a hundred sculptures called Atlas of Rare and Lost Alphabets was inspired by a vitrine containing ancient inscriptions incised on copper plates that the artist encountered while on a visit to the archaeological museum in Bengaluru. Residing in collective consciousness, the inscriptions jog one's memories – there is a desire to read; it is a human tendency to want to understand, to decipher and know instantaneously. But a majority of the scripts are unreadable, though recognisable. It produces a curious sense of disappointment, loaded with a deeper urge to locate something readable. It recalls notions of privilege, assumptions, hierarchies and distribution of knowledge. The artist pushes herself, and her audience, out of a comfort zone and into a place of questioning.
Formally, the interconnected fragments of sculpture are richly textured. Other than scripts, there are patterns and diagrams, botanical drawings, mythological creatures and animals. Each piece is etched, Pushpamala collaborated with a master printing studio in the city for this, and incisions filled with pigment to be visible. Hidden in between, she has put clues of her presence – her name, spelt out in the vernacular.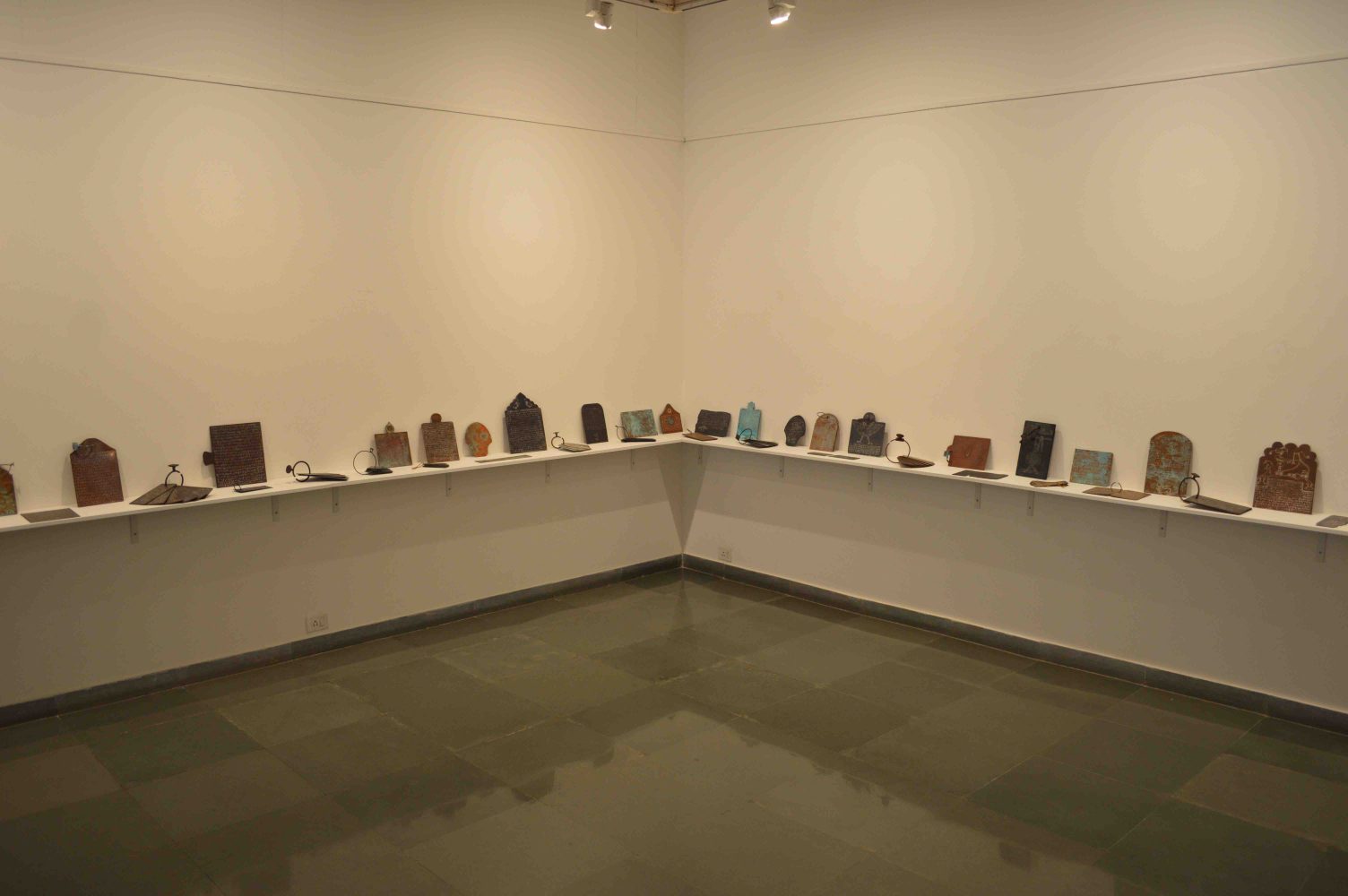 The second part of the exhibit is an installation of fifty slogans – Nara – commemorating many slogans and poems of popular protests in India. These contemporary inscriptions are social-history in the making; they represent iconic words and images from events in recent times that demonstrated both vulnerability and resilience of humans and the dire straits in which freedom finds itself.
The etched copper here presents an intriguing layer. There is hidden violence, that can read into the act of etching. The acid burns into the metal, marking the very fibre of the matrix. This is something that cannot be wiped away like chalk on a slate; these are permanent cries for help, etched into one's mind and life.
'Epigraphica Indica' pulls the viewer inward, and is a powerful reminder of the complexities of culture, identity, and belonging – and everything we take for granted in this contemporary, virtually driven world.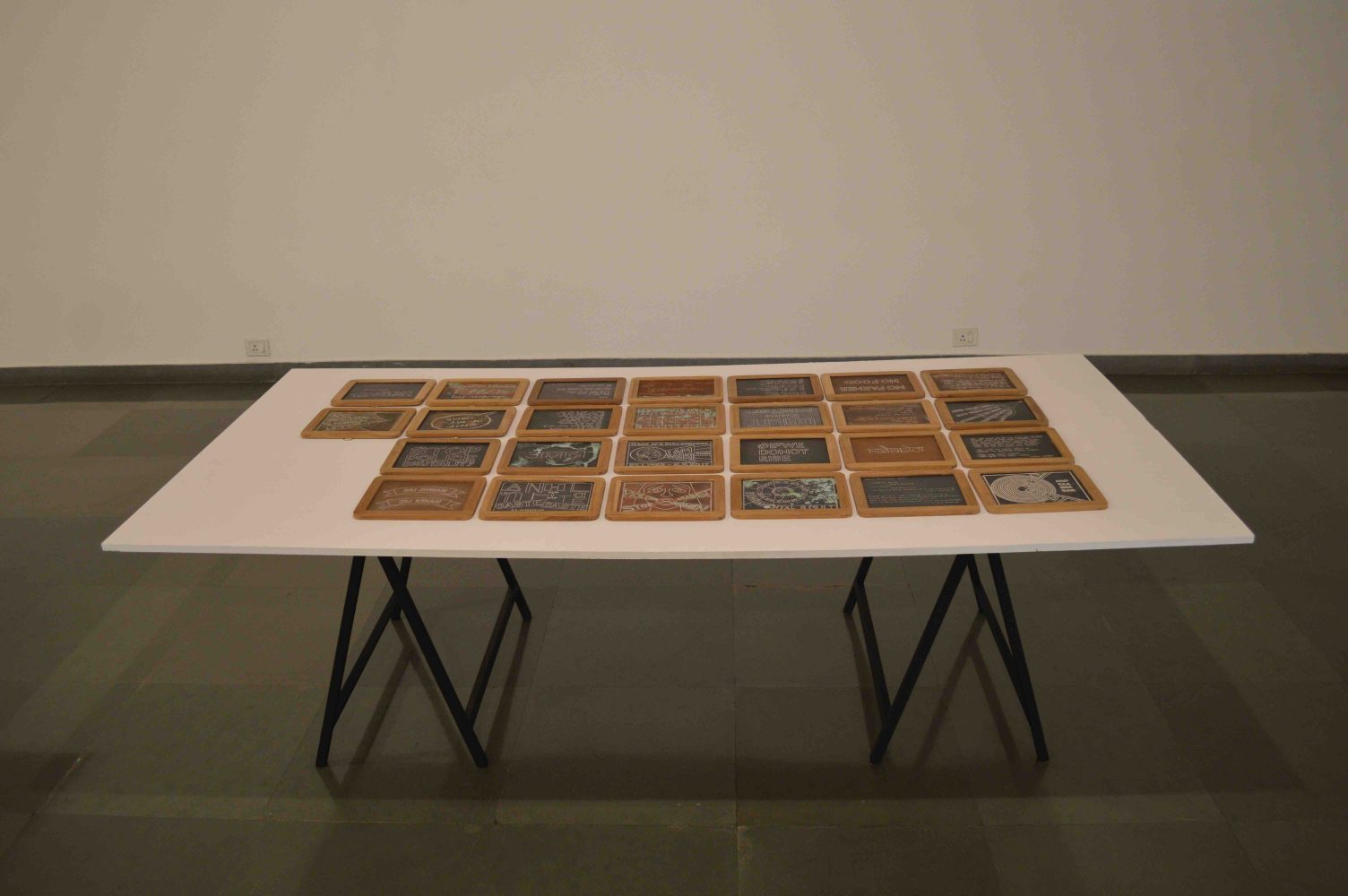 'Epigraphica Indica: Pushpamala N.', Gallery Sumukha, Bengaluru, March 12–April 16, 2022.