"I, Lalla, entered the gate of the mind's garden and saw Siva united with Sakti. I was immersed in the lake of undying bliss. Here, in this lifetime, I've been chained from the wheel of birth and death. What can the world do to me?"
– Lal Ded, 1300s
Cutting across faith and caste people have been flocking the Nizamuddin Basti in Delhi. They have associated the place with a spiritual quest, including seeking respite from their misfortune. All come for relief from physical ailments and some for just blessings from the Sufi saint. The whole area is filled with graves of respected people like Muhammad Shah Rangila, Jahanara (daughter of Mughal Emperor Shahjahan), Amir Khusro, Rahim Khan-i-Khanan, Mirza Ghalib, etc. There is even the Jamaat Khan Masjid from Khilji's Era. Neela Gumbad and Humayun's Tomb are some of the other monuments which stand with their glory. The atmosphere there is a constant celebration of the seven centuries of Hindustan's syncretic culture and diversity.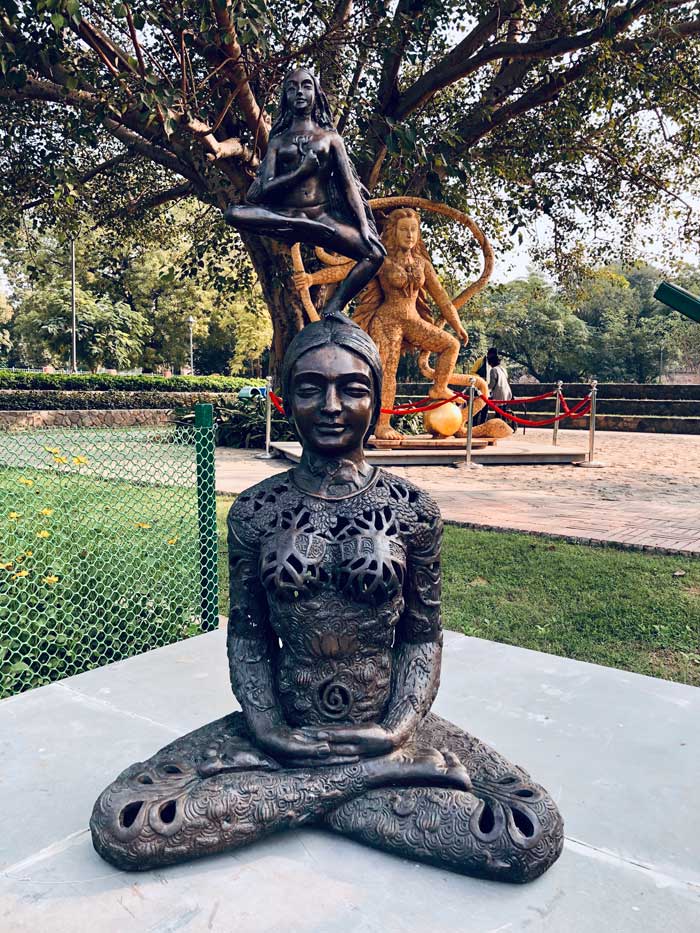 It was the midst of this area that the Delhi based artist Seema Kohli chose to exhibit her latest show, A Circle Of Our Own, curated by Shaunak Mahbubani at Sunder Nursery which was also known as Azim Bagh, a 16thcentury heritage park complex. This show is focused primarily on the divine feminine as a source of energy. This has expanded ideas of which artist has made her own over the years. It questions the idea of feminism from its core. She is not talking about women, men or non-binaries, she believes in balance because it holds a sense of collaboration and sharing. For her, there is a very different philosophy about the feminine which is rooted in our culture long before western concept of feminism. And here she is decoding through her recent work of 64 sandstone yogini/jogini sculptures which is clustered around a lotus pond in Sunder Nursery (Azim Bagh).
Title of the exhibition -The Circle of Our Own – leads towards fundamental principle which is time and the direction of space. It manifests from the central as the cycle of existence. The artist says "idea of energy is not linear, it is circular. It moves in a circular motion. It has constant action which is going on and going far then returns."This exhibition holds no secrets for the visitors, as the artist always highlights women's physical and spiritual strength. In this show, she has combined the traditional yogini temple sites of Orissa and Madhya Pradesh with her own interpretations. Her idea about yogini is energy and a seeker of liberation. She has observed in her site visits that most of the yogini temples were located at a secluded site, some distance from towns and often on the top of an isolated hill and or near a water body.
The layout of the exhibition allows smooth eye movement and it reconciles the artworks, enabling the ability to follow objects in motion. One would experience the hypaethral (open to the sky) stone temple around the lotus pond and will circumambulate from left to right to reciprocate the yoginis, and another circumbulant, if taken from right to left visitors, will closely observe the etchings of sixty four yogini on zinc plates. Each divided into groups of eight and each group member seems associated and attributed to each other. In the middle, the pond creates a pavilion like mandapa with blossom lotuses. Kohli believes, this site is totally secluded and serene and the lotus pond is meditative. It captivates and holds the viewer. It holds the fluidity of Ganga-Jamuni Tehzeeb (Ganges-Yamuna Culture). Some of them are traditional yoginis and few have been coined Sanskriticised names of which she has also been inspired from Chinese and Greek Goddesses.
One of the striking parts of this open air exhibition is that this is a public park. The visitors are from diverse religions, classes, castes and ages. I noticed people keep looking at the yoginis with curiosity and enjoyment. For some, these yoginis are like devotees and they felt the proximity to the divine. These sculptures and the experience are so powerful in its tendency, which will be retained in memory and reproduced in narratives among the visitors. These yogini look like a female adept of yoga, libration, a female tantric practitioner, a sorceress with certain magical energy. When modernity is pushing people into a chaotic identity crisis, the cultural heritage strengthens cultural and historical identity. This exhibition has become a cornerstone introduced to audiences about historic, cultural and architectural grandeur. Kohli's yogini also talked about fertility, vegetation, yoga, magic and female masculinity—that all forces of shakti (energy) with mysterious power and sensuous beauty is breathtaking.
The Artist has waited long and it took her almost a decade to exhibit sculptures together in a unique ways of setting. There are wooden and bronze sculptures displayed around trees near the Lotus pond as well, such as Nagabandha, Rising of Kundalini II, Tree of Life, Kalika, Sohamsa etc.
The exhibition offers the opportunity for visitors to have constant dialogue because they embody the physical manifestation of social relationships. When I spoke with the artist about the work Sohamsa, she said that it is a beej mantra. When one repeats this term he/she feel like breath in and breath out in meditation. In sanskrit, it is soham (I am you) Hamsa (you are me). This mantra is also for Saraswati. In the sculpture she is riding this swan or swan is the Saraswati. It is about the knowledge, final liberation and various incarnations. Human and bird form is almost merging into each other. They are two different forms, but the first look at the piece it feel like it is one form of a woman and a hans.
A Circle of Our Own: A Sculptural Show by Seema Kohli, Organised by Gallery Ragini at Sunder Nursery, 16 November 2019 – 16 February 2020