Daughter of well known artists Manu and Madhavi Parekh, Manisha Parekh studied art in India and abroad, exploring the abstract with cultural references based in craft, textiles, painting, collage, drawing and more. A River Inside, her latest show in Mumbai at the Jhaveri Contemporary gallery was rooted in the line in its various forms. It showed off various shapes and forms, most notable being the layered perforated stories she created with handmade paper.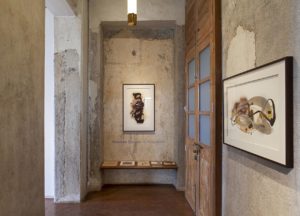 The gallery is set in a heritage building and has high ceilings and expansive rooms that enhance the artists' work. Parekh's pieces are surrounded by plenty of clear space, which gives them a unique depth and allows the viewer to focus on each instead of being distracted by another too close by. There is a sense of almost military-like discipline in their arrangement, that effect enhanced by the lack of labels that could explain, describe, discuss. There are four distinct styles shown—colour, no colour, black and white and sculpted elements. Each talks about the line in different ways, from thick to thin, suggested to obvious, vibrant to serene. The movement is fluid, the flow wild and destructive or calm and dividing.
The Sound of Water melds graphite with paper. Parekh's notes explain how the works are done—using droplets and drips of dried glue to form a rubbing base for paper marked with graphite in varying intensity. There are shallows and deeps, hidden dangers and creatures perhaps lurking in the dark shadows. The imagination can run wild, or be soothed by the gentle lapping of water as it touches the solid edge. Look at it from different angles and you see different stories, but what is the artist trying to say? It looks like the daubs and smudges of a child, but is obviously a reflection of the workings of a more adult mind.
Following You is a stage in Parekh's evolution as an artist. The explanation is that she flitered out the actual body in a gradual process of devolution, paring down the imagery to where just the possible spaces that that body could exist are left. There is an interplay of light and shadow, solid and space, shape and form, with the strange, geometric metal grids creating questions that can only be answered by the imagination. Perhaps that was the intent, who knows! The hand reaches out to hold, but obviously that is not allowed, even though nobody seems to be watching. Does it make the message behind the medium clear? Not without explanation, not without insight into what it is trying to say.
Relic and Totem speak of more colour, movement and intrigue. Is that a car seen through the fog of a glass wall? Does someone stand on the other side of the lamplight, glinting shades of light and dark, showing flashes of skin as they twirl and turn? Or is there a body, splashes of blood where it has been torn, raising an arm in one last desperate cry for life? There is no reality except that which is created by the mind… or the artist…The work has an interesting film noir kind of mood to it, evoking images of a weathered and cynical detective trying to find both culprit and victim on a very cold and rainy night in the backstreets of a less salubrious section of a city.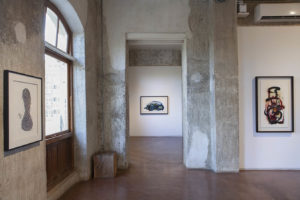 Ripple is the most graphic and vocal of the sets of works that make up A River Inside. There is a depth and dimensionality, as well as a more obvious direction that the mind can wander in. From one perspective it could represent a trail of white ants as they crawl across a surface, eating through, leaving a well delineated map of where they have come from and where they have gone. From another, it is the story of borders between nations, between people, between ways of thought, like maps with boundaries seen from far above. These lines of schism seem to shift and evolve, sometimes present, occasionally vanishing to suddenly leap out again. The series shows a tremendous amount of not just thought, but labour intensive persistence, somewhat like the story of man through the ages. And it has enormous visual appeal too, demanding closer examination and a marvelling at the amount of work that has gone into it.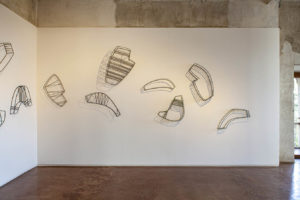 A River Inside demands more than mere aesthetic appreciation. It needs thought and creative visualisation, questions asked but never really answered except by the imagination. Does that work for a casual viewer? Perhaps not, since foreknowledge or direction is needed for each set of works. But as an immersive and provocative experience, it does its job with elan.
Manisha Parekh: A River Inside, Jhaveri Contemporary, Mumbai Gallery Weekend, 9 January– 22 February 2020