As the Pandemic stirs its monstrous head once again, one cannot help but reflect on the life and times of the last two years. The blood, sweat and tears have not yet run dry before we steel ourselves for what could be another onslaught. Perhaps this is why the great artists of the twentieth century have used famines, wars and plagues to document our resilient human existence while excavating unearthly creative light and human spirit from the bowels of the darkest moments of mankind. As I am strung between life and death, the two extremes of this pandemic have made me walk on a tightrope. The death of a parent and the birth of a child compel me to come face to face with the ultimate terms of life that none of us can escape. A circle, a gyre within which I am completely engulfed… lost in some limbo between these parallels I found a moment of empathetic kinship in the works I viewed at 'The Circle of Life'. Both birth and death are such powerful transitions for those that leave, those that come and those that are left behind. All words fail to do justice to the range of emotions, the void, the anger, the magic, the mystery, the fulfilment, the joy and the learning that each of these brings.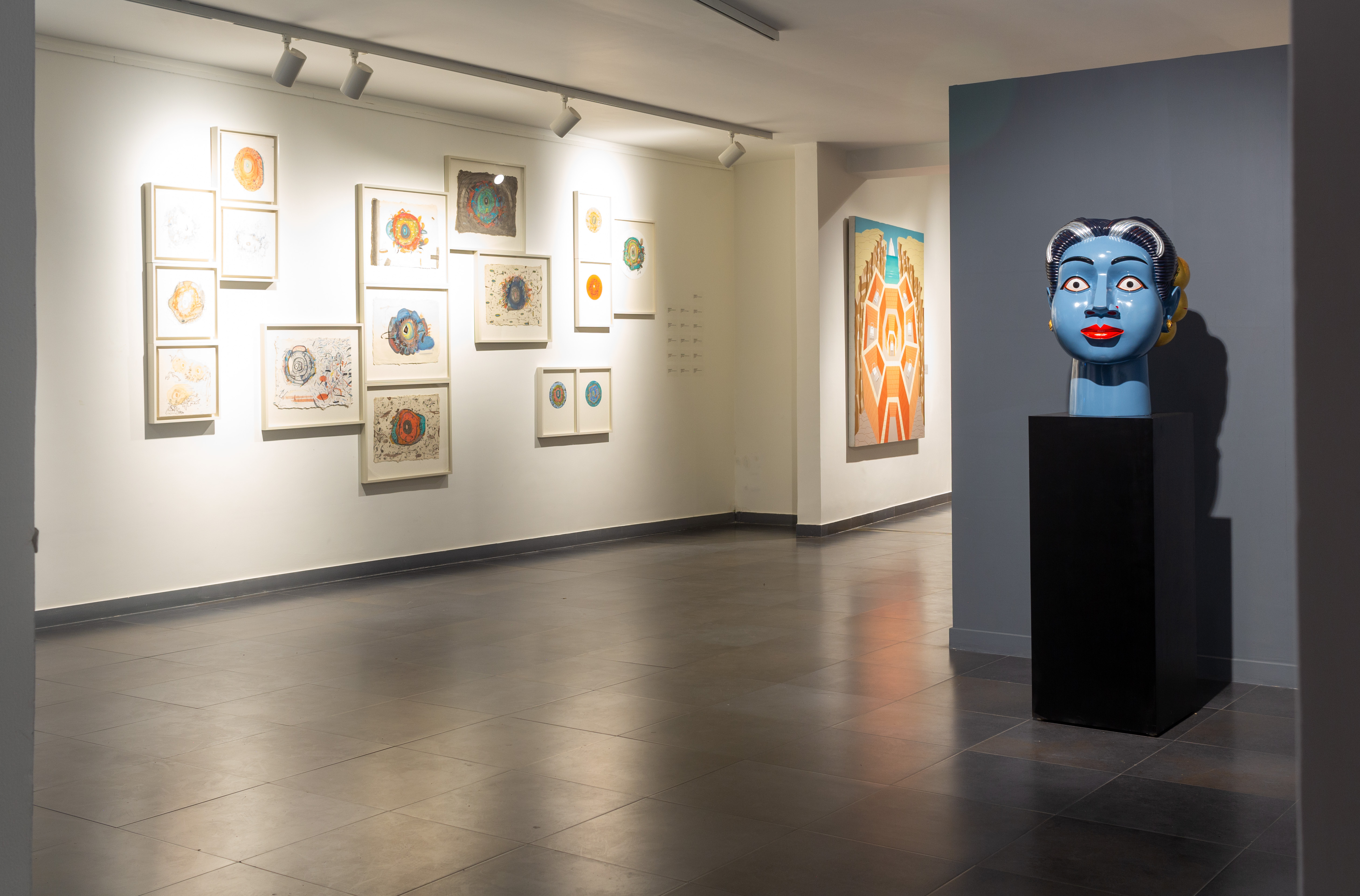 Through the pandemic, we were ironically cast in, all of us at once into a predicament that sealed all our fates. We were together in an epoch of isolation and loneliness. Yet, it seems that in these times more than ever art spoke to us and made its calling clear, whether for health or communal understanding or simply to satisfy our internal and personal yearnings. It created a coterminous continuum between ourselves, between the artist and viewer, between the art and the subject, between the lives we lived before the Pandemic, within it and beyond it. Edging between valleys of death, a poignant show by Art Centrix Space, 'The Circle of Life' featured works by artists ArunKumar HG, Gigi Scaria, Kundan Mondal, Michelle Poonawalla, Ranbir Kaleka, G. Ravinder Reddy, Riyas Komu, Ruchika Wason Singh, Tehmeena Firdos and Tom Vattakuzhy. What times could bring greater creative interpretation and momentum than an epidemic, where one is isolated with one's thoughts and feelings and is left to battle one's own devices, demons and deities?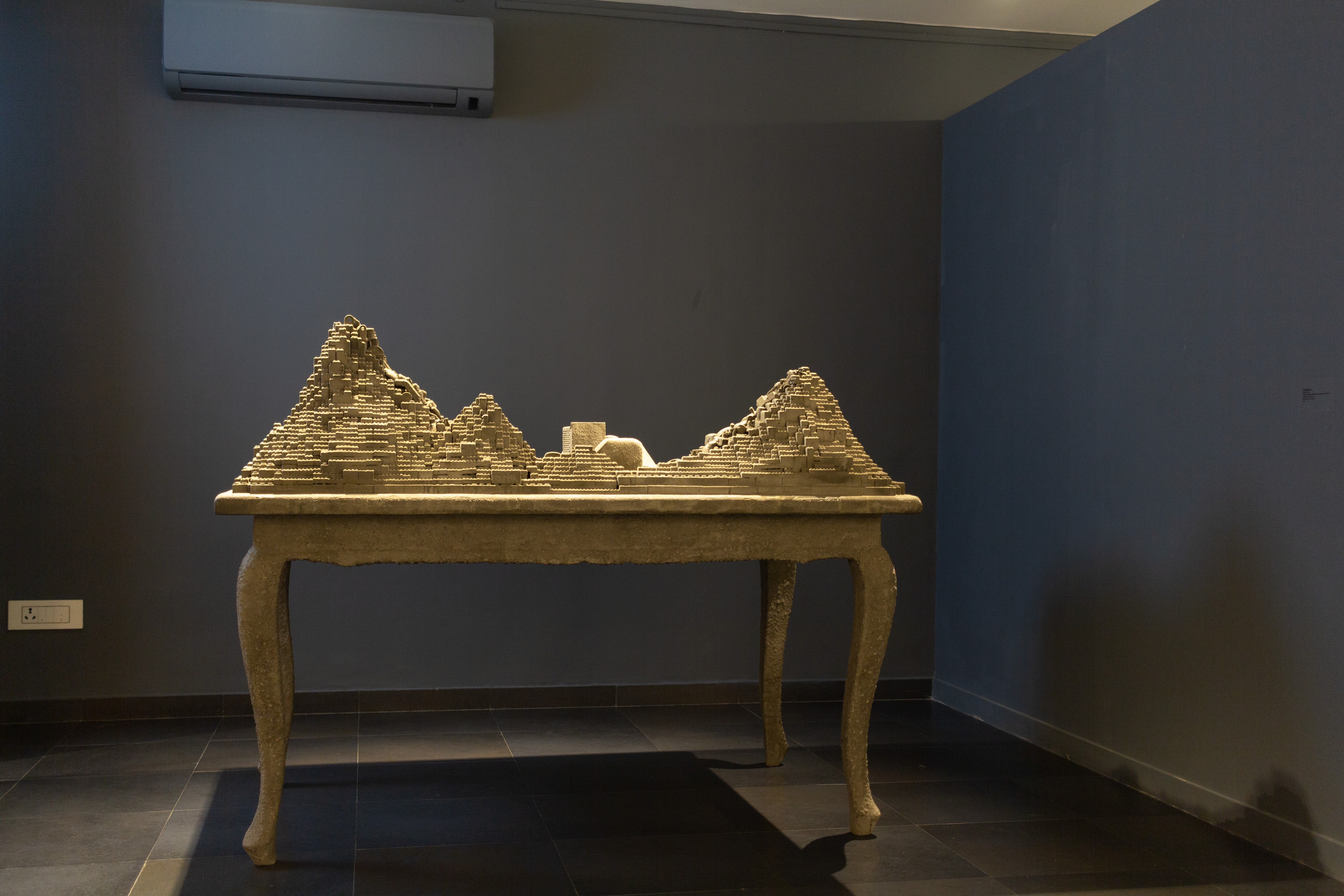 Arunkumar HG, Matter of Life, 49 x 62 x 39 inches, Upcycled wooden table, old toys, stationeries, electronic waste, glue, cement, etc, 2022
Derelict objects shrouded in ash-like cement from Arun Kumar HG's Matter of Life are a reminder of the wasteful byproducts of human existence. I'm also reminded of the morning after my father's funeral pyre had been lit, his whole life summed up to a pot full of ashes. What is truly the 'matter of life', I found myself pondering… what matters and what of life? Deep in its web and well-like chasm, Scaria's work Iceberg represents an insurmountable rift and ever-trapping maze of loneliness and isolation. The icy-cold distance, jagged cliffs and stringent brick walls are amplified by a grave and coffin-like central chamber. What wouldn't send a human to his/her death if it wasn't the separation from their loved ones? If you never saw them again, or they never saw you, as they got wheeled away into the 'Covid ward'. Knowing that it could be the last moment you ever laid eyes on a loved one, is a death sentence enough for the living, let alone the patient who is suffering and is then separated from seeing/being with family. Even in death thousands were not allowed to perform their last rites or bid their goodbyes to the bodies of their kin. Like the two cliffs on either side, there would never be closure.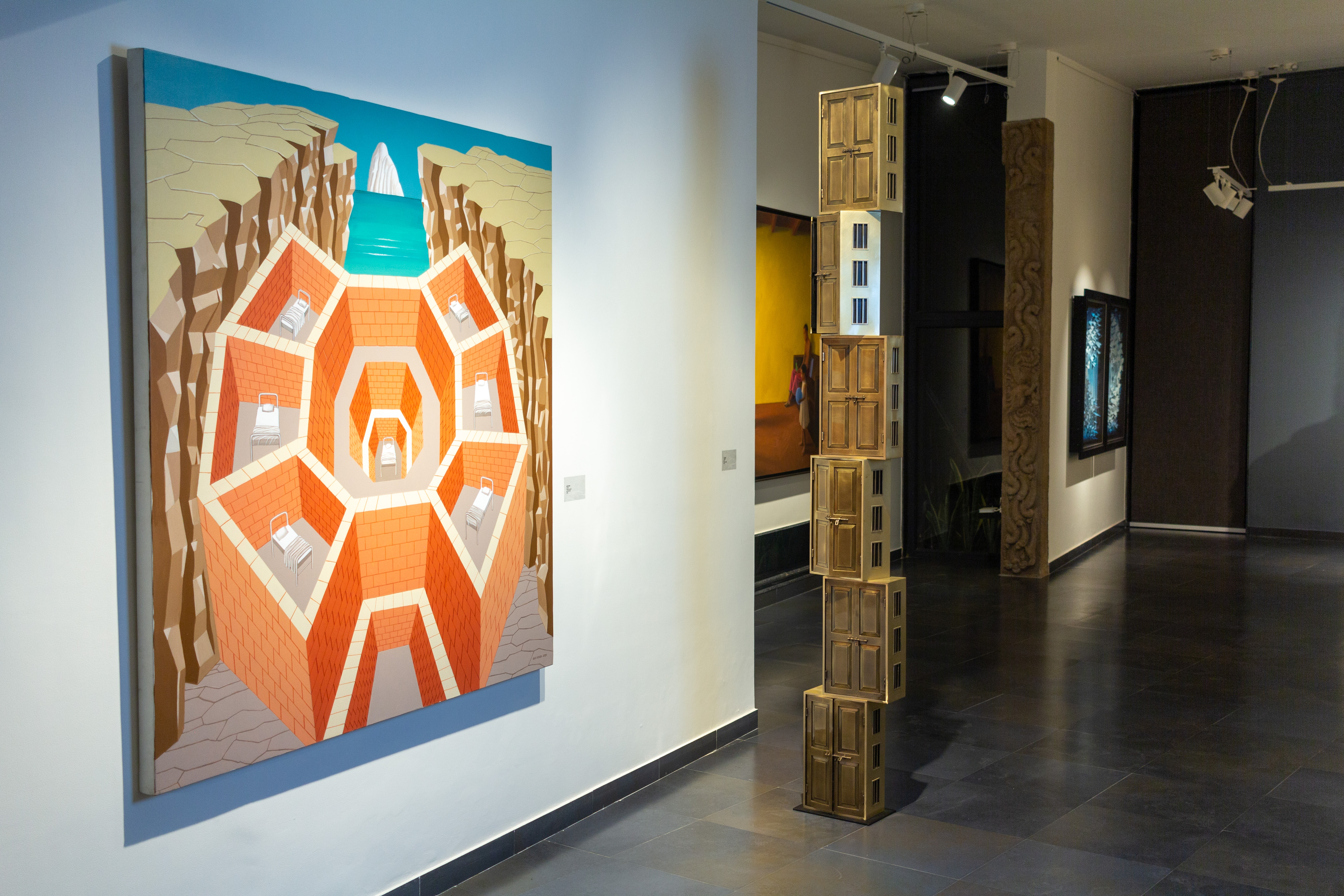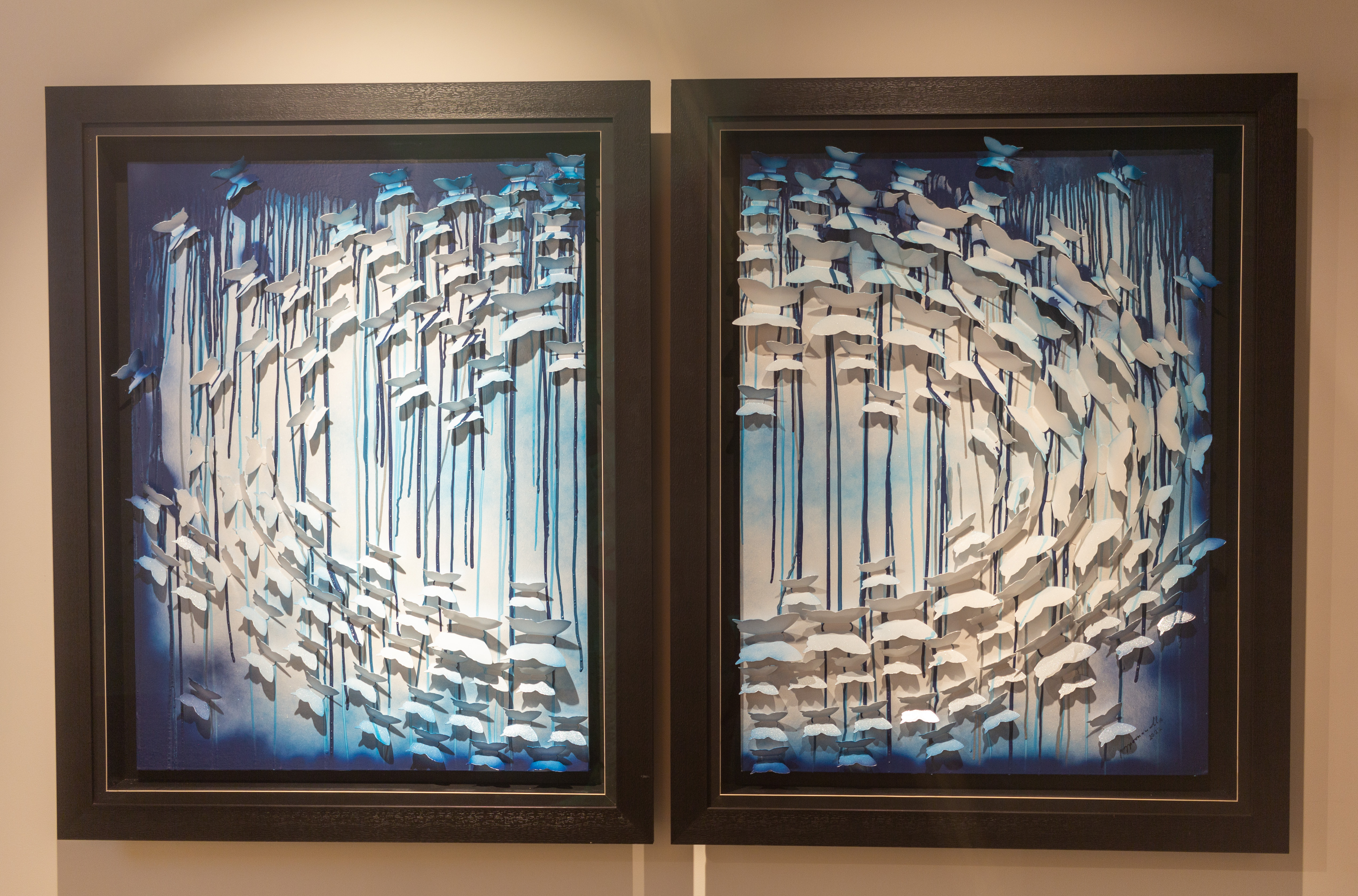 Be it the monochromatic ink-dripped Diptych by Michelle Poonawalla with metamorphic butterflies swirling into the cycle of life or the sweltering hues and scenes from Ranbir Kaleka's embryonic seedling profusion of life, our destinies are forever twisted into these cyclic patterns. In between, the journey brings sadness and happiness, confusion and clarity, destruction and growth. Known as digital paintings, Kaleka's works could be accurately described as digital collages. The final work can consist of hundreds of thousands of layers. He digitally shapes, colours, and shades and uses light on the objects, working the way he would work on a painting, multiple layers are collapsed into one and the whole is printed in archival inks on a canvas, highlighting certain areas using oil paint.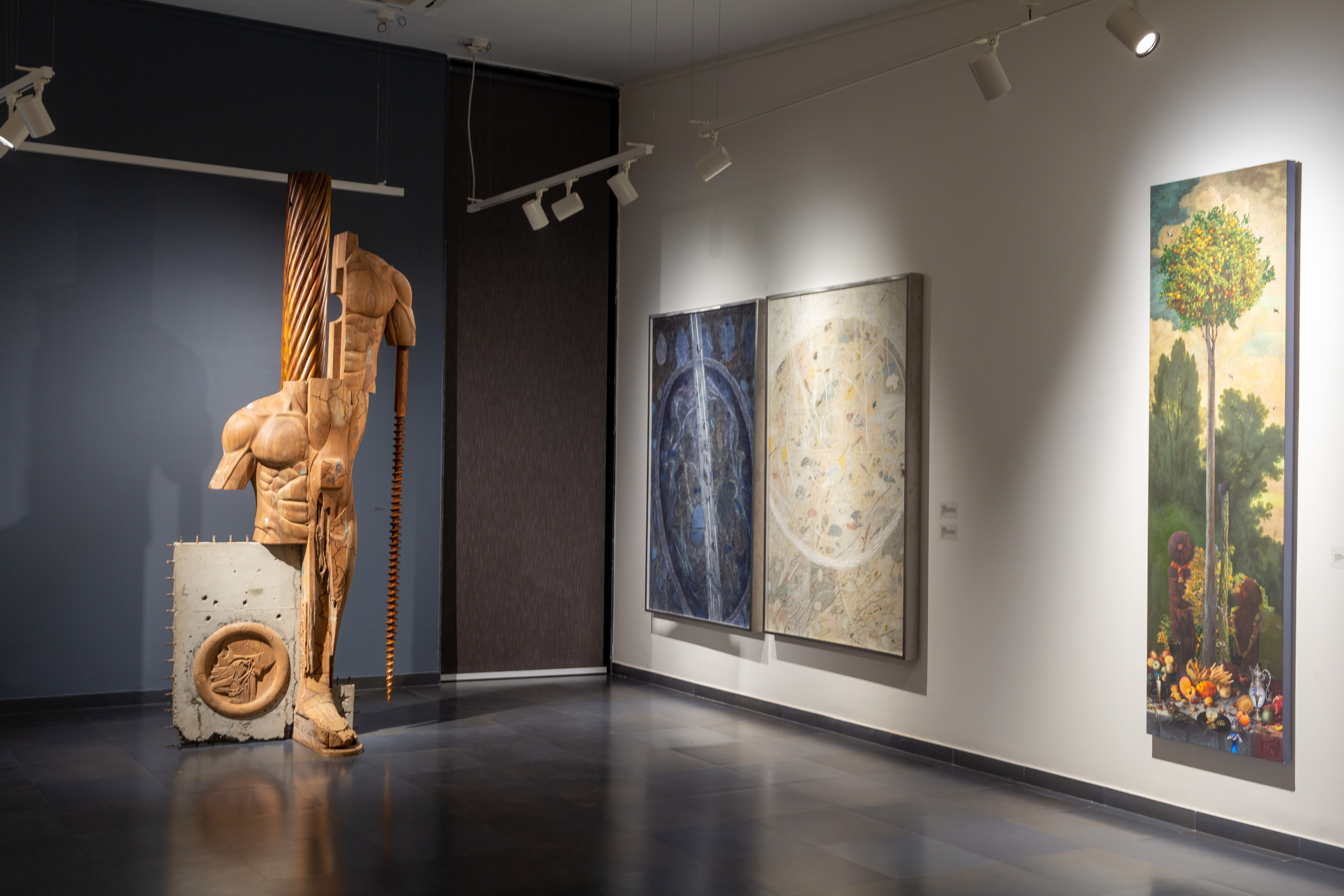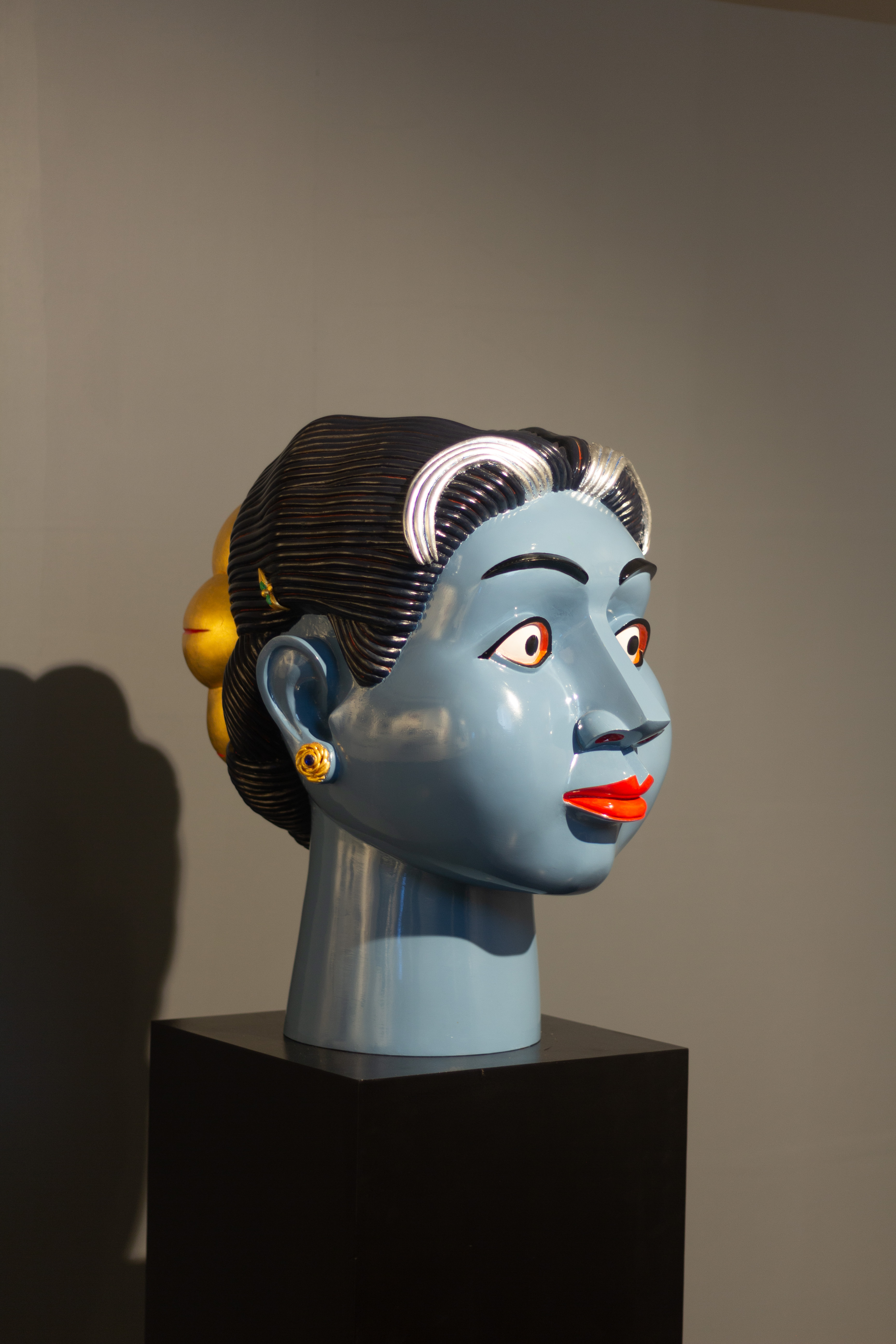 Among the subtle and detailed works, Ravinder Reddy's iconic and pop-art-like heads stare back at me as a constant reminder that all of us mortals are ordinary, everyday beings, subject to the laws of the universe. That the ordinary lives of my father and son are beautiful and celebrated nevertheless. That as millions of women before me, I too am now a mother with renewed respect for all mothers and everyday women who give and sacrifice all they have to perpetuate the circle of life. And that is what makes every woman beautiful. Riyas Komu's deconstructed monumental sculpture represents the forward force that resonates with walking as a symbolic act of defiance and disobedience. In recent times, thousands of labourers and their families walking from the cities to their villages evoked such feelings. Or the more metaphoric symbolism of the human spirit that will not give up and will not die but will stay steadfast in its survival.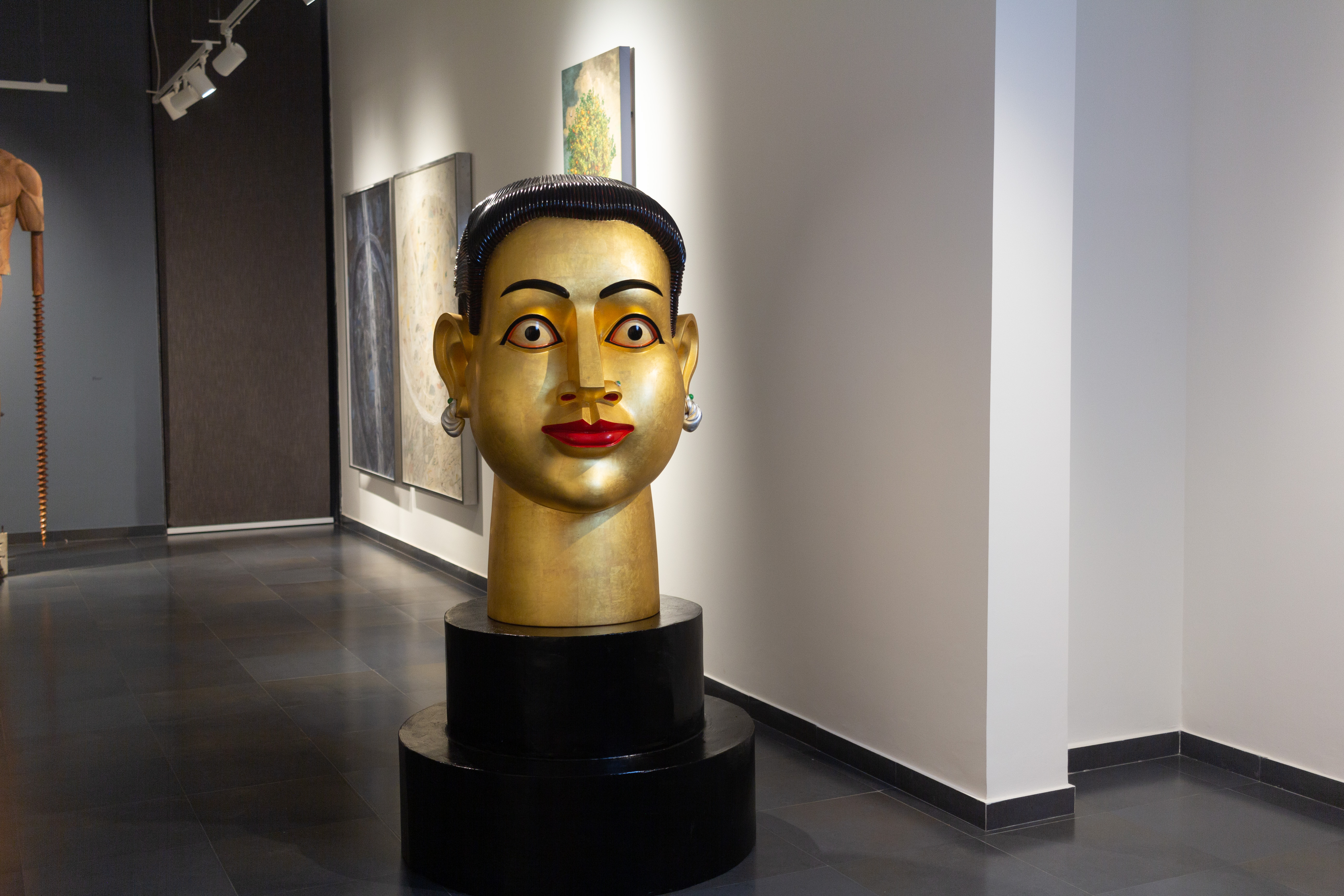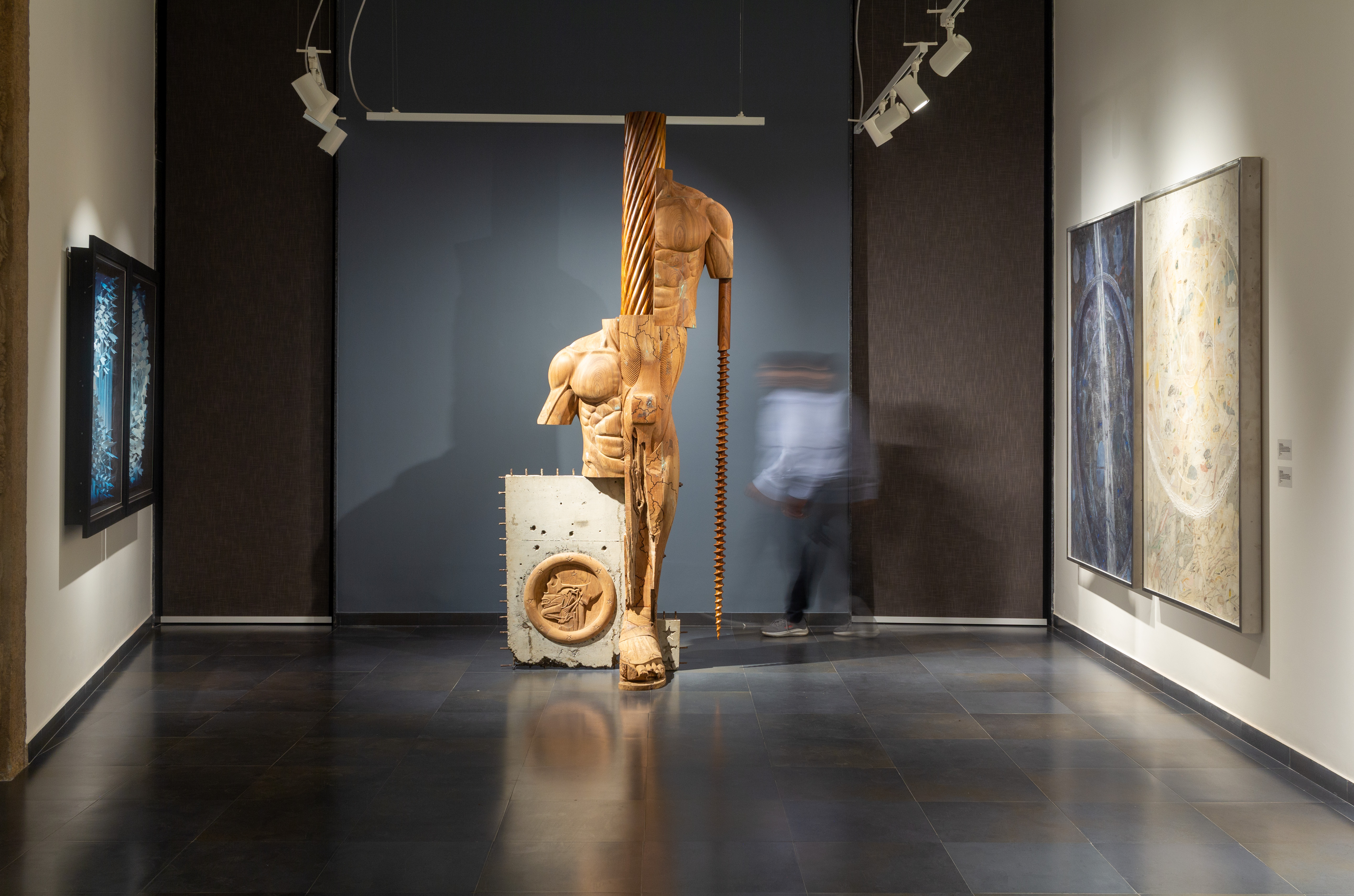 The form of the mandalas or the cosmos is suggestive of emanation, expansion and reduction in Ruchika Wason Singh's re-configurations. To me, they speak of the vortex of death, an inescapable truth that begins in the womb, also suggestive through these works. Be it the safety of the mother's womb or the entrance of new life and energy into this vessel, all life must come to its finale. At the centre of this drama lies the stillness and purity of simply being. Kundan Mondal's placid and pleasing works in reality are a far cry from those. Beneath the surface lie weapons and artefacts of colonialism to deal with power non-violently in poetic justice. Through tears and sweat an epiphanic harmony arises from metaphysical and spiritual depths, emoting love, understanding and compassion. At last, to make peace with oneself through the trauma and loss of a loved one and to welcome a new life that is more important than one's own, these works with their contrast of day and night, life and death, violence and calm, translucency and opacity, water and matter, left me imbued with graceful acceptance of everything that occurs in life. That moment when wisdom dawns upon us is the cosmic centrifuge of our existence.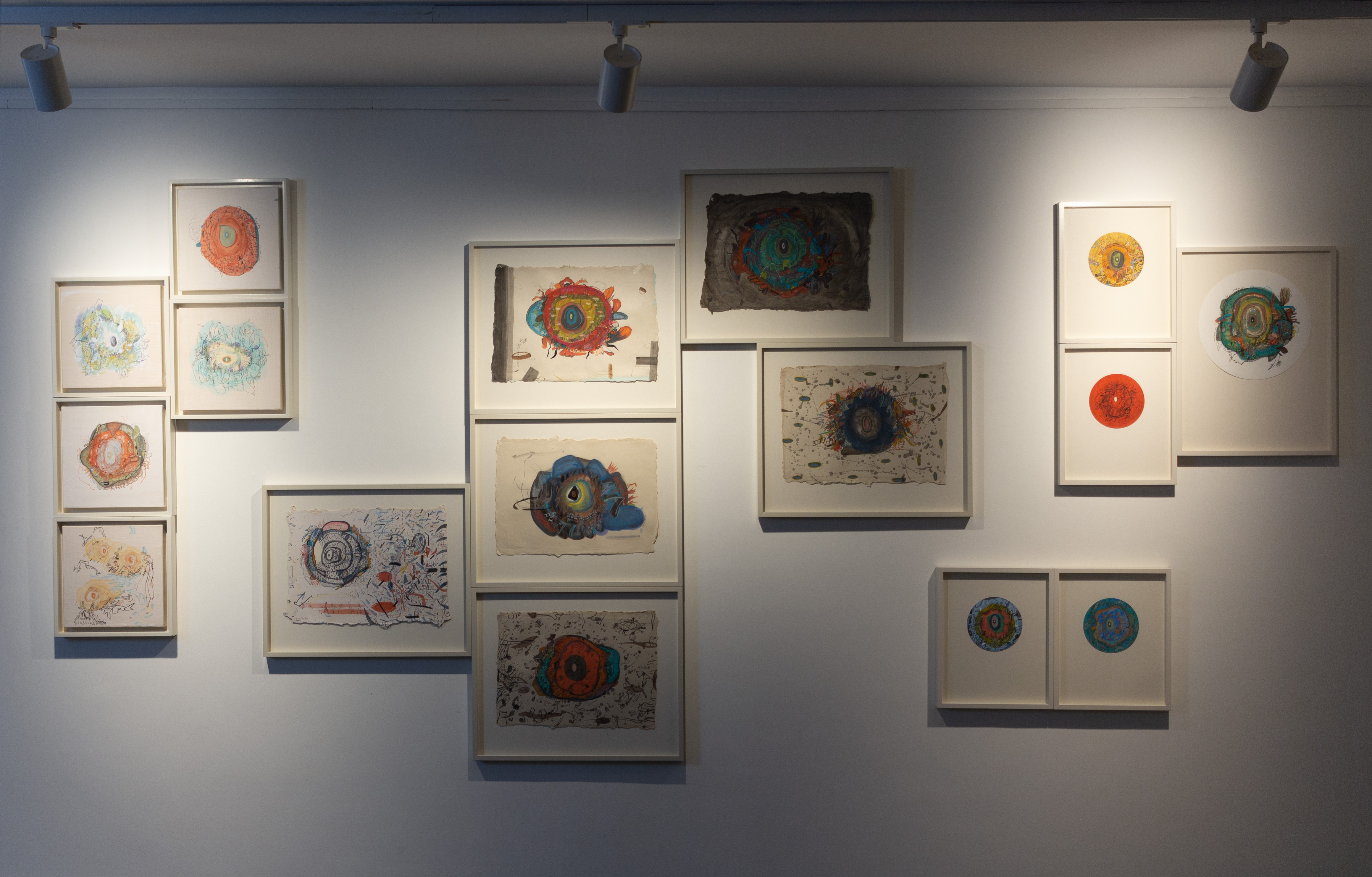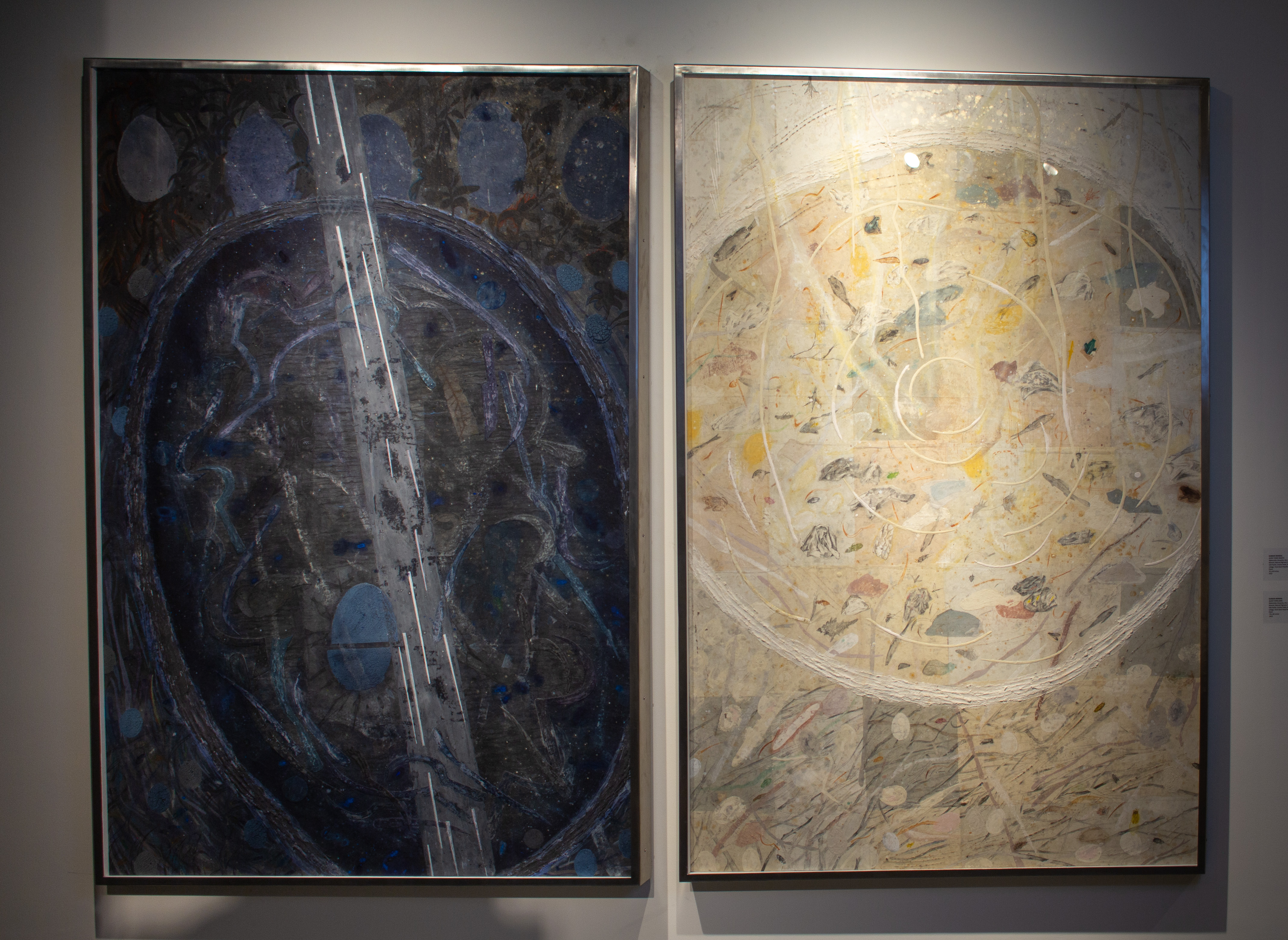 What could be more poignant and relatable in a Pandemic than Tehmeena Firdos' dynamics between private-public spaces? As she attempts to create different levels of associations and transitions from words to non-words, images to invisibilities, between the extremes and demarcated standpoints to a possible limitlessness, I experience this work as an expression of the precious moments of silence that immense joy or sorrow have brought through the course of my life and specifically through the Pandemic.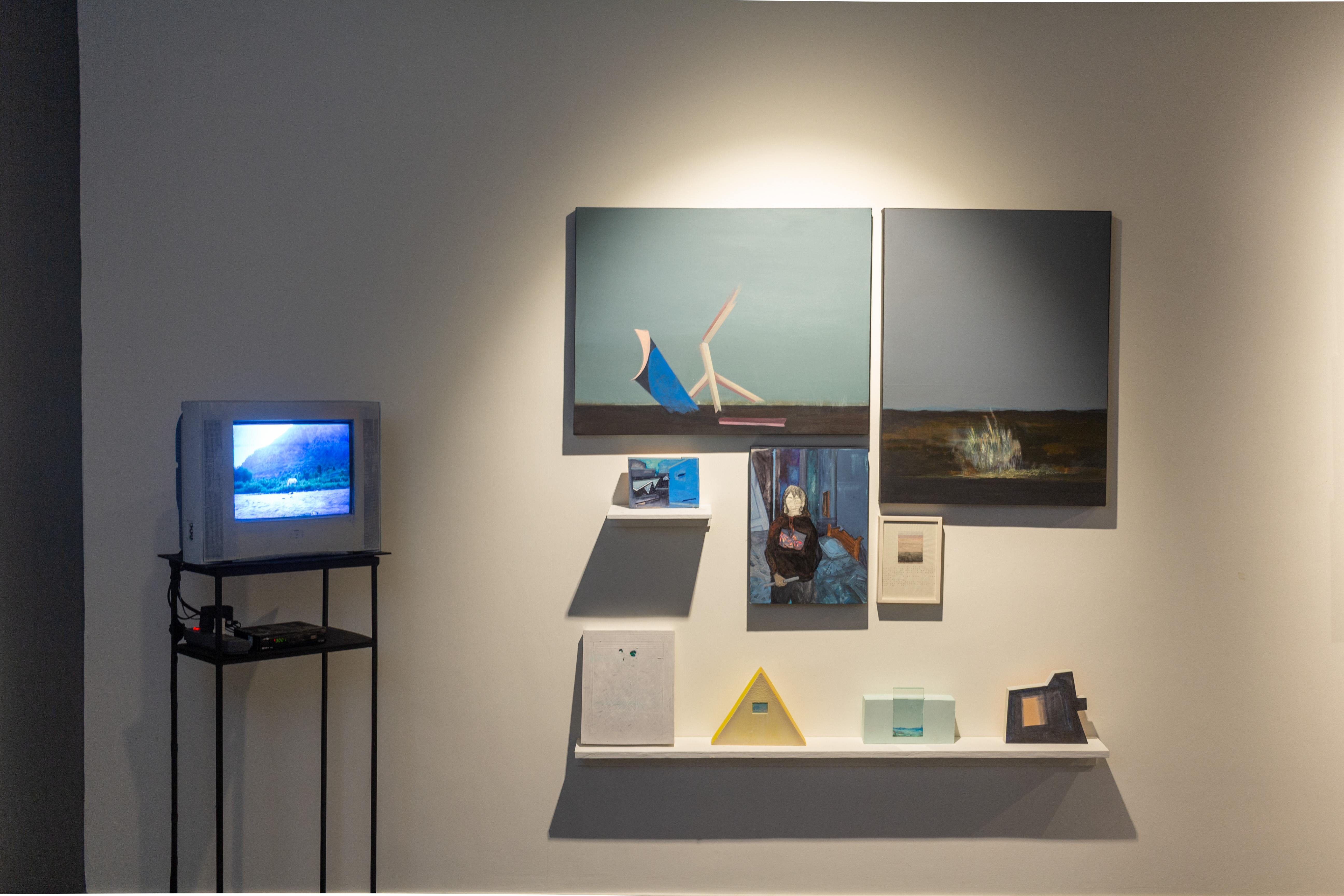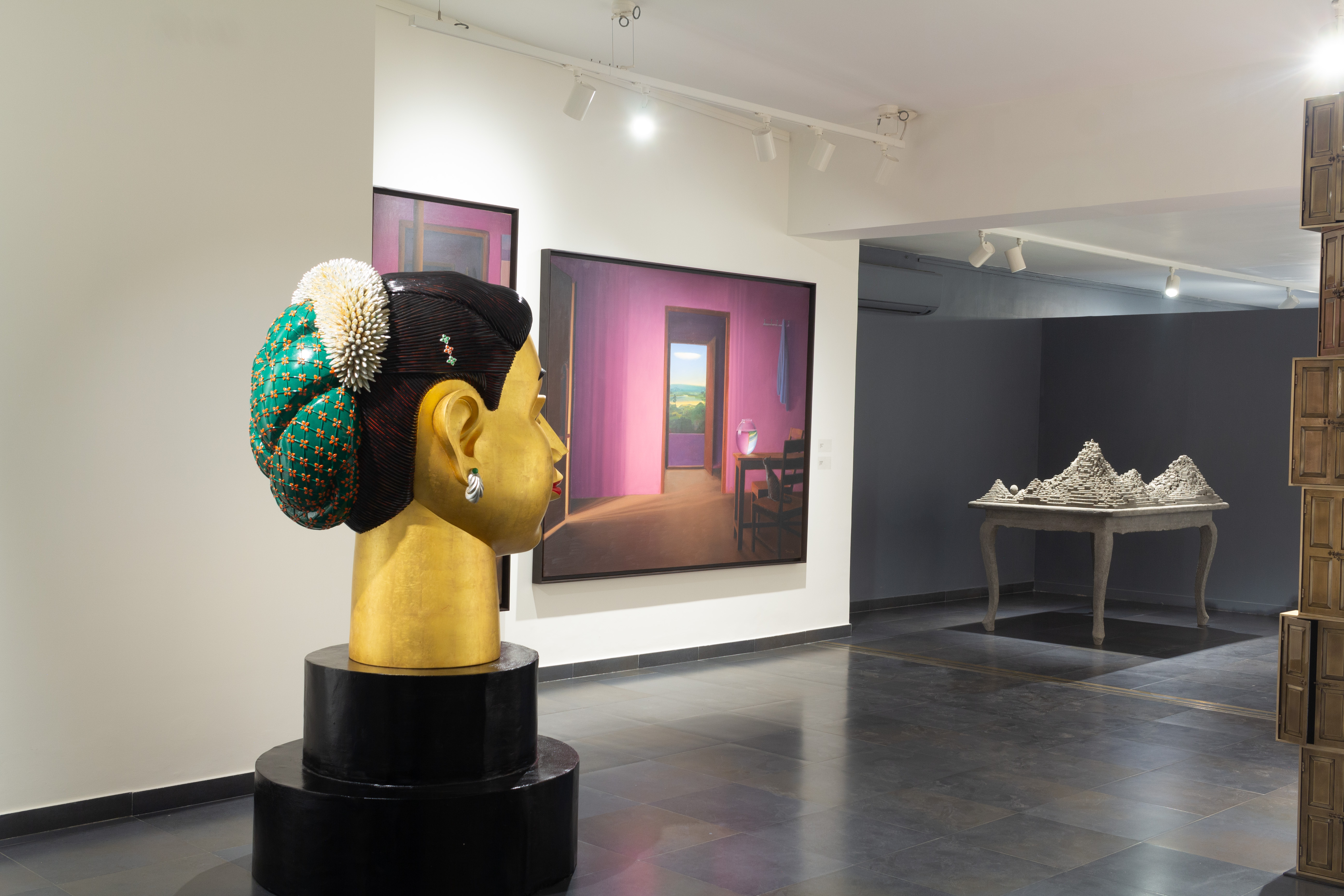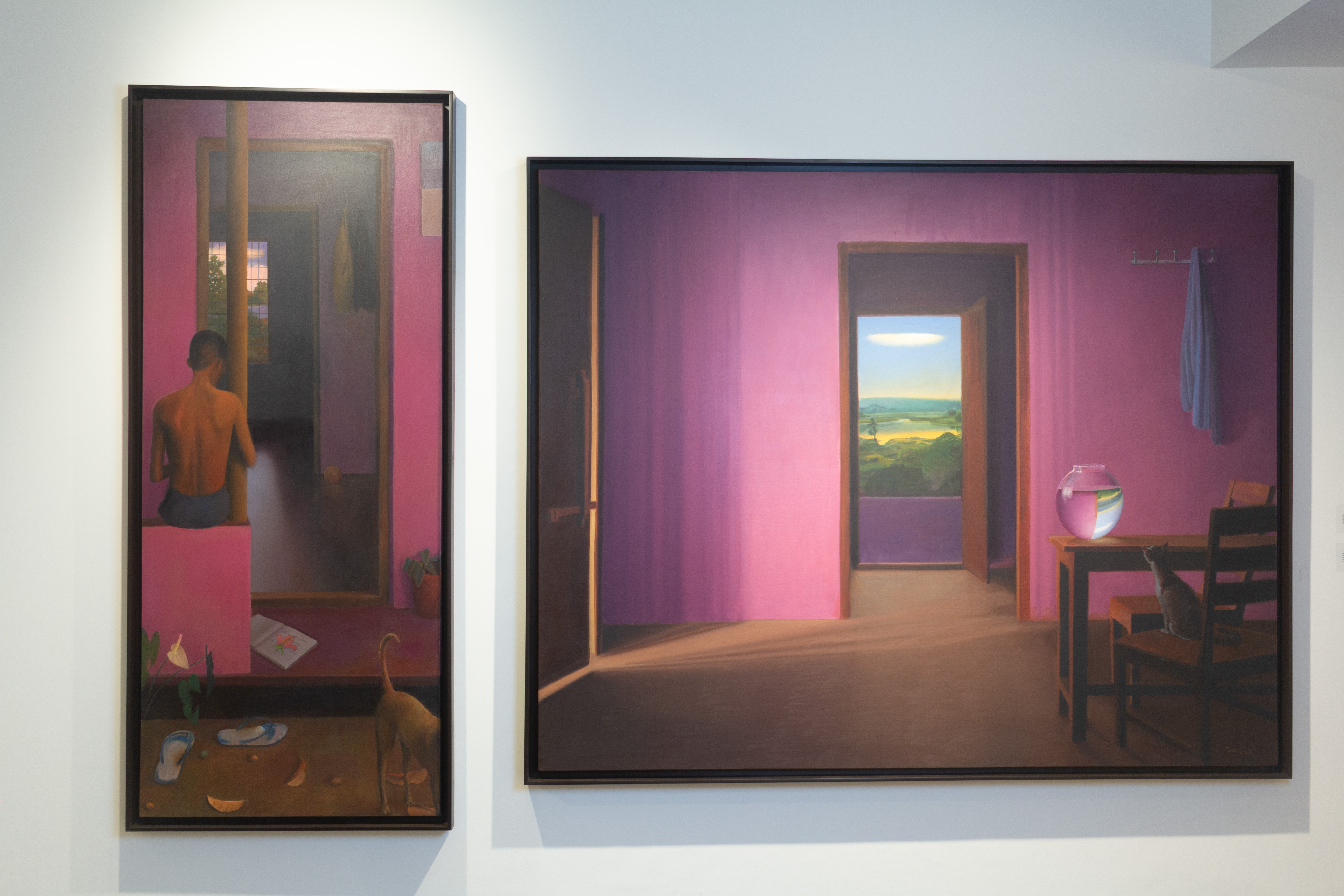 "I try to locate my works on the borderlines of real and surreal, fact and fiction. I use imagery in tune with the other pictorial elements to invoke a certain psychological mood, palpable yet elusive. For me, a painting is not on what is painted, but in the viewer's mind", says Tom Vattakuzhy. As he brings human life and experience into a vivid menagerie of depiction, his intriguing works create a milieu of nostalgia and mystery. With simple elements like light and shadow, contrast and colour, and doors and windows, Vattakuzhy creates a mastery of intellectual perception. From within the confines of our homes, peering out into a world suddenly devoid of activity and movement, there came a sense of tranquil calm that the Pandemic had initially brought on. After the show is over, and all the crests and troughs of life have played out their course, I am reminded of that stillness, the same reflected in Vattakuzhy's works, a stillness that stays within each of us, centred  through 'The Circle of Life.'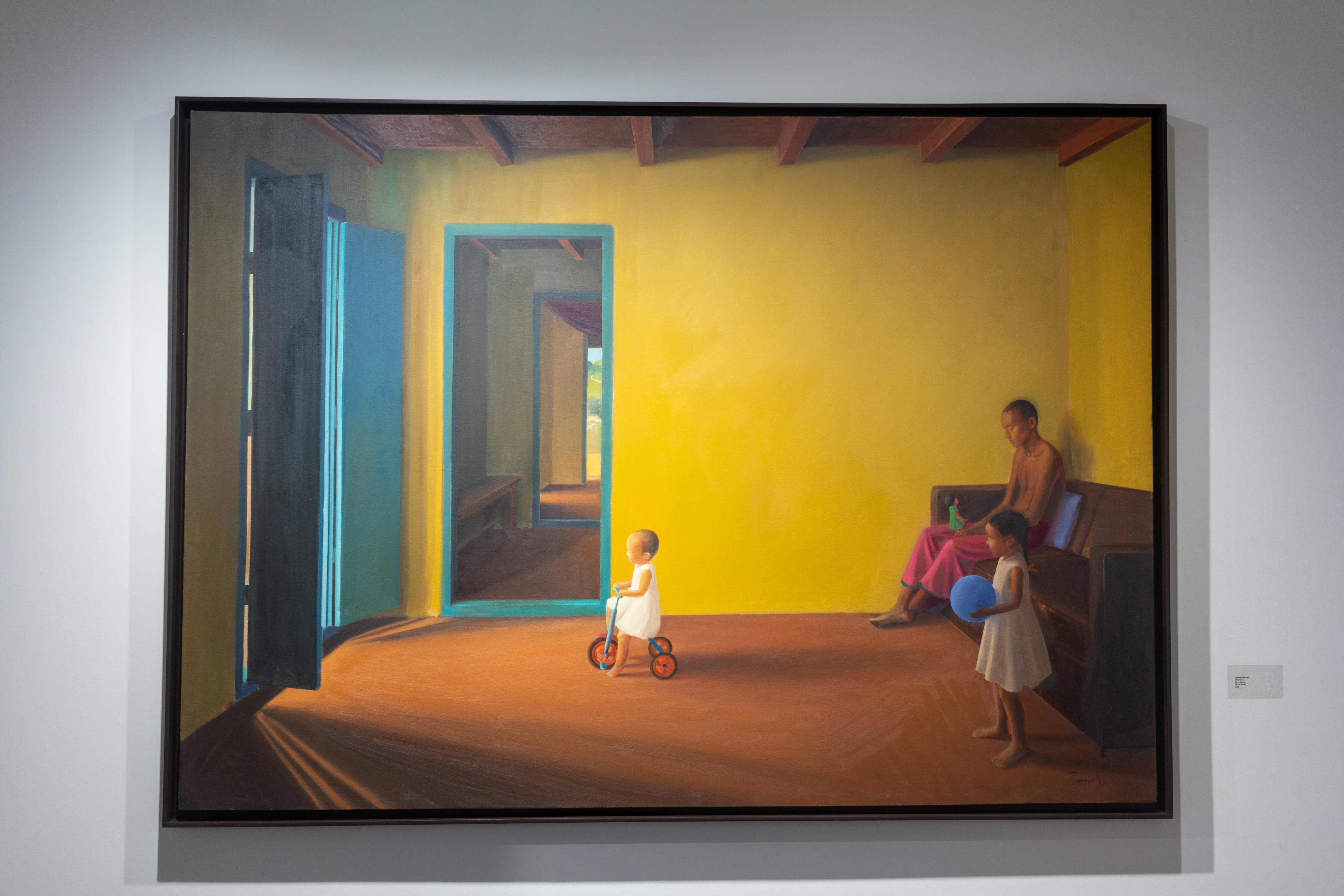 Manchester-based curator Alnoor Mitha curated his very first show in India, 'The Circle of Life', that ran from 12th November 2022 to 12th January 2023. Combining films, painting, drawing, installation, mixed media, and sculpture, the show was conceived in February 2020, just before the pandemic hit. Art Centrix Space started and continued with initiates for providing a support structure and emotional support while building life-long relationships between the artists, the curator and the gallery. The exhibition came to fruition after 2 years and 9 months.  As part of the exhibition, Art Centrix Space created an exciting calendar of engagements, talks and curatorial walkthroughs.