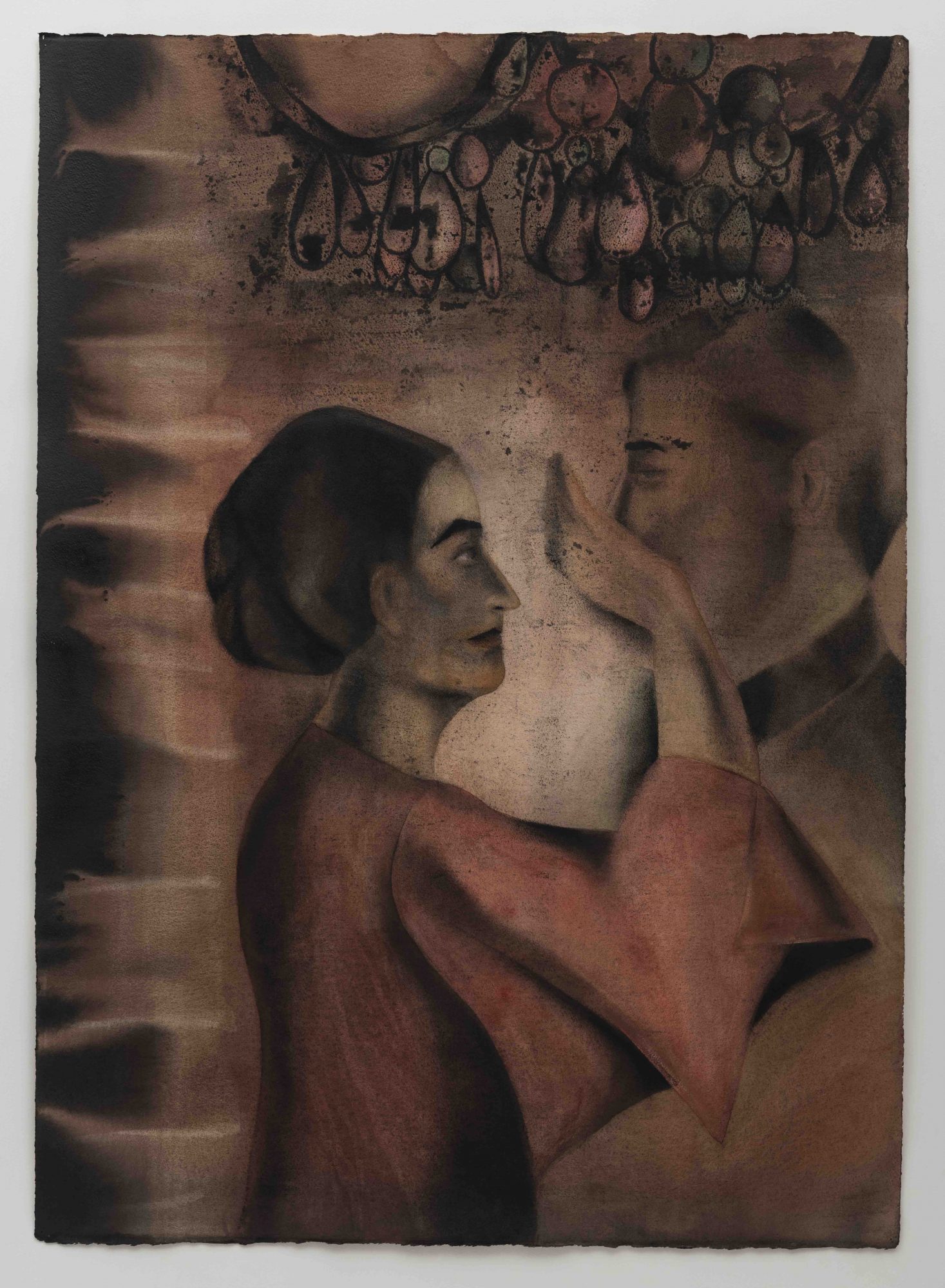 Anju Dodiya is a thoughtful woman. Her art is complex, involved, thought provoking and, yes, thoughtful. One look and you, her audience, know that it has a lot more meaning and significance than it seems on casual viewing. There is history, there is intellect, there is travel and reading and, again, a great deal of thought that has gone into creating it. And when you speak to her, all that and more is reinforced, reiterated, reemphasised. This is the artist who presented 'Breathing on Mirrors' at Chemould Prescott Road gallery recently, eight years after her previous show, Room for Erasures.
About her latest exhibition Dodiya said, I have confined these drawings to a minimal emotional theatre. The tension of the creative act is acted out on soft mattresses, hinting at the domestic nature of the 'demons'. The charcoal is a stabbing device that conveys anger at the imperious world. The inevitable pauses are coloured ruminations, made while breathing on mirrors.
Inspiredly, she peers out of a few of the works, as if gauging the world before stepping into it, sometimes passing through in a blur without looking outward, sometimes glancing back as if to check if she has been noticed. She demands as much thought from the viewer as she puts into each work, asking people to look more carefully, feel the emotion she has imbued the piece with, decode the story she is telling and perhaps even create some of their own. She is always the narrator, but the tale is open ended, allowing for interpretation, giving permission for the characters involved to go where they will, where the audience wills.
Over the years, Dodiya has experimented with all her influences, be they from literature (Rilke) or Japanese art (Ukiyo-e prints), Indian miniatures or, now, Instagram. 'Breathing on Mirrors' has her looking at identity, the transience of humankind, birth, death and everything in between and a sombre, more sober conversation between artist, artwork, and environment. There is little of the 'fun' flavour of her previous show, where there was an interactive display where viewers were invited to erase a pencil work—Room for Erasure—as they thought about the ephemeral nature of existence. This one is darker, literally and intellectually, more introspective, perhaps with a greater degree of formality and a wall that protects the artist's private thoughts and moments from anyone trying to look into her mind. The colours veer towards twilight, browns, greys, blacks, the darker side of storytelling.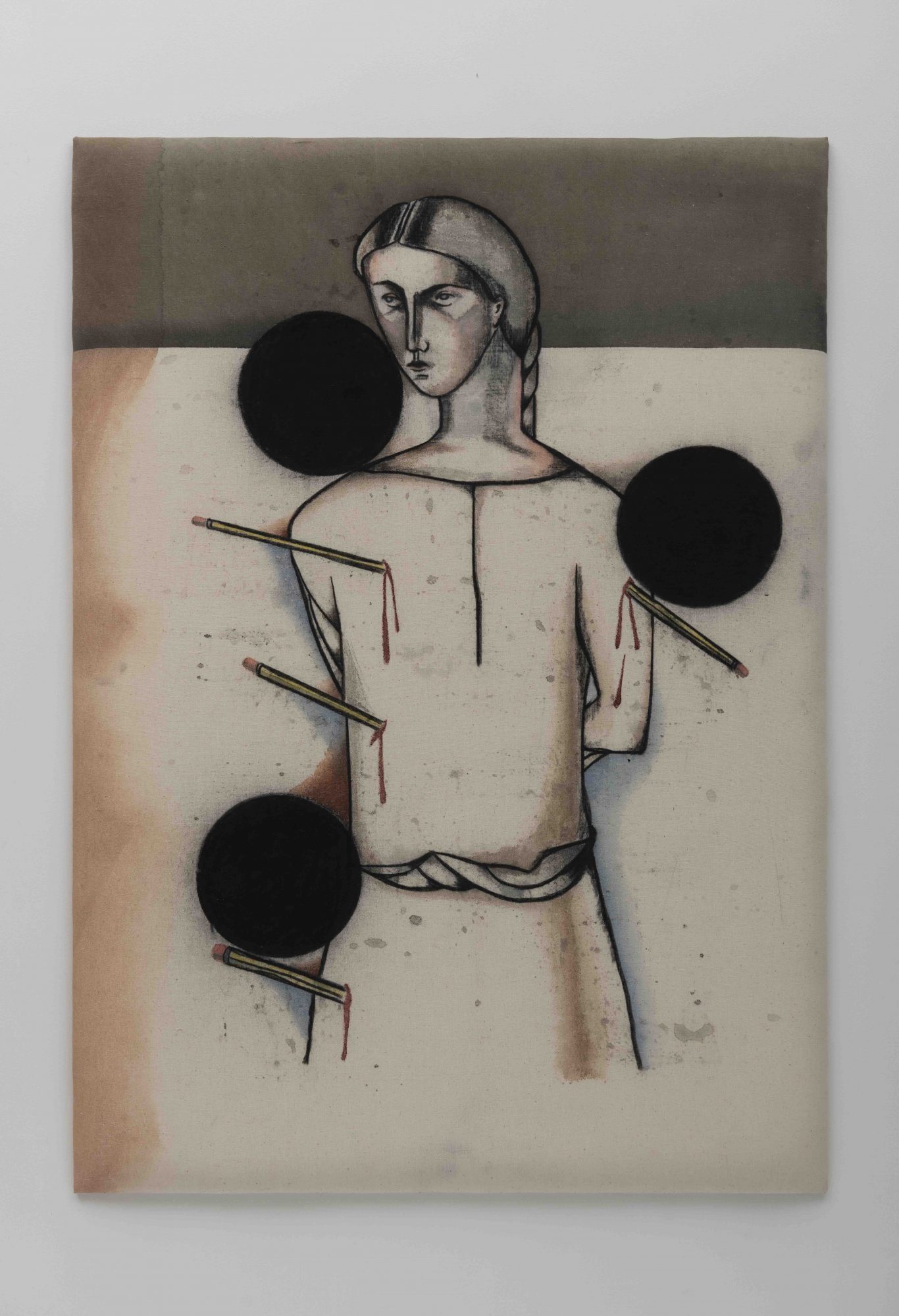 There are animals too, some imagined as characters acting out their parts—of danger, of fear, of ancestors, of nightmares. In Arachne's Walk, for instance, the spider of myth is depicted by the web that spans the central figure's head. Has she woven it, as the curse of Athena has forever fated her to do, or is it a tangle she is trying to escape even as she is tormented by a dog and a predatory bird? Daphne is a greater nightmare, the woman pierced by the sharp parched branches of a leafless tree. It could be her inner demons or the barbs of those who decry her…or the pain she feels when she considers the struggles she faces. In contrast is the gentle, warm, possibly loving scene in Untitled (With Whandelier), the woman lovingly touching the man's face; look at it with the more gloomy perspective that the colours of the collection shadow over the mood in general, and you see a woman stopping a man from saying something, or trying to close his eyes before something not to be contemplated happens, or pushing him away to stand under the rather spotty chandelier that she has rigged to fall on his head—hey, the imagination can run riot when it is allowed to!
First Step is again stimulus for the mind honed on murder mysteries and thrillers. Is she planning to kill that body-less entity looming on the left? Or is she taking that backward step into an unknown to face which she needs weapons? Like First Step and Daphne, Target too is violent, grim, painful. But contrast comes with the gentler beauty of Morning Walk and Untitled Grid, which echo the paler shades of mystery seen in Untitled (With Chandelier). The sinister finds a delightful mirror in Supernatural (a personal favourite of mine) and the muffled mouth of Poet, both of which leave much open to the imagination to weave into stories. There is a power in the lines and confidence of each painting, and an inherent strength that would be needed and used to deal with whatever nightmares and terrors the unseen holds.
As Dodiya says in her introduction, 'Like the great German poet Rilke insists, the protagonist lets everything happen to her, beauty and terror.' What that beauty may be and where the terror is birthed is unknown, but imagination and experience paint their own picture of it all in 'Breathing on Mirrors'.
'Anju Dodiya: Breathing on Mirrors', 29 February–31 March 2020, Chemould Prescott Road, Mumbai.