My city Kolkata, that I love and hate in equal measure, has featured in many of my films. How could it not have? As I have said many times before, there is no escaping it. I am the city and the city is me. I know all its sounds and silences, its nights and days, its still afternoons, its raging Nor'westers, its wild musical evenings, its calm morning ragas, its poignant Rabindra Sangeet. I know the sound of its hawkers, which I have used in almost all my Kolkata-based films (36 Chowringhee Lane, Parama, Yugant, Paromitar Ek Din)—'Seela kataao' echoing through the deserted lanes of Ballygunge during siesta time, or 'Seetaphal, seetaphal…' on sunny November mornings, or 'Basan libey go babu, baasan!' 'Thala-baati-gilaas baasan!' called out in tired female voices wanting saris in exchange of steel vessels in an outdated barter system that had continued into the eighties as an anomaly.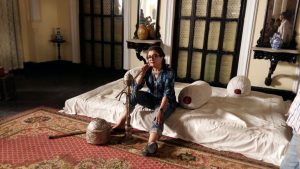 I have loved the serpentine lanes of Dorjipara in north Calcutta, walked through them tirelessly until I suddenly spotted a crumbling old mansion with green stained-glass windows that glinted in the sun. I walked right in with my unit pretending I was researching old houses and asked to see the interiors. The walls were painted in dark shades of green or pink and weathered to perfection. That became the house where we filmed Paromitar Ekdin. The English title, which had nothing to do with the Bengali one, was House of Memories, christened thus as a tribute to the house itself.
When I see the Vidyasagar Setu spanning the Hooghly River today, I cannot any longer imagine that it was on that half-completed bridge that we had filmed a sequence with Rakhee Gulzar and Mukul Sharma! They stood at the edge of the bridge and Parama (Rakhee) looked out on Calcutta spread out below them through the lens of Rahul's (Mukul Sharma) camera. She, like the director herself, had never seen her city from such a height. Softly she starts reciting a Bengali poem by Premendra Mitra, one of my favourites, about the emergence of Calcutta from marshlands and jungles. It brings back memories of the days when, as a girl, she loved reading poetry. Thus, in a sense, the city gets intertwined with the psyche of the protagonist herself.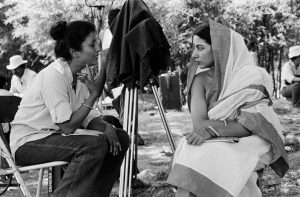 And, of course, in my very first film 36 Chowringhee Lane, Calcutta was an integral part, almost another character! I have used in that film all the places that I have always loved: worn staircases of mouldy old buildings; Pratt Memorial School with its beautiful architecture; graveyards with their crumbling mausoleums; the solemn dark interiors of churches with faint sunlight glinting off rows of solid wooden pews; Victoria Memorial by joyous, sunlit afternoons and by lonely dew-drenched nights.
Calcutta (not Kolkata!) was very different then. A vibrant, diverse city with a mixed population of argumentative Bengalis thumping on the tables at the College Street Coffee House and arguing over Vietnam; Anglo Indians always longing for the good old days of the British Raj, but mingling slowly, nevertheless, into the mainstream while getting more and more poverty-stricken as the younger generations left for greener pastures; Parsis dying out slowly as were the Jews and the Armenians.
And then, grace slowly disappeared from my beautiful, randomly grown, eccentric city. Pluralism gave way to ugly majoritarianism that chokes my breath today. It is now a city that no longer inspires creativity. Not in me.