Can a painting be 'heard'? When one encounters the works of the artist Gopi Gajwani, it is not difficult to experience the whispering strokes of charcoal and paint. The confidant vibrancy conveys the assuredness of their being, yet there is a sense of contradicting fragility, a layer of calm and subtle seduction.  While there was an interest in the arts, to make it a lifelong vocation was not the preferred choice for Gajwani.
"The reason I got into art was that I was a complete failure in studies," admits Gajwani with a smile as we sip our tea at the India International Centre, New Delhi. His brothers, he says, were exceptionally brilliant and that further became case for worry of his parents. They got him admitted to Delhi College of Arts, then at Kashmiri Gate in Delhi, with the hope that he would be able to earn a living, even if it was through a teaching job at a primary school, or by designing cinema posters.
Gajwani passed out in 1959 after a five-year comprehensive program where in the final two years he specialised in Applied Arts. And then began his long struggle to earn the daily bread. "To sell a painting was out of the question in those days. I, along with all my friends, stood in long ques at the Employment Exchange; we were willing to take up any job at that time," he says. For several years, the only source of income for him was through ad-hoc assignments to design exhibitions at the Trade Fair.  It is here that he stumbled upon a role with the American Pavilion of the fair, that although offered a handsome salary but was a temporary role. Gajwani worked here for several years and quit his fulltime job in 1995. He never looked back.
By now, he had concluded 15 one-man shows. His interest in non-representational depiction dates back to his first exhibit in 1966. "I do not know the origin of my interest in minimalistic abstract works. I do remember distinctly seeing a traveling show of art from USA, where for the first time I saw in-person a work by Rothko. I almost froze in front of that work. It was a black-on-black canvas and the different tones revealed only on close engagement with the work," he reminiscences. This experience probably became a turning point for Gajwani at an impressionable age. It opened a whole new world of possibilities in context of his own art.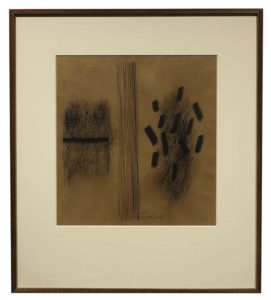 He recalls that he aced realistic paintings in college, but never desired to make figurative works or landscape studies. He developed his own unique language to express deep emotions, especially during the hardships of unemployment and not able to make ends meet. "Abstraction became my language of comfort, though for the viewer to appreciate the work, they have the burden to understand the language," he adds.  Gajwani fondly remembers an incidence when two women entered the gallery at his ongoing show and walked through briskly, talking loud enough to be audible. They mocked the works for its simplicity, till suddenly one of them held back the other in front of one canvas. "Seeing them 'arrested', I felt I had succeeded in my work," he says.
Gallery Exhibit 320 presented Gajwani's retrospective of works from over five decades, in the recently concluded show titled The Listening Eye. When Rasika Kajaria, the Director of the gallery, called Gajwani, he was surprised at the possibility of a retrospective. "Rasika was determined and sure. When she visited my studio, she herself went into the storage area to see my old works. Some of them even I had forgotten about," adds Gajwani. 76 canvas and paper works were installed in various sections, creating exhibitions-within-the-exhibition to allow viewers to experience the depth of Gajwani's practice. Each decade had an underlying character and juxtaposing the works from each time-period created a sequential flow. This marked Gajwani's 25th solo exhibition. "I was most amazed to see the show come together, and my ultimate delight was to see a 1978 painting titled 'Rising Illusion' on the invitation and catalogue for the show", he says.
When he is asked to 'explain' his work, Gajwani says that it is meant to be enjoyed (or not). The clash of colours and stretch of a stroke is akin to an alaap of a classical singer. There is nothing to explain.
The Listening Eye: Retrospective Show of Gopi Gajwani, Exhibit 320, 23 January – 15 March 2019