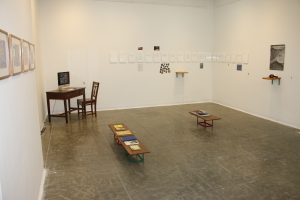 After over a year of having dealt with a pandemic and all of its impositions, the exhibition as a format has been questioned and challenged. Despite extended lockdowns bringing the machinations of the art industry and market to a grinding halt, several new formats of engagement have made their way into the scene as alternatives to the physical exhibition: from viewing rooms and AR-aided 3D virtual galleries to extremely dematerialised marketplaces functioning on cryptocurrency. Despite these changing modes, what has however remained unchanged is the artwork itself—functioning as a subject of aesthetic appraisal and as a tool for financial speculation. In the case where the pandemic and its impositions prevent the movement and exhibition of artworks, what formats must be applied to re-evaluate the exhibition as a curatorial proposition? The exhibition curated by Reliable Copy, an artist-led publishing house and curatorial practice, that engages with this question and the conceptual premise and functioning of the artwork.
On view at 1Shanthiroad Studio/Gallery in Bangalore, 'at the kitchen table' is an exhibition of documents that stand in for the absent artworks. The documents on view include cookbooks, videos, and materials related to and representing artworks and extended art practices in the form of newsletters, police reports, posters, recordings of lecture-performances, slide show presentations, proposal documents and more. Given that engagement with art in the past year has been mostly through social media, online walk-throughs, digital catalogues, and other mediated platforms, the show—as an extension of Reliable Copy's engagement with publishing and distribution—expands the role of the artwork in the way it is conceptualised, realised, communicated, and distributed within a curatorial framework.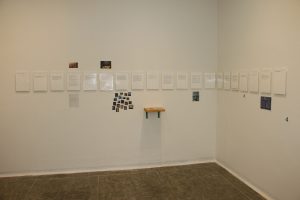 One of the works in the show, Fazal Rizvi's Document for a Proposal for a Monument for Zareen is a prescriptive proposal for the construction of a monument commemorating the artist's aunt. Taking his aunt's sherbet recipe as the work's starting point, the proposal is presented as a series of descriptive A4-sized documents with a serialised list of instructions which itself resembles a recipe. While the proposal is open to interpretation and free to take on different forms every time and in every new venue it is exhibited, it remains acutely familial in the way it invokes scents, sights, and motions of a home kitchen.
Chinar Shah and Nihaal Faizal's The Real Taste of India takes forward notions of nostalgia, and how the idea of a nation gets commercialized, homogenised, tokenized, and is packaged as a consumable culinary experience. The work traces a number of restaurants across the world that go by the name, 'Taste of India' producing souvenirs for the same. The work is presented in three parts: a dossier consisting of printed homepages of 'Taste of India Restaurants', a photograph of the artists outside one such restaurant in Mumbai, and takeaway coupons for a free cold coffee at a local Taste of India restaurant, valid for the duration of the show.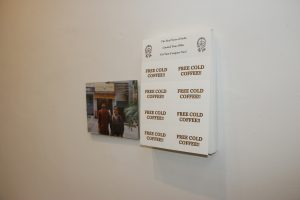 The cookbook as a document and genre appears multiple times in the exhibition: some of it being the historical Nimatnama that logs the culinary preferences of the Sultanate of Mandu, Meenakshi Ammal's Samaithu Paar (an early Indian cookbook to document and disseminate the knowledge of preparing regional delicacies), Felicity Dahl and Josie Fison's compilation of recipes (Roald Dahl's Revolting Recipes), and Salvador Dalí's Les Diners de Gala which also functions as a record of artistic practice. The three videos in the show, Pushpamala N.'s Rashtriy Kheer and Desiy Salad, Gavati's Sushila's Kitchen, and Carolyn Lazard's A Recipe for Disaster, respond to formats of media broadcasting and accessibility—particularly that of the cooking show—while complicating performativity as a conceptual strategy.
Imagined as the first iteration of an exhibition that will potentially travel, 'at the kitchen table' succeeds in dissolving the space between a gallery and a library, and between an artwork and the documents that come to represent it. Within a rather persistent crisis, it offers a fresh perspective on how art can be accessed, discussed, represented, exhibited, and circulated—questions that are urgent and pressing, as are the practices that truly engage with them.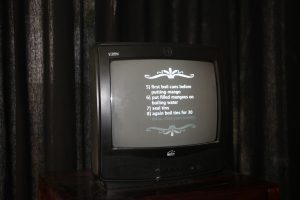 The show features works by Candice Lin, Carolyn Lazard, Chinar Shah & Nihaal Faizal, David Robbins, Fazal Rizvi, Gavati, Jason Hirata, Lantian Xie, Leone Contini, nonfood, Pushpamala N., Rajyashri Goody, and Rasheed Araeen and books by Abby Lloyd, Archana Pidathala, Enid Blyton, Esther David, Felicity Dahl and Josie Fison, Filippo Tommaso Marinetti, Happy Potato Press, Mrinalini Bordawekar, Norah M. Titley, S. Meenakshi Ammal, Salvador Dalí, Studio Olafur Eliasson, and Suresh Jayaram. The exhibition was on view from September 17 to October 05, 2021, at 1Shanthiroad Studio/Gallery, Bangalore.
'at the kitchen table' curated by Reliable Copy, 17 September–5 October 2021, 1Shanthiroad Studio/Gallery, Bangalore.