While the contemporary art scenario is busy debating over ideas and images, Khanjan Dalal and Radhika Hamlai bring to us the process of discovering the image in the experience of making it. Both the artists showed their work at Gallery 079, Ahmedabad in November 2019. Hamlai exhibited her abstract line works on canvas whereas Dalal showed his abstract ceramic works. Dalal, a self-trained ceramic artist, and Hamlai, immersing herself in art courses, both exhibit a deep thought process wherein life experiences prove to be the central drive creating the art. And yet, the works are not a commentary on life but reflections of one's own journey in life. For Dalal, the malleability of clay is therapeutic where he chooses punching, cutting, piling and scaling solid slabs over pinching and coiling to build his forms. For him cutting, parting, scraping and scratching is the way to discovery. It is as if Dalal excavates the forms out of the raw material. This process of unearthing is as visible to the audience as the final form—and that is the art Dalal chooses to show.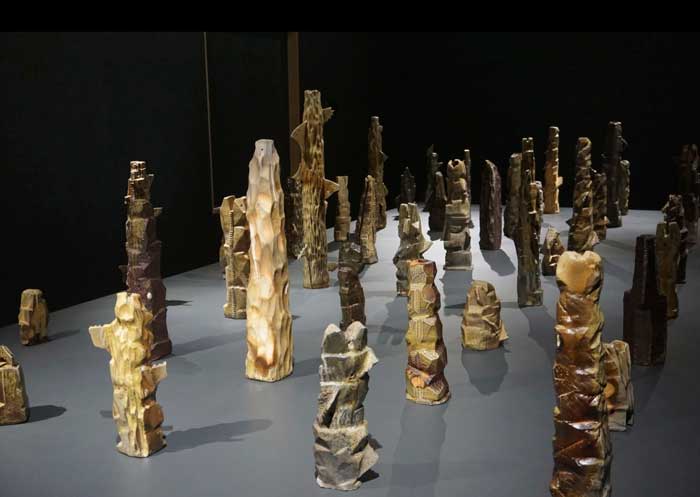 While ceramic art lends itself to "beautifying" clay through textures and colours with the advent of technology, Dalal prefers to present the raw and naked surfaces to be seen as rough, spiky and piercing—as though they could cut flesh. There lies a danger in this unsympathetic texture of truth. The artist does not intend to cover up this brutal nature of truth but for him beauty is here, in the harsh experiences. The artist says that making ceramic art is also like directing a movie where the idea is manifested in form and then the fire takes over, dancing over it, in and out, exposing each and every grain. Controlling or diverting fire is an act that satisfies the artist—where he does not have control over it but there is a sense of both, authority and submission at once—and this creates a surprise. This is like giving birth to a child where one knows everything yet there is a sense of submission resulting into an experience that has no words. The fire also instills a sense of purification over the feeling of shame—something dirty—and this is where the artist sees a cathartic moment. Dalal uses Anagama kiln—the single chamber kiln in a sloping tunnel shape to fire his creations. This 5th century AD Japanese firing technique is known as climbing dragon kiln in China. This particular technique is known for the path of fire, which works as a brush on the ports, the fly ash that gathers on ports could result into various colours and thickness. This fascinating process allows Dalal control over the temperature but not over the path of fire and hence every piece is born with attributes as it emerges out of the kiln, like from a womb.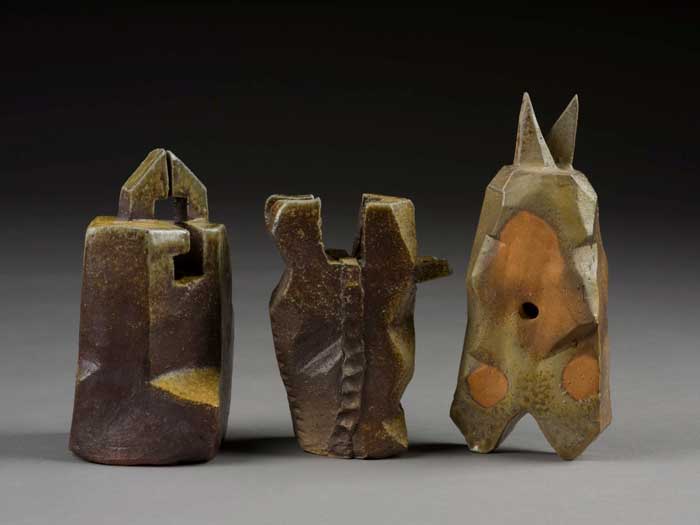 Treasury of LoyalThoughts is a conglomeration of forty-seven totem pieces representing the famous folklore Chuushingura: Treasury of Loyal Retainers (first published in 1875). These forty-seven pieces represent the forty-seven Ronins made in fireclay exposed inner surfaces he built by cutting and scraping. The surface is also a representation of seeing his childhood friend lose his life to cancer. It embraces the robust appearance but imperfect, caved, hollow inner surfaces. To these deep provocative pieces, Homebound a set of porcelain pieces where talking clouds is a playful expression.
Radhika Hamlai's abstract expression bound by thick black lines seems to be a conscious effort yet within it lies the zero moment—the moment with the self where metanarratives unfold. While taking control over the larger flowing thick lines in both her paintings and prints, there is submission to the creative being. These are pure forms in the process of becoming. It seems as if she has just begun and therefore the history of art has not yet corrupted her. She is walking the path where abstract expressionism carry many labels in present art practices. It is a thin line to walk on.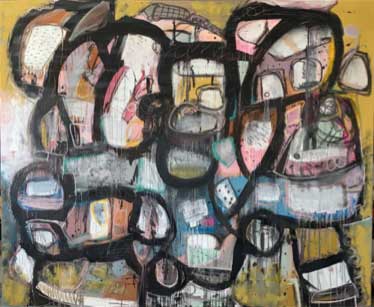 Both artists, Khanjan Dalal and Radhika Hamlai display a sense where touch is much stronger and invite the viewer to walk with them while they journey from somatosensory expressions to pure aesthetic experiences.
Know…Not This: Two person show of Radhika Hamlai and Khanjan Dalal, Curated by Georgina Maddox, Gallery 079, Ahmedabad, November 2019.