Saloni Jaiwal (SJ): What was your inspiration behind the conceptualisation of the exhibition?
Jai Khanna (JK): Inward Trail is a journey of my self-discovery. It is a result of my personal calling, which drew me to the peaceful, perfect realm of life. Major inspiration has come from my travels to some sublime Jain pilgrimages of Palitana, Girnar and Shikarji which was a once in a lifetime experience and motivated me to plan a solo show on Jainism in my own artistic language. I was also inspired by the majestic Swaroopams along with the energy of the pilgrimages and the symbols of respective 'Tirthankaras'.
Promila Bahri (PB): Jainism has a rich cultural heritage that spans thousands of years encompassing a wide range of artistic traditions. No one before has celebrated this heritage as Artist Jai Khanna. His concept was unique in its originality. The inspiration was the perfect…peaceful expression, of the Tirthankara that resonated the truth of just 'BEING'. Jai presented this peaceful faith, in a contemporary miniature form of art in a beautiful and meaningful way.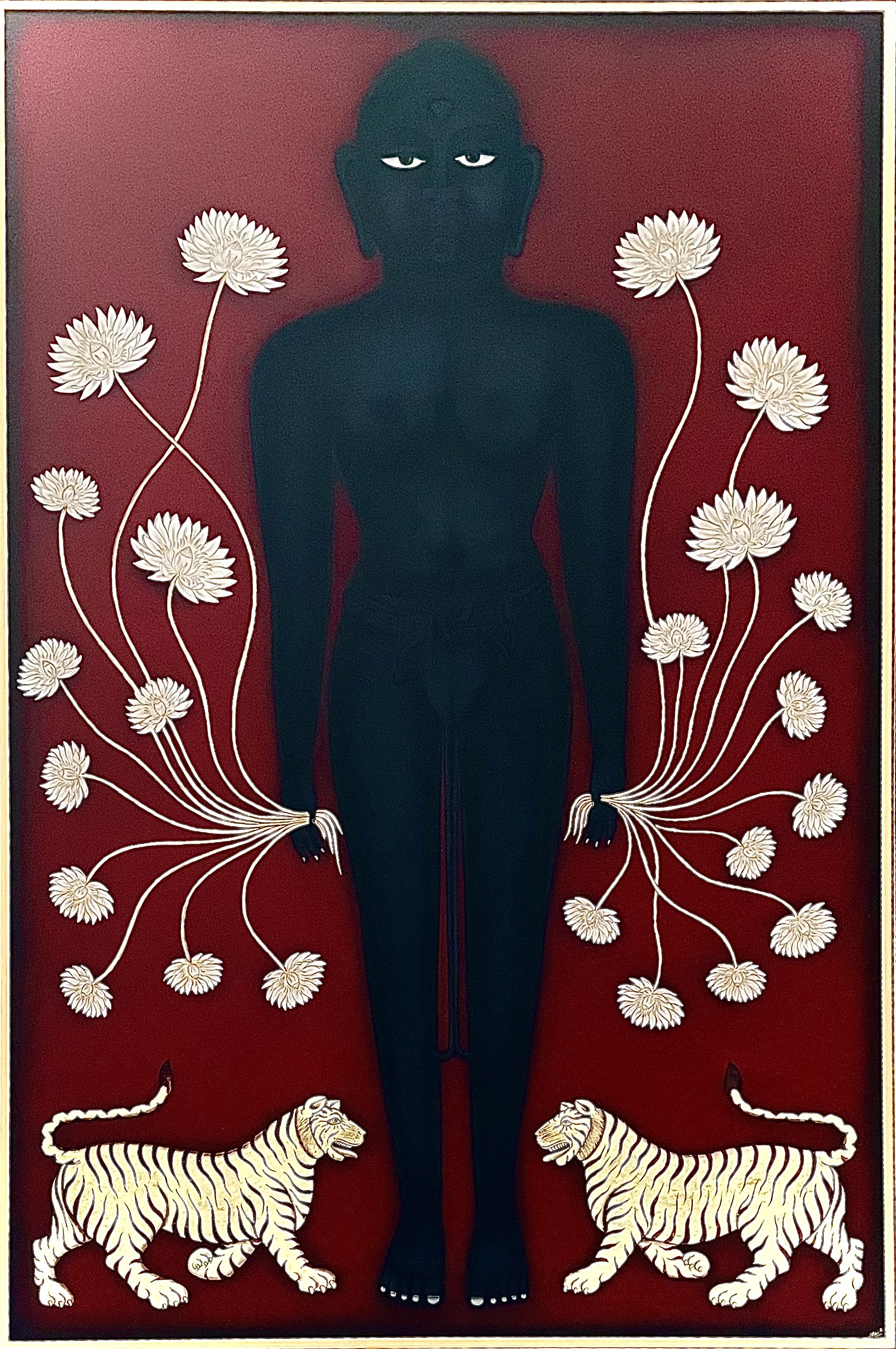 Jai Khanna, Mahavira- The Last One, 72 x 48 inches, Natural colours on cloth, 2022.
SJ: What are the influences for your surrealist depictions in your paintings?
JK: My paintings are direct outcomes of my dreams and the way I have seen the objects and Swaroops which I have tried to portray in the same manner. The Shikhar ji series is one of the most surrealist compositions in the entire show. Also, the symbolic form of each Tirthankara is a major influence in the overall composition of my works.
SJ: In what ways are you experimenting with the disciplines of Jainism in the works exhibited?
JK: My experiments with Jainism and its message of looking at life from a simple vantage of live and let live (Ahinsa), stemmed from an unflinching belief in a higher self or soul, that is endowed with the properties of, Siddha, or complete, Buddha, or perfect, Mukti, or liberated self. Right from the perfection of postures to understanding the symbols with correct placement is one of the most important aspects of the discipline in the collection.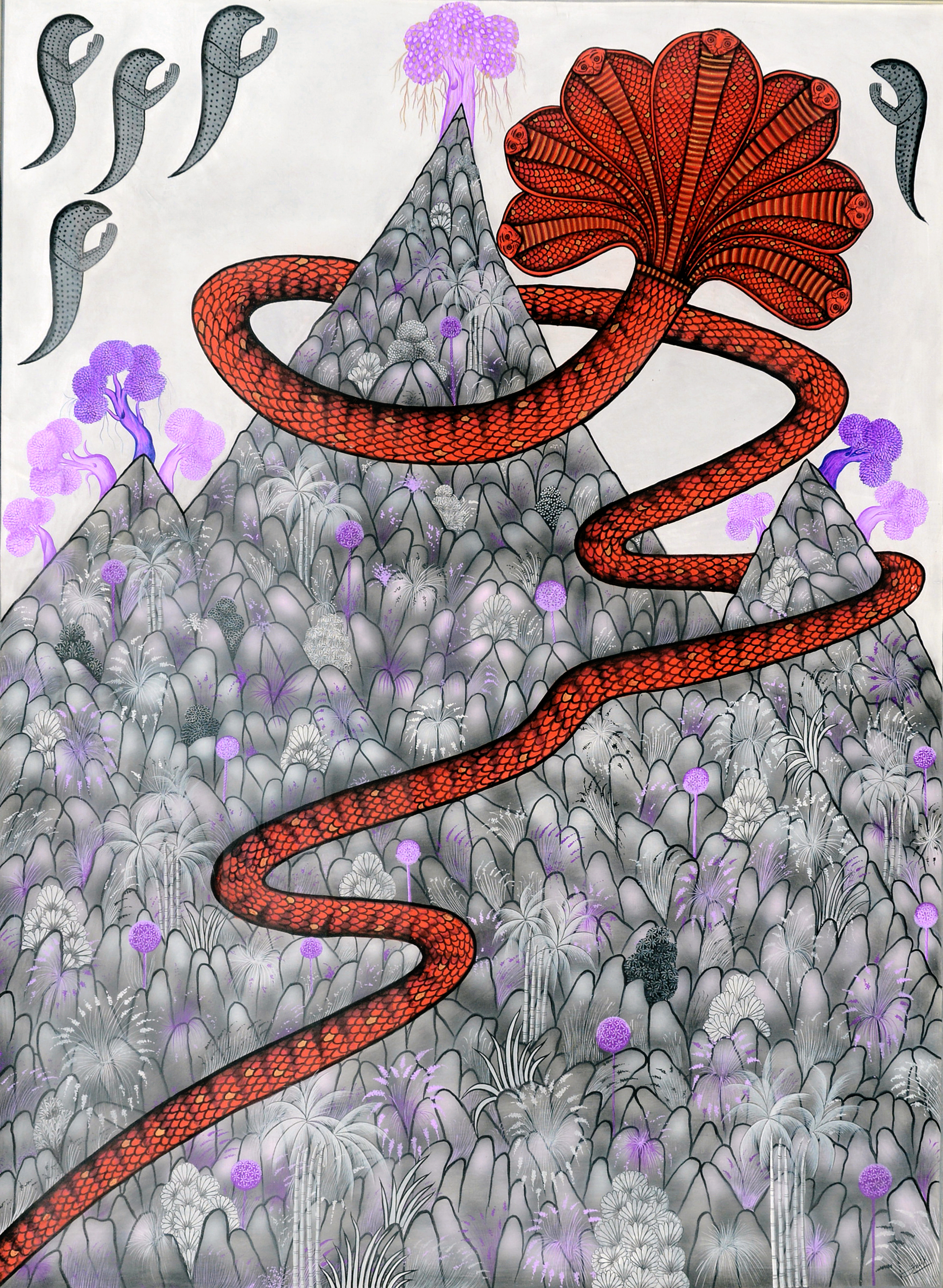 Jai Khanna, Evolution of Shikarji (End), 36 x 48 inches, Natural colours on cloth, 2022.
SJ: How do you relate the search of the self to the images of 'Tirthankaras' which you have imagined in your works?
JK: The depiction of "Tirthankaras" is completely divine with no clothing and very mild jewellery around ears – the same way I have seen in my dreams. I visited Mount Kailash in 2019 and it was a life changing experience. The journey of finding ourselves means demanding less and more of giving – that is reflected in the images of "Tirthankars".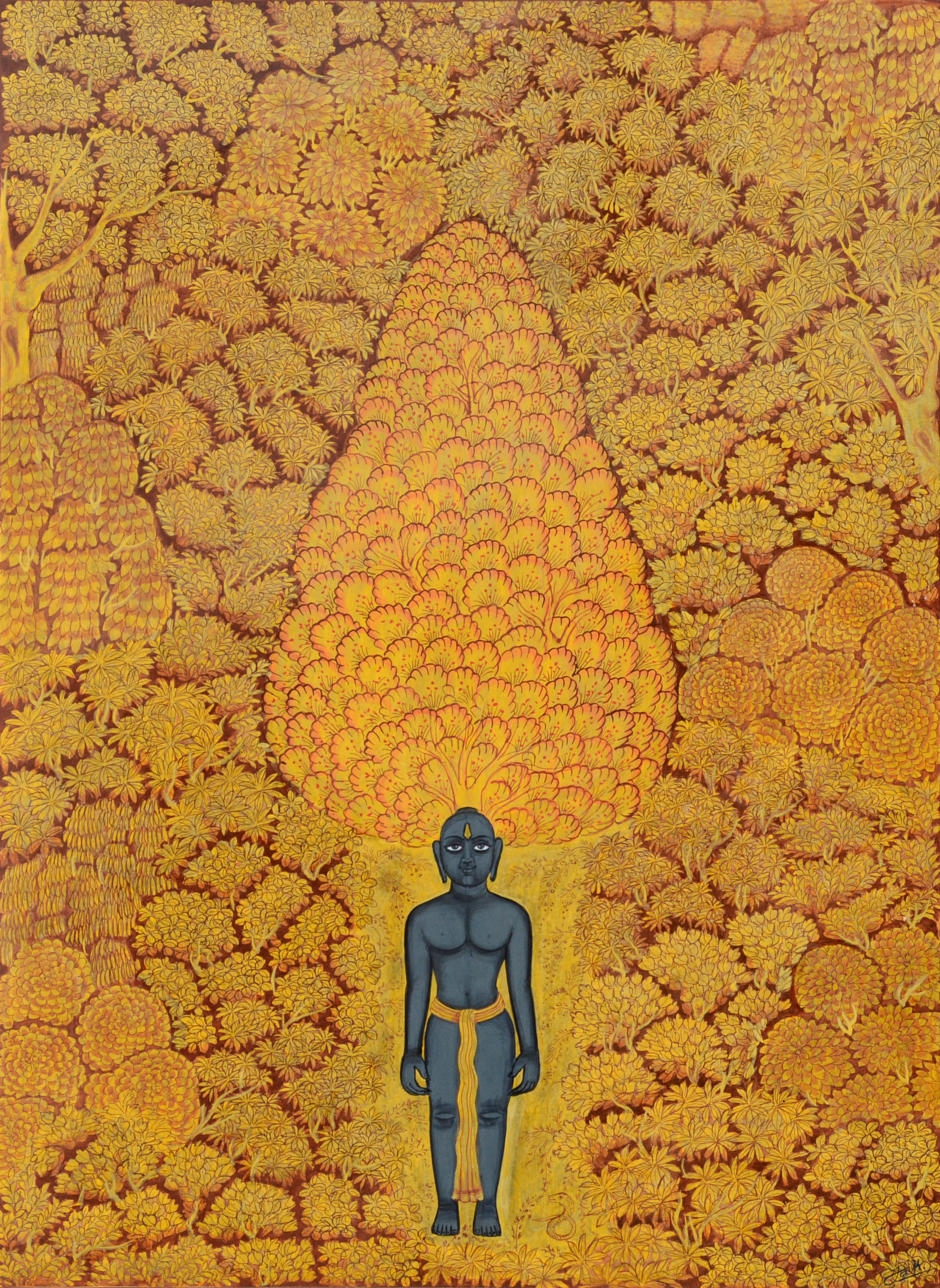 Jai Khanna, Celebrating Shikar Ji (New Beginning), 18 x 24 inches, Pure Gold and Natural Colours on board, 2022.
SJ: In terms of the depiction of flora and fauna, how would you explain the relationship between human and nature?
JK: Humans and nature are interrelated and interdependent. Nature is an important aspect in my art – my vivid dreams take me to deep forests and intense mountains where I find my gurus – all these surreal trysts guide me to link nature with faith.
PB: Nature is viewed as a source of spiritual inspiration and reverence. The depiction of flora and fauna in Jai's art reflects the relationship of respect, admiration and co-existence. This relationship between humans and nature is based on Ahimsa or Non-Violence. In Jainism, all living beings, including plants and animals are considered equal and it strives to minimize harm to each other. Jai Khanna, in his own meaningful way, has depicted this in a delicate manner, emphasizing the beauty and interconnectedness of all living beings.
Jai Khanna, Glory of Parshvanatha Jinath – The Magical Forest of Shikar Ji, 24 x 36 inches, Natural colours on cloth, 2022.
SJ: What is the symbolism of the Serpent Hood appearing in some of your paintings?
JK: These artworks resulted from a divine dream I saw of Parswanath ji. I was very apprehensive in conceptualising snakes in the works for the exhibition, which are also important symbols in the Jain universe. One strange night, post expression of my thoughts, I saw a dream where I saw Parswanath with a giant Sheshanaga revolving around a forest hill – I saw some unbelievable colours of forest and some unusual positions of Sheshanaga dancing and revolving around the lord.
SJ: Which traditional schools of painting have been of interest to you in your practice?
JK: I have deeply followed miniature schools of Rajasthan to understand the fine nature of a miniature, especially from Nathdwara and Kota school. Also, I have invested a lot of time in understanding the right pigments with the base of natural colours of flowers.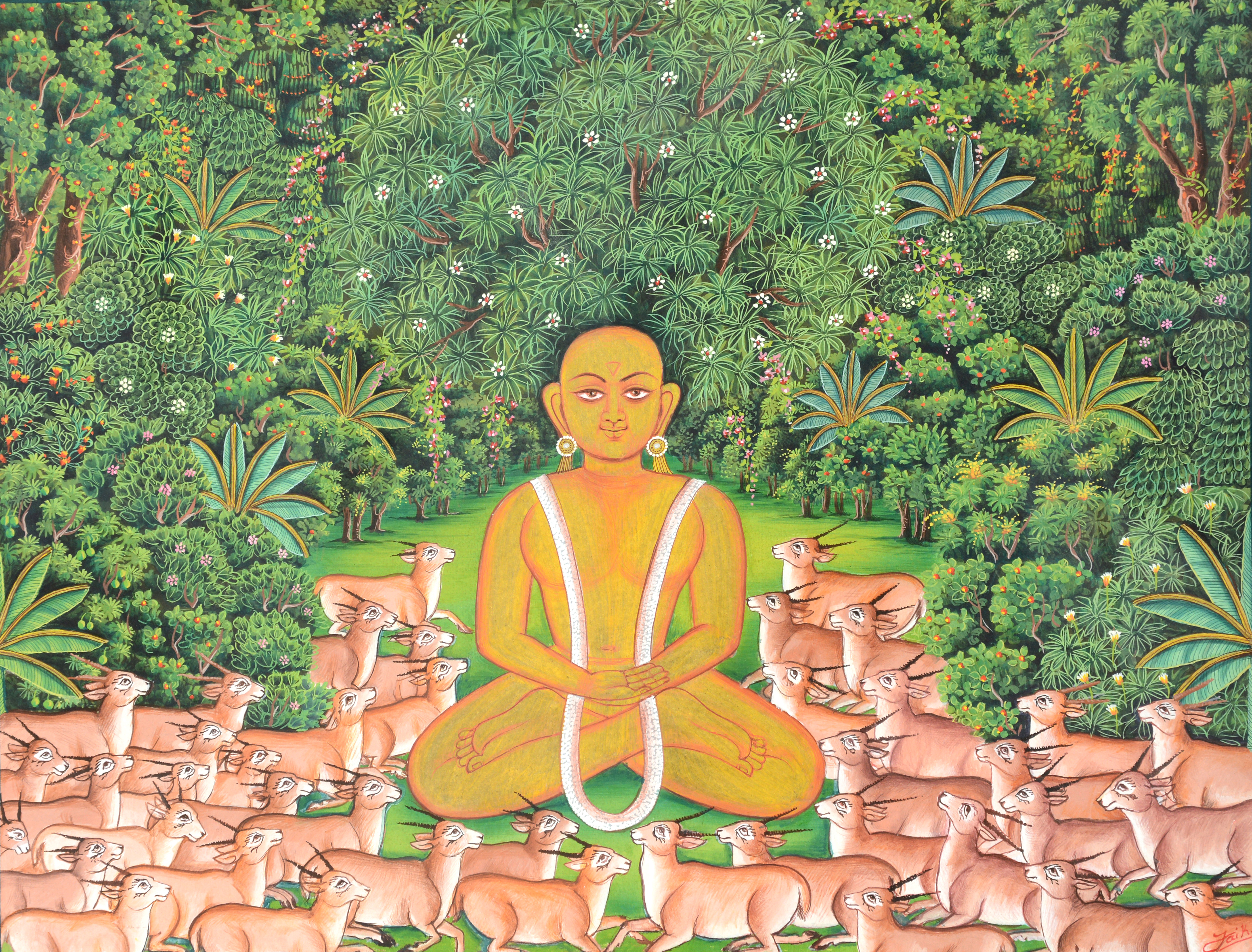 Jai Khanna, Advent of Shantinath Ji, 14×18 inches, Natural colours on board, 2021.
SJ: How do you think incorporation of mythology and history help redefine contemporary forms of art?
JK: It totally depends upon the artist on what level and understanding the concept of mythology and history is interpreted in the art. For me – my art is spiritual – mythology and my dreams are important foundations which help me to re-define the traditional form in my own contemporary practice,  so that a true language of creativity and uniqueness can be reflected.
PB: The incorporation of mythology and history into contemporary forms of art can serve to enrich the artistic vocabulary and narrative possibilities available to contemporary artists. Mythology and history are hinged on a quest of seeking. It provides artists with a vast repository of symbols and motifs that can be reinterpreted or reimagined to create new meanings and resonances in contemporary art.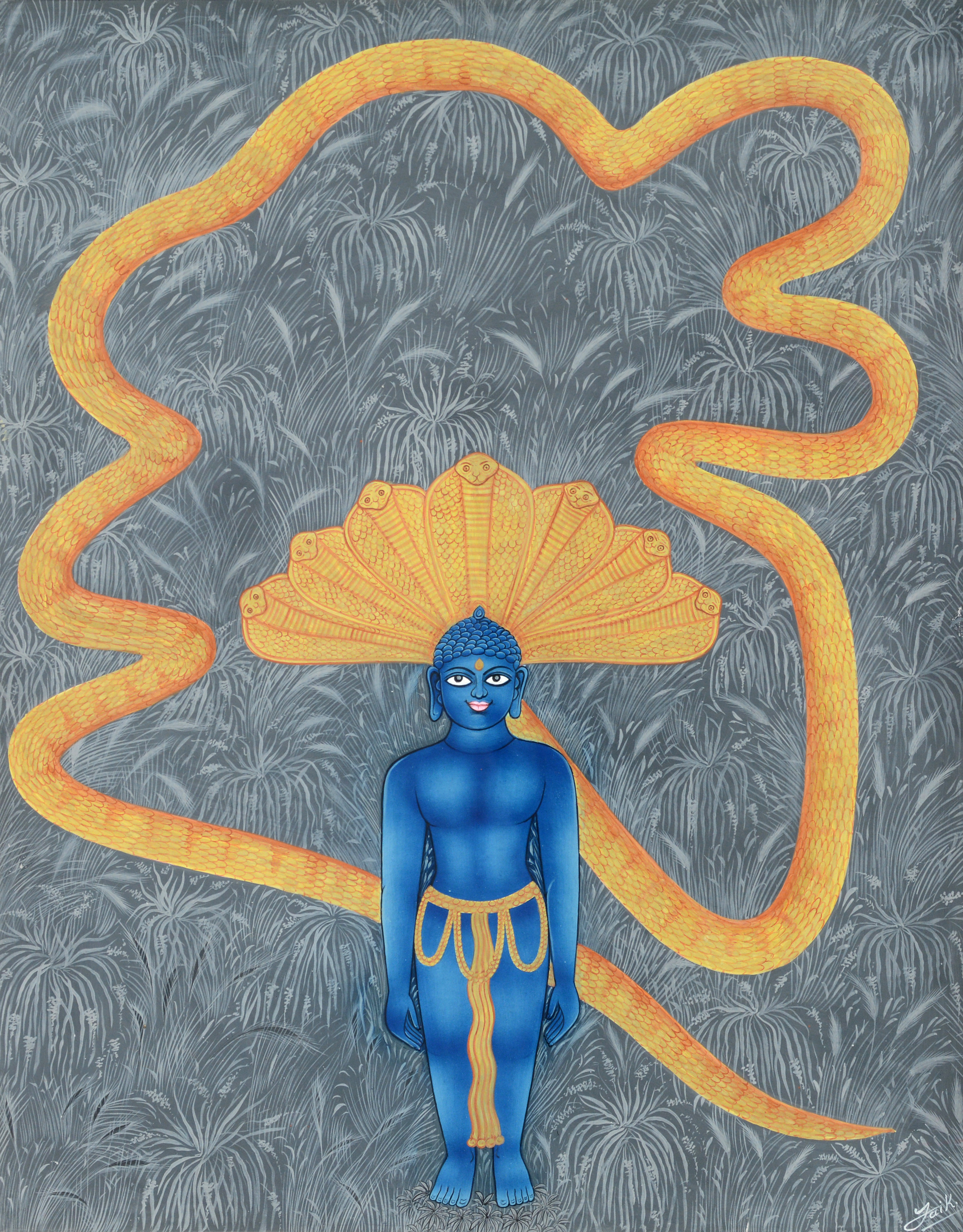 Jai Khanna, Throne Of Parshvanatha Jinath, 16 x 20 inches, Natural colours on board, 2022.
SK: Could you elaborate on the narrative that the works are building together in 'Inward Trail'?
JK: This show is a journey of self-discovery and it was divided among the key message of celebrating dreams of the divine with its symbolic form of universe in the current world. Whole exhibition is built together in the same format to formulate a unique solo show with all such concepts coming out together.
PB: In Jainism, the 'Inward Trail' refers to the spiritual journey of self-discovery and self-realization. It involves turning one's attention inward and focusing on the purification of the soul through the practice of self-reflection and self-discipline. It is also an important aspect of Jainism because it allows individuals to become more aware of their thoughts, actions and emotions. It's a practice of mindfulness. Overall, the Inward Trail is a path of self-discovery and transformation that leads to the attainment of spiritual liberation and the realization of one's true nature as a pure and infinite soul.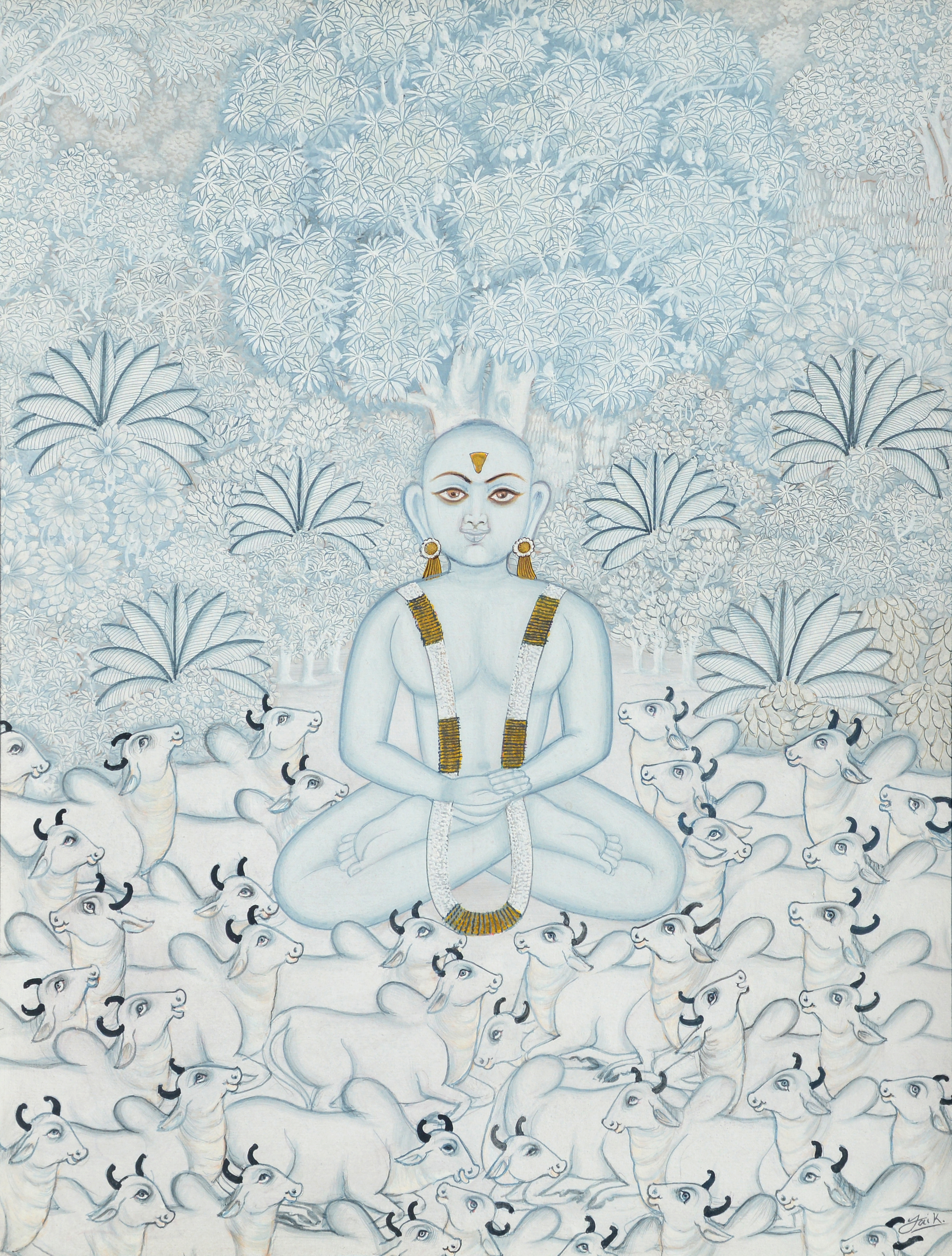 Jai Khanna, First Glimpse of Adinath In Palitana 14 x18 inches, Natural colours on board, 2021.
SJ: How do you link the spiritual and the material to find a holistic meaning of living?
JK: I feel we have to live in this materialistic world without compromising on our inner beliefs and way of life. I feel blessed to experience some divine pilgrimages in my lifetime which has contributed to build a deeper spiritual connection. The most important aspect is a shelter from my Guru which has taught me to stay connected in this material world without losing my spiritual self.
PB: So, they say – "Worldly desires lead to enlightenment". From this perspective, the material world can be seen as a means of accessing deeper spiritual truths or experiences that transcend the limitations of the material realm. Even though spiritual and material are seemingly opposing realms, by reconciling, they can still aim to find a holistic meaning in life. Material world and spirituality are interconnected and interdependent aspects of reality. Material world is only a vehicle for transcending it. By acknowledging the interconnectedness of all aspects of reality, cultivating a sense of transcendence and embodying our spiritual experiences in the material world, one can find a more holistic and meaningful way of living.
The exhibition Inward Trails was presented by Art Magnum, Bikaner House, 17-26 February, 2023.